The matriarch of the National Ploughing Championships has said it is wonderful that female farmers are finally getting recognition for their work.
Anna May McHugh, 89, managing director of the National Ploughing Association for 50 years, said it was "wonderful" to see women get recognition for work on the farm, saying they "tend to detail".
"You will get very good lady farmers, and you'll get farms where the sons are not maybe interested and the girls will take over and do a very good job. I see it all around us, they're in every county.
"When I did become involved my maiden name was Brennan, and people when they phoned up it was a Mr Brennan they were looking for, not a Ms Brennan," she said on the final day of the 92nd outing of the major agricultural event.
"In those years it took a little bit of time for them to acknowledge I was a female, and once that was understood, I think that they always looked up to you and respected you.
"I wouldn't have had much respect at the time because it was that many years ago, but now the women are well respected, which is wonderful."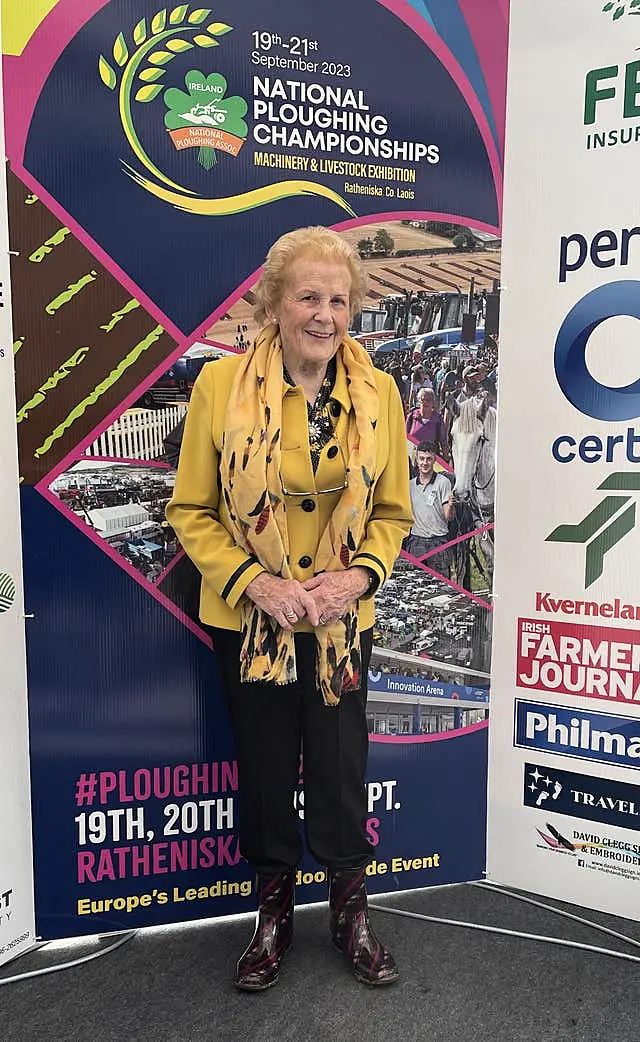 She also praised the number of women and girls who are now part of the Ploughing, saying events were included to appeal to a broader group of people.
"At one time you'd only see the menfolk, I remember a time when myself and the only girl that used to help me in the office were the only two women at the event.
"We created all that – the pony games and the hunt chase and all of that – that's a different clientele that comes in but you have to do that, you have to broaden the whole thing."
With more than 200,000 people attending this year's event and 1,700 exhibitors, Mrs McHugh said she remembers when there were only 25 exhibitors.
In the 1960s it began to "grow and grow and grow", she said, and when they reached 700 exhibitors "we thought it was marvellous – look at it now".
On the future of farming, Mrs McHugh encouraged politicians, parents and grandparents to sit down with young people and discuss what their involvement will be.
"We want family farms to stay within the family, that's very important," she said.
"But it's also very important to that to get the responsibility, that the older people – the fathers and grandfathers – sometimes in earlier years, they said 'Oh God no, I'm not leaving the farm to such a one'. They left it too late.
"But you have to engage with the young people and to say 'You have that responsibility now, you take over'.
"I've met a number of farmers here (saying) 'Oh, he's the boss now' or 'she's the boss now', and that's great, because there's no boy or girl going to stay on a farm now without knowing their future.
"It's a time when politicians will have to sit down around the table and talk to young people. And no doubt they have done it in the past and they'll do it now. It's very essential.
"At grassroots level the farmer, the farming, agriculture, is the backbone of Ireland in my book, and I'd say that when problems are there, if they sit around the table, they will be solved."