A range of stories lead the Irish papers on Tuesday, including a new tax on vacant sites, teacher shortages, and the ongoing crisis at the PSNI.
The Irish Times reports that planners have rejected dozens of appeals against a new tax on vacant housing sites, in a blow to landowners seeking exemptions from a Government clampdown against hoarding.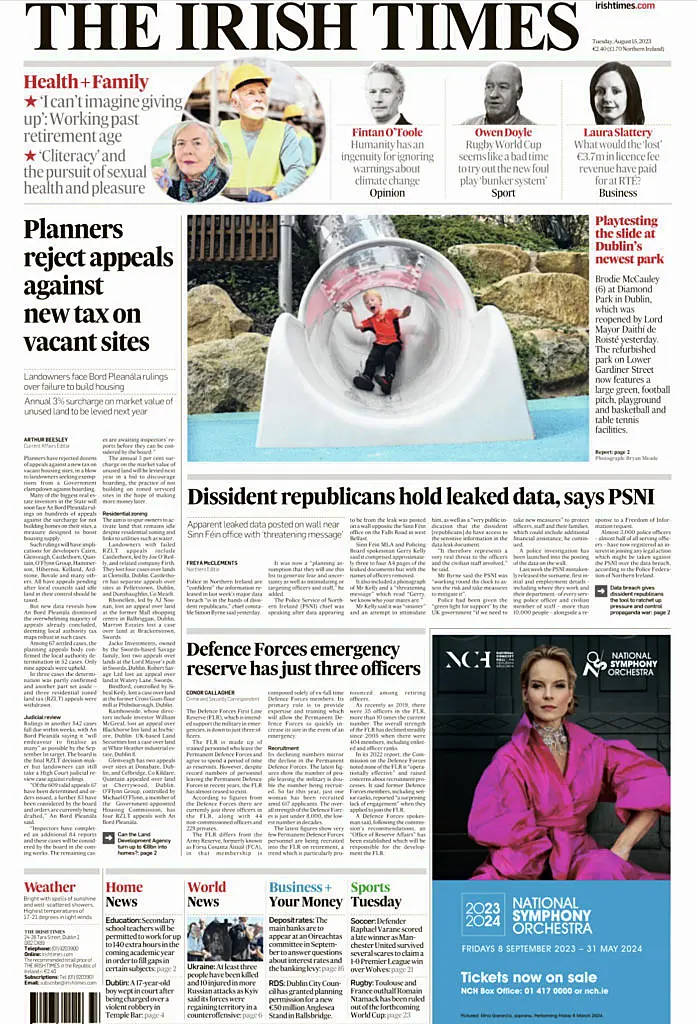 Over 700 hospital procedures a day were cancelled or postponed in the first half of this year, according to the Irish Examiner.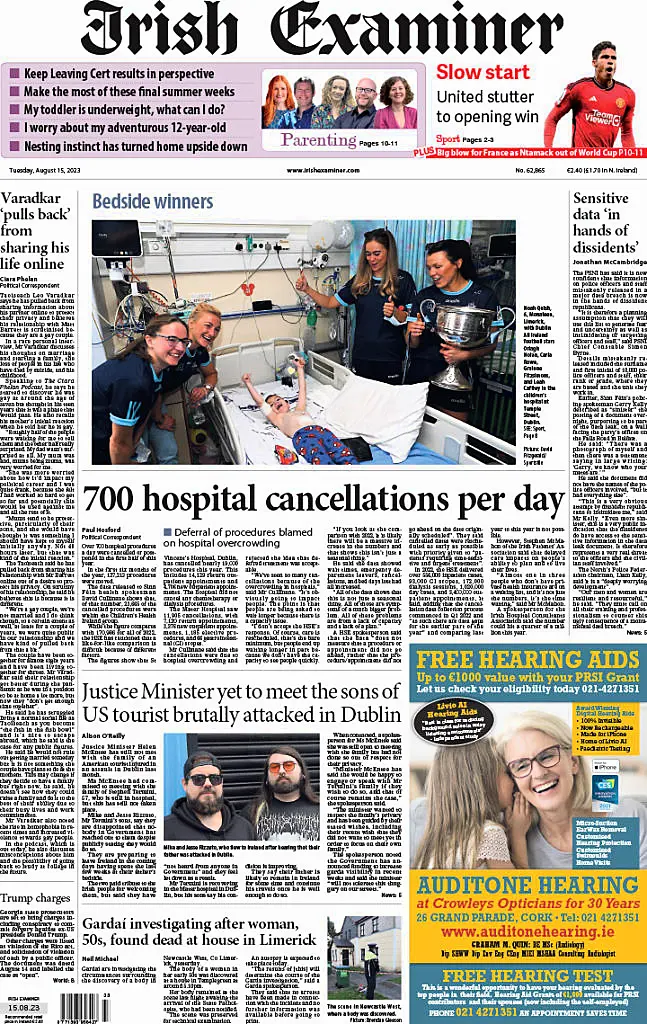 The number of young adults still living with their parents has almost doubled in the last decade, the Irish Independent reports.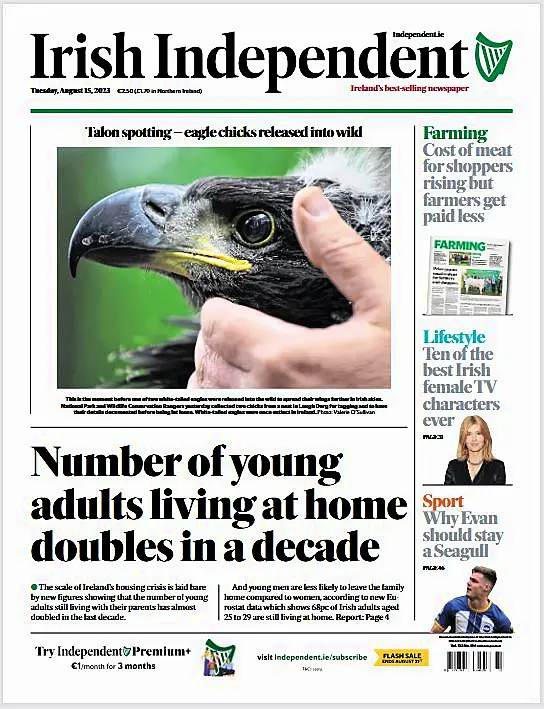 School principals are scrambling to find staff before the new terms begins, the Irish Daily Mail reports, as 1,200 teaching positions across the country remain unfilled.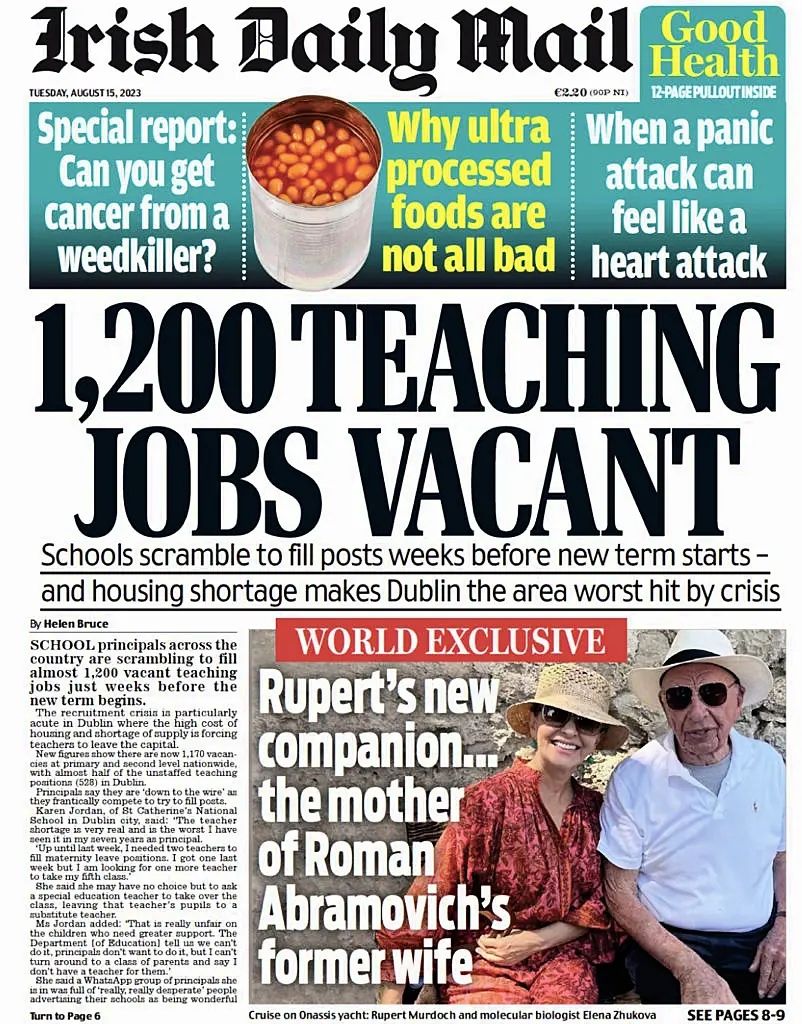 The Irish Daily Mirror and Irish Daily Star report that the critically injured sister of tragic debs crash victim Dlava Mohamad has woken from her coma in hospital and asked: "Where is Dlava?"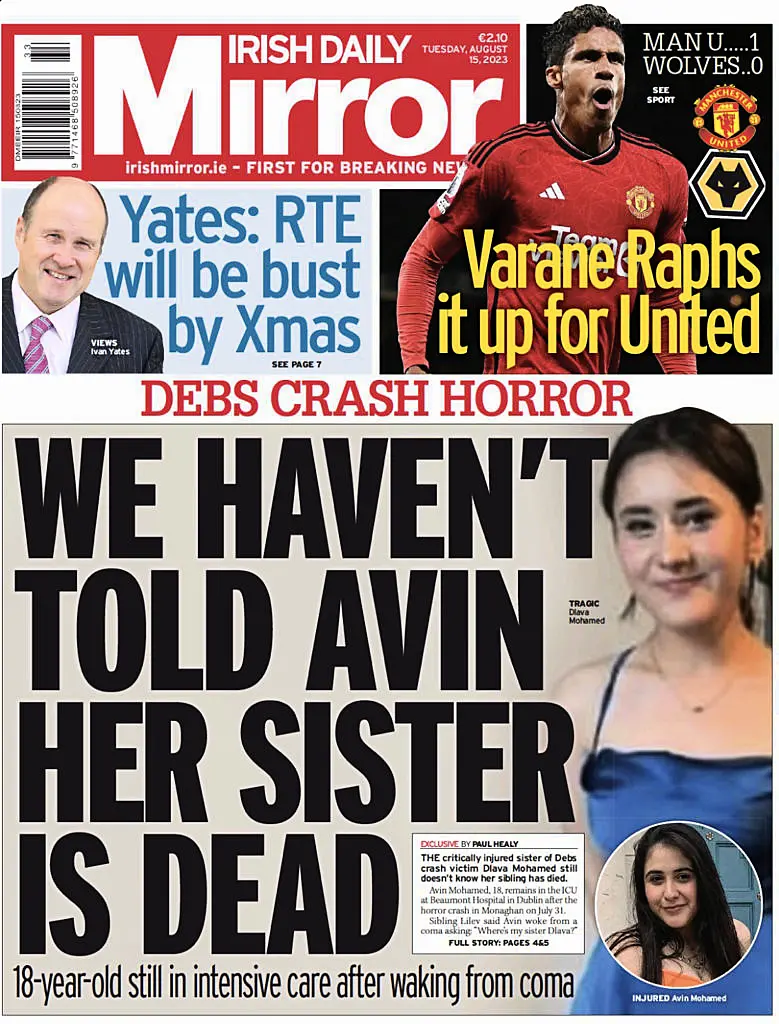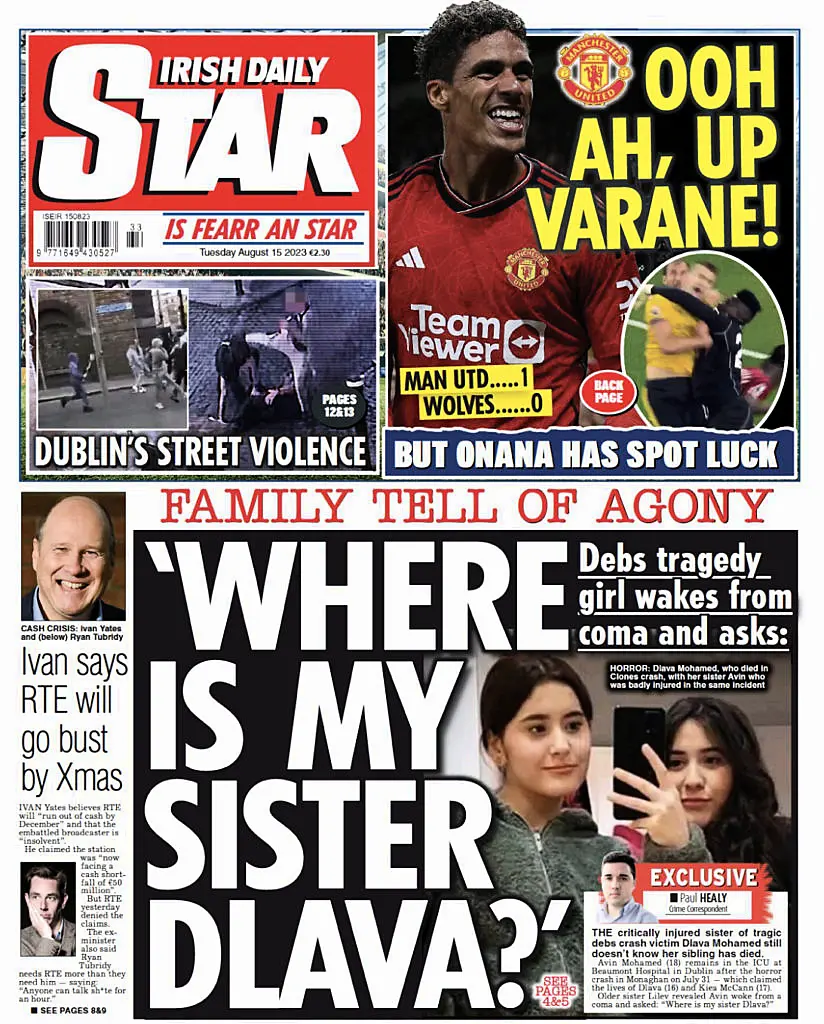 The ongoing crisis at the PSNI makes the front page of the Belfast Telegraph, as it reveals that dissident republicans have been in possession of mistakenly-released police data since last week.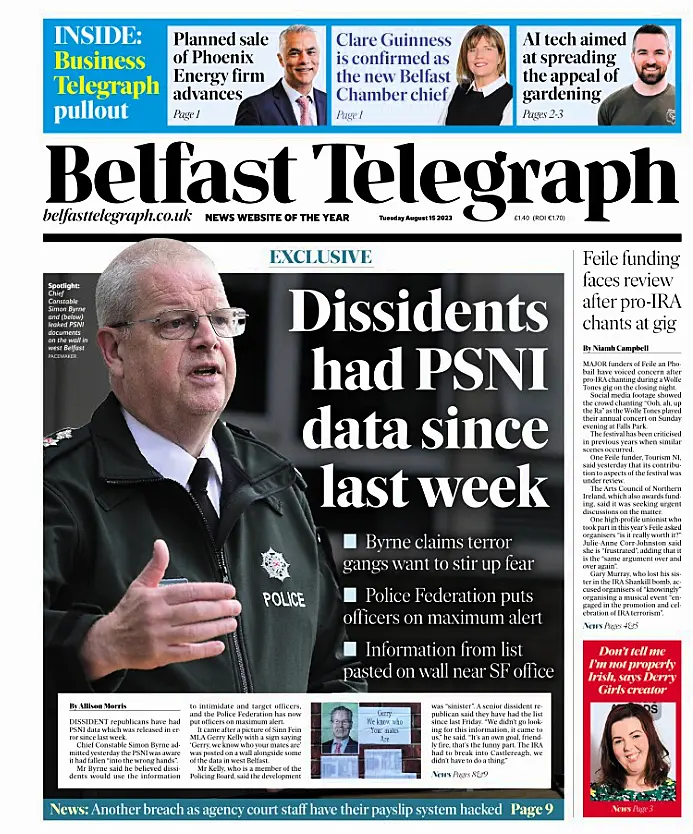 The Irish News claims broadcaster Stephen Nolan sent "sexually explicit images" of a later convicted sex offender to other BBC employees working on his radio and television shows.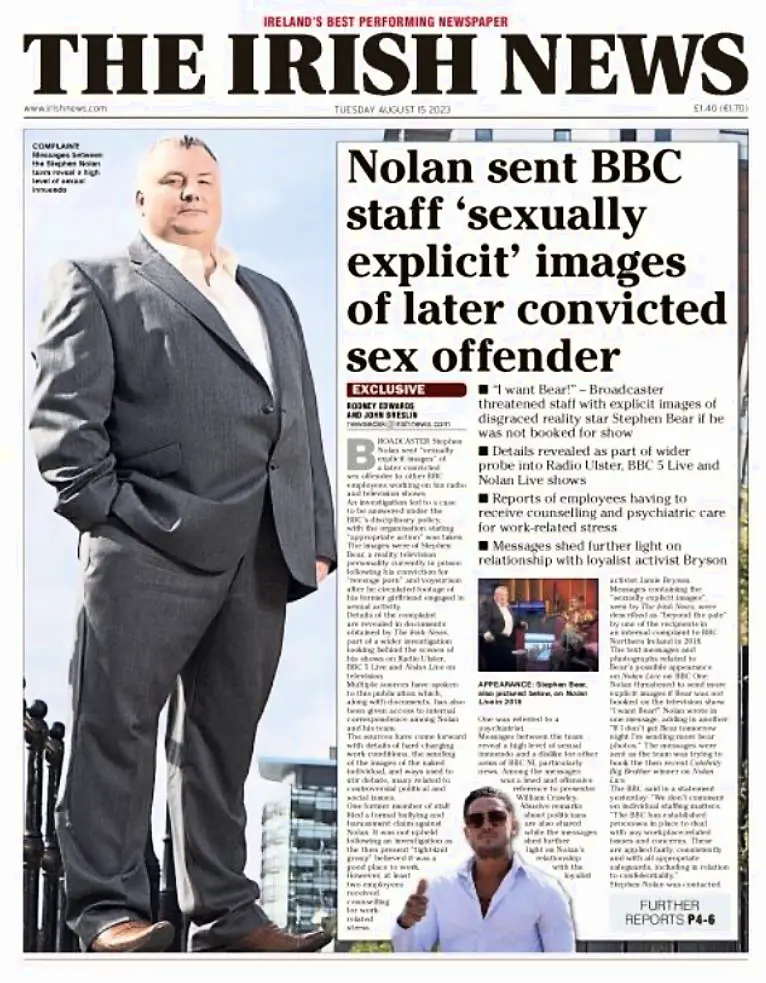 Efforts to deter migrants from crossing the Channel in small boats continue to feature on some of the British front pages.
The concerning announcement that information on PSNI officers and staff is in the hands of dissident republicans following a major data breach leads The Guardian.
The Guardian: Dissident republicans have data
from PSNI leak, says police chief #TomorrowsPapersToday pic.twitter.com/YAhMi0VRgU

— George Mann (@sgfmann) August 14, 2023
Other newspapers continue to focus on British government attempts to deter migrants from coming to the UK by crossing the Channel on small boats.
The Times reports that the EU has rejected Britain's attempts to create a new migrant returns agreement.
The Times: EU rejects new deal for return of migrants #TomorrowsPapersToday pic.twitter.com/aLg37FQIOa

— George Mann (@sgfmann) August 14, 2023
While the Daily Express reports that some MPs believe France needs to do more to prevent small boats filled with migrants from leaving its shores.
Tuesday's @Daily_Express front page: Dear France... for £480m can you actually stop the boats? #TomorrowsPapersToday https://t.co/xfgDl2NHU0 pic.twitter.com/d0A43OoHlF

— Express Politics (@ExpressPolitics) August 14, 2023
The i says that UK state pensions are expected to rise 7 per cent to about £218 per week.
Tuesday's front page: 7% boost to state pensions

Government pledges to honour 'triple lock' matching inflation or wage growth #TomorrowsPapersToday pic.twitter.com/8cMwmxo6Jt

— i newspaper (@theipaper) August 14, 2023
The Daily Mirror features a picture of a five-year-old girl who was injured in a dog attack as her mother calls for action to be taken against dangerous dogs.
Tuesday's front page: Another day, another attack#TomorrowsPapersTodayhttps://t.co/MEXpxfQyGa pic.twitter.com/9QOaawIdjN

— The Mirror (@DailyMirror) August 14, 2023
The Daily Mail leads with a message from the new chair of the Association of Police and Crime Commissioners who says parents need to stop their children from joining dangerous social media crazes.
World exclusive: Rupert's new companion #tomorrowspaperstoday pic.twitter.com/ocvebEPlsy

— Hayley Barlow (@Hayley_Barlow) August 14, 2023
The Daily Telegraph follows up Monday's front page with Children's Commissioner for England, Rachel de Souza, joining charities' calls for children's experience of the pandemic to be heard by the Covid Inquiry as a priority.
The front page of today's Daily Telegraph:

Children's tsar piles pressure on Covid Inquiry#TomorrowsPapersToday

Sign up for the Front Page newsletterhttps://t.co/x8AV4Oomry pic.twitter.com/WQrLSiQOUw

— The Telegraph (@Telegraph) August 14, 2023
Saudi Arabia and the United Arab Emirates are snapping up chips which are crucial for building artificial intelligence software, according to the Financial Times.
FT: Big numbers Rouble slides as sanctions and
squeezed oil revenues hurt Russian economy #TomorrowsPapersToday pic.twitter.com/i6iccg8Rl2

— George Mann (@sgfmann) August 14, 2023
Meanwhile, a photograph which claims to be a big cat spotted in Staffordshire dominates the Daily Star front page as the paper says it could be proof that creatures like panthers are roaming the countryside.
Tuesday's front page: Big cat proof! 🐱https://t.co/rFOFuUMyMg#TomorrowsPapersToday pic.twitter.com/jmZKh8VAZV

— Daily Star (@dailystar) August 14, 2023