The rental crisis and the Women's World Cup are among the stories featured on Thursday's front pages.
The Irish Times reports that there will be no further investigative action into the vast majority of alleged clerical sex abuse cases at Blackrock College and Willow Park schools.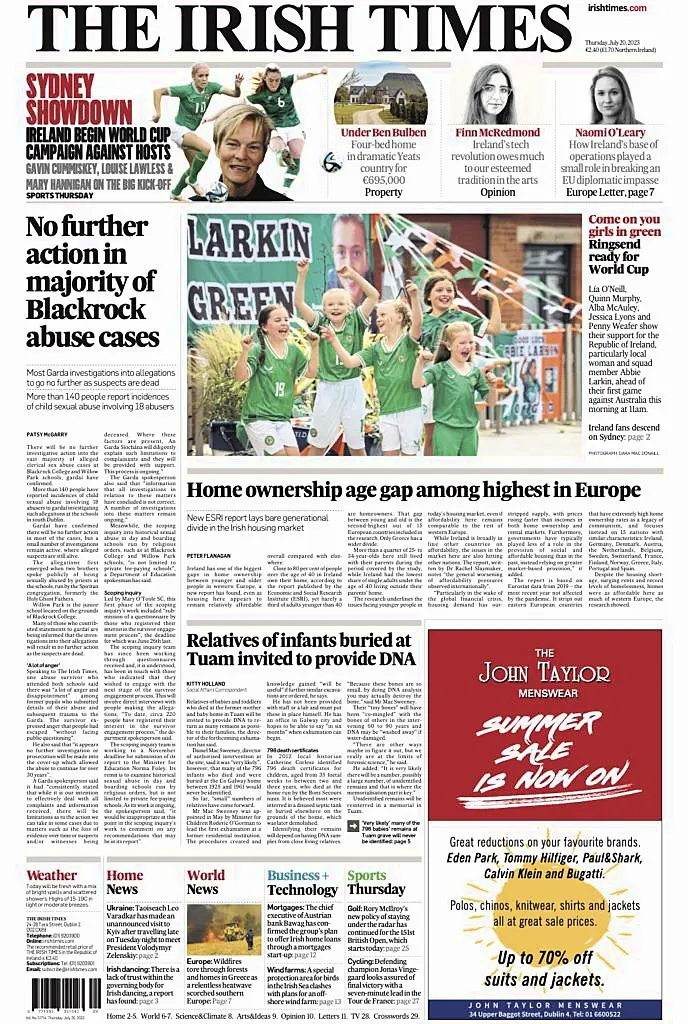 The "real number" of older people being sexually abused in nursing homes is unknown, the Irish Examiner reports after the publication of two damning HSE reviews.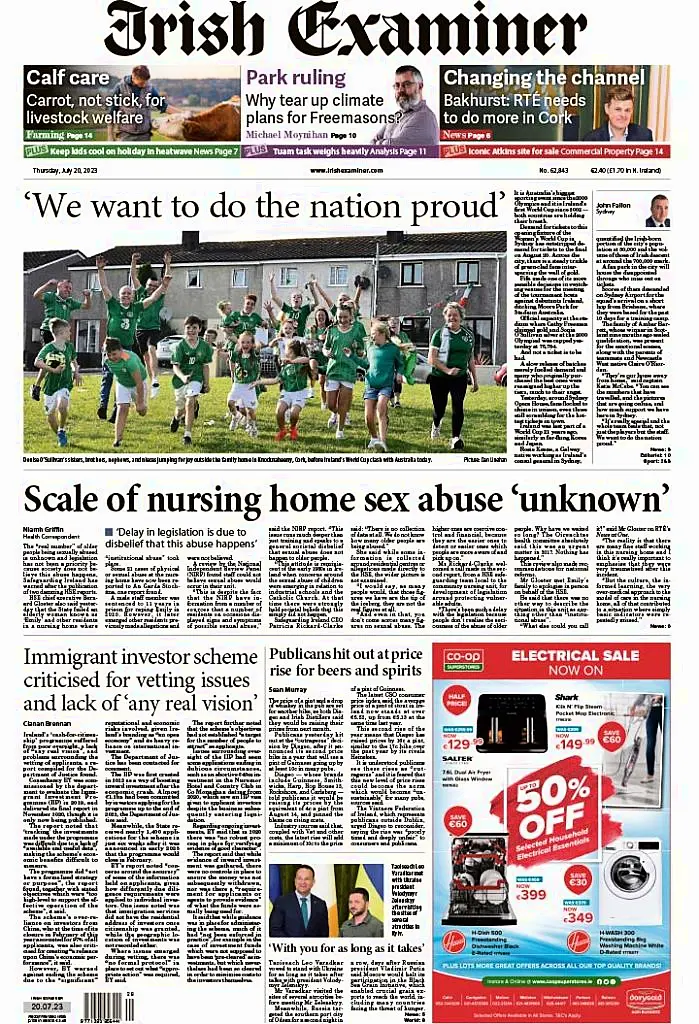 The Irish Independent covers an ESRI study which finds that younger people and higher earners are worse off here than in the rest of Europe when it comes to housing costs.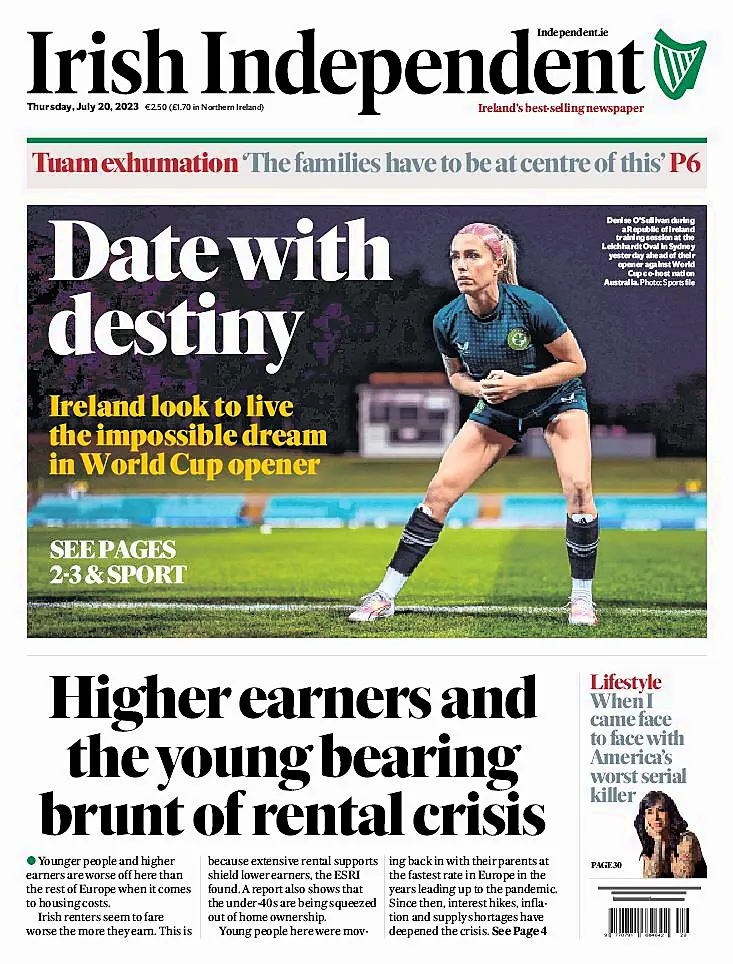 The Irish Daily Mail also looks at the housing crisis as internal Government documents reveal the need to build at least 50,000 homes per year just to meet demand.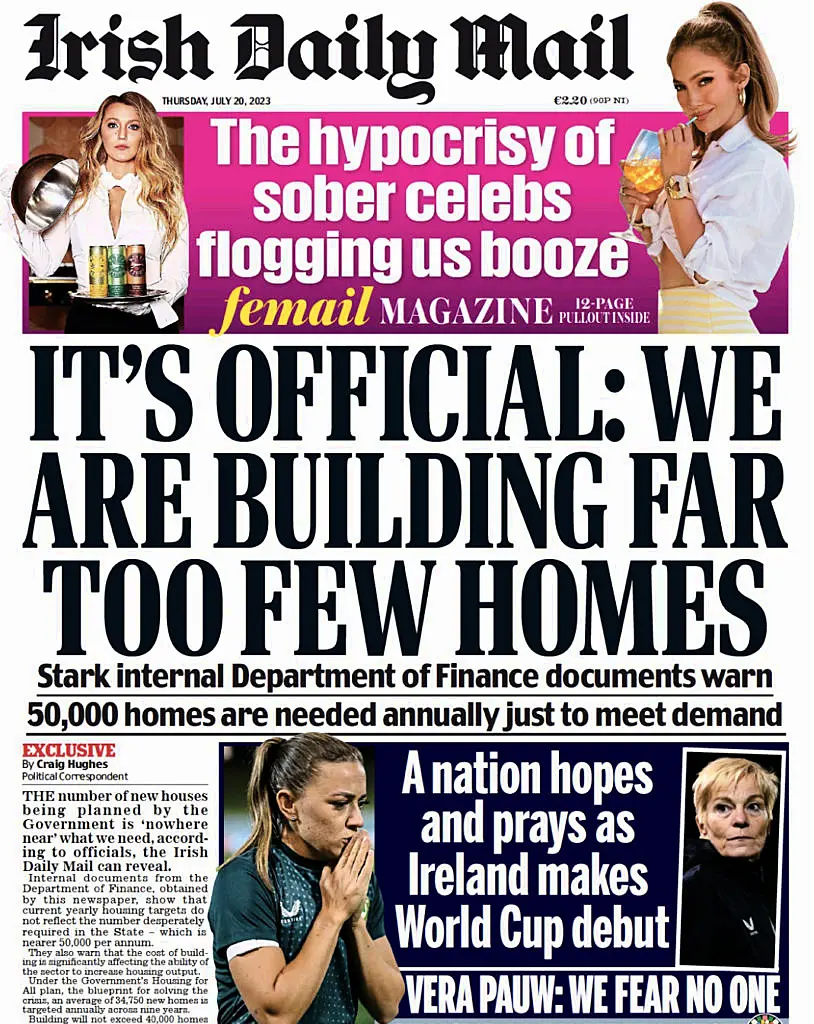 The Irish Daily Mirror says drinkers will be "crying into their pints" after Diageo announced it would raise prices.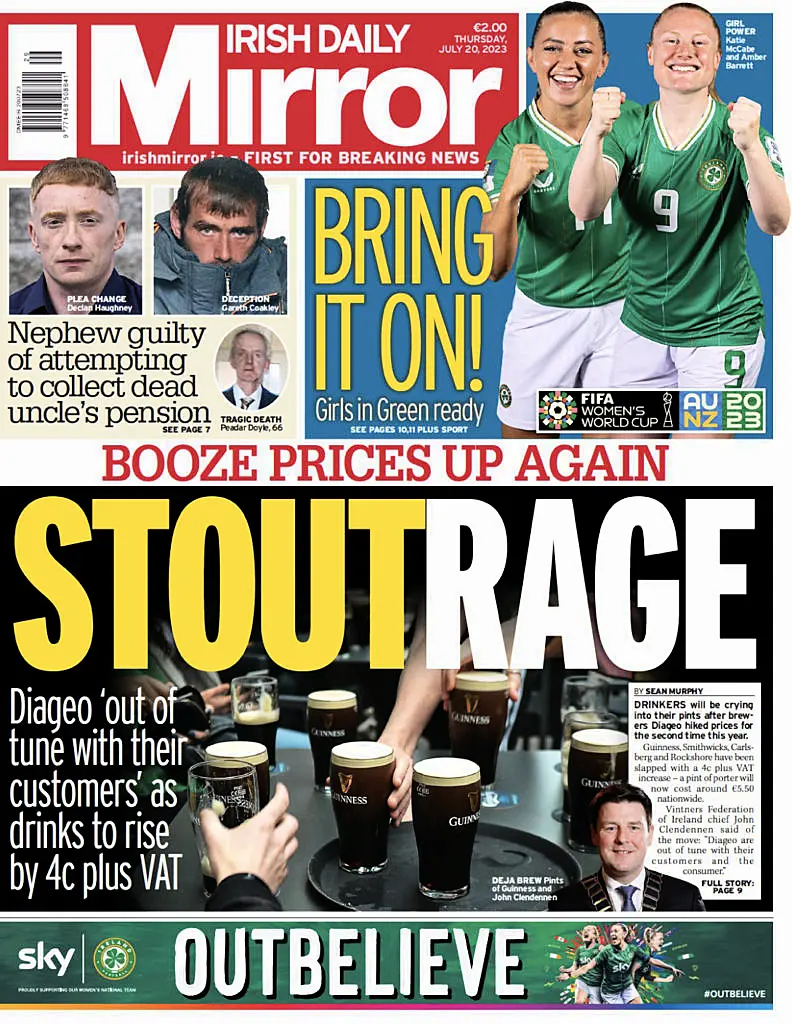 Two men have pleaded guilty to a charge of attempted deception of a post office worker concerning a deceased man's pension in January last year, the Irish Daily Star reports.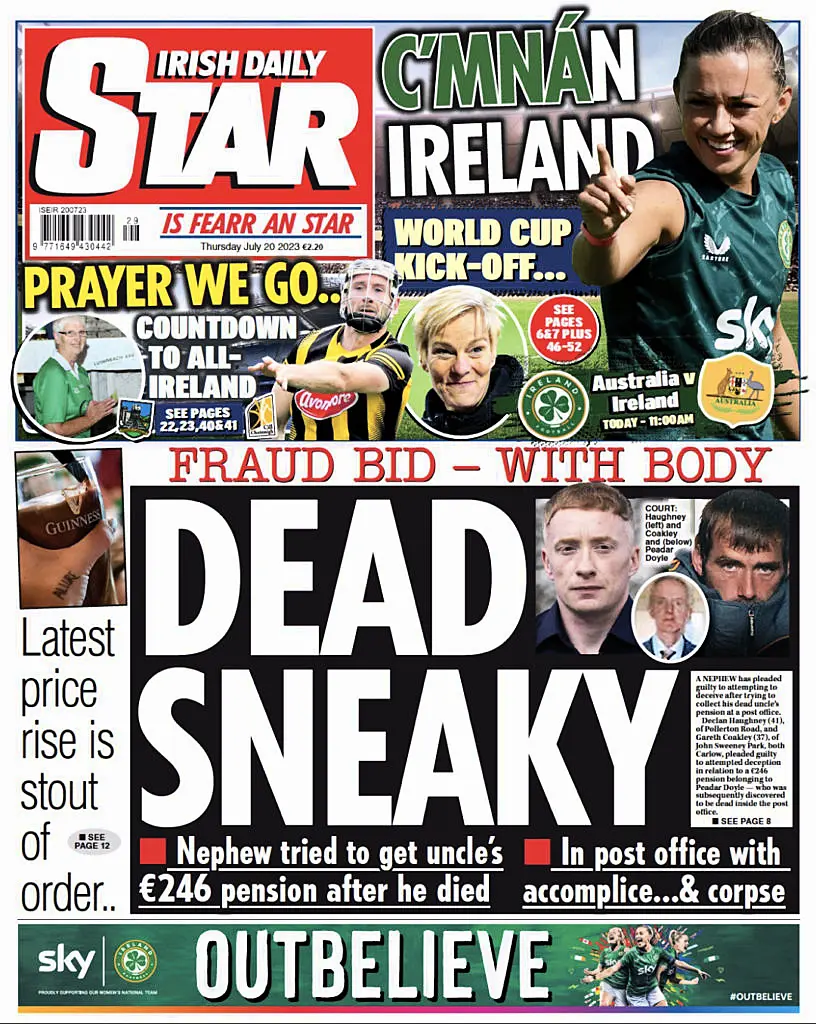 New proposed laws that could strip the licences off banks and the drop in inflation feature among a number of stories leading the British papers.
The Daily Telegraph, The Times and the Daily Mail report on the pressure by Conservative MPs on NatWest after Nigel Farage's bank accounts with Coutts were closed.
The front page of today's Daily Telegraph:

'NatWest boss under pressure over Farage bank scandal'#TomorrowsPapersToday
Sign up for the Front Page newsletterhttps://t.co/x8AV4Oomry pic.twitter.com/vxfjTKzpUe

— The Telegraph (@Telegraph) July 19, 2023
TIMES: Banks told to respect free speech #TomorrowsPapersToday pic.twitter.com/EZXv4cuu7h

— Neil Henderson (@hendopolis) July 19, 2023
Thursday's @DailyMailUK #MailFrontPages pic.twitter.com/LVF6GgbGil

— Daily Mail U.K. (@DailyMailUK) July 19, 2023
The Daily Express says "prices must drop now" as inflation rates fell to their lowest level in a year.
Thursday's @Daily_Express front page: Prices must drop now inflation has fallen #TomorrowsPapersTodayhttps://t.co/K4kMQXVR9s pic.twitter.com/m6gvZfpyTm

— Express Politics (@ExpressPolitics) July 19, 2023
The i reports on the inflation rates, saying despite the drop, interest rates are expected to increase to 5.25% in two weeks.
Thursday's front page: Interest rate hike to 5.25% in two weeks forecast, after inflation falls#TomorrowsPapersToday pic.twitter.com/z7TESxMpSu

— i newspaper (@theipaper) July 19, 2023
And the Financial Times also features the drop in the latest inflation figures.
Just published: front page of the Financial Times UK edition Thursday July 20 https://t.co/0H9ZvbWTaQ pic.twitter.com/eOy4AhnvZQ

— Financial Times (@FinancialTimes) July 19, 2023
Meanwhile, the Daily Mirror urges Rishi Sunak to take act on knife crime after the mum of a murdered 16-year-old boy demands action.
Thursday's front page - 'TEEN MURDER OUTRAGE'https://t.co/yi0GIfh998 pic.twitter.com/pNB27EGb4o

— The Mirror (@DailyMirror) July 19, 2023
Tory MPs fear that byelection results could be a "damning verdict" on Mr Sunak's ability to win the majority of voters at the next election, according to The Guardian.
Guardian front page, Wednesday 19 July 2023: Revealed: soaring toll of 28,000 convictions for Covid breaches pic.twitter.com/foUnbKQrBz

— The Guardian (@guardian) July 18, 2023
The Independent continues its campaign to help the Afghan hero pilot who faces deportation to Rwanda, with Joe Biden saying Afghan veterans who supported the US will be cared for.
INDEPENDENT DIGITAL: Biden piles pressure on UK #TomorrowsPapersToday pic.twitter.com/RKd8Q7VUKv

— Neil Henderson (@hendopolis) July 19, 2023
The Sun says TV Star Aled Jones was robbed of a £17,000 Rolex watch by a "machete wielding thug" near his home in London.
On tomorrow's front page: Aled Jones robbed of £17,000 Rolex after teen thug attacked him and son with machete during terrifying daylight raidhttps://t.co/VjLPTbw0L2 pic.twitter.com/3nor2czX8M

— The Sun (@TheSun) July 19, 2023
Metro leads with the Met Police Commissioner's apology to the family of Daniel Morgan over their "botched investigation" into his murder.
Tomorrow's Paper Today 📰

£2M JUSTICE FOR DANIEL

🔴 Met 'sorry' after 36 years of botched investigations into axe murder#TomorrowsPapersToday pic.twitter.com/MuKIq0iwxS

— Metro (@MetroUK) July 19, 2023
And the Daily Star takes aim at bank bosses, who they say received £25 million in bonuses.
Thursday's front page: Hols going to Iceland!🔥#TomorrowsPapersTodayhttps://t.co/P5xt6souTp pic.twitter.com/rAt7RiW9AQ

— Daily Star (@dailystar) July 19, 2023