Friday's front pages focus on the fallout over the protest outside Leinster House, with the mock gallows being investigated as well as barriers around it being considered by Gardaí.
The Irish Times lead with the news that the erection of a mock gallows at a far-right protest outside Leinster House on Wednesday is being investigated as a potential criminal offence.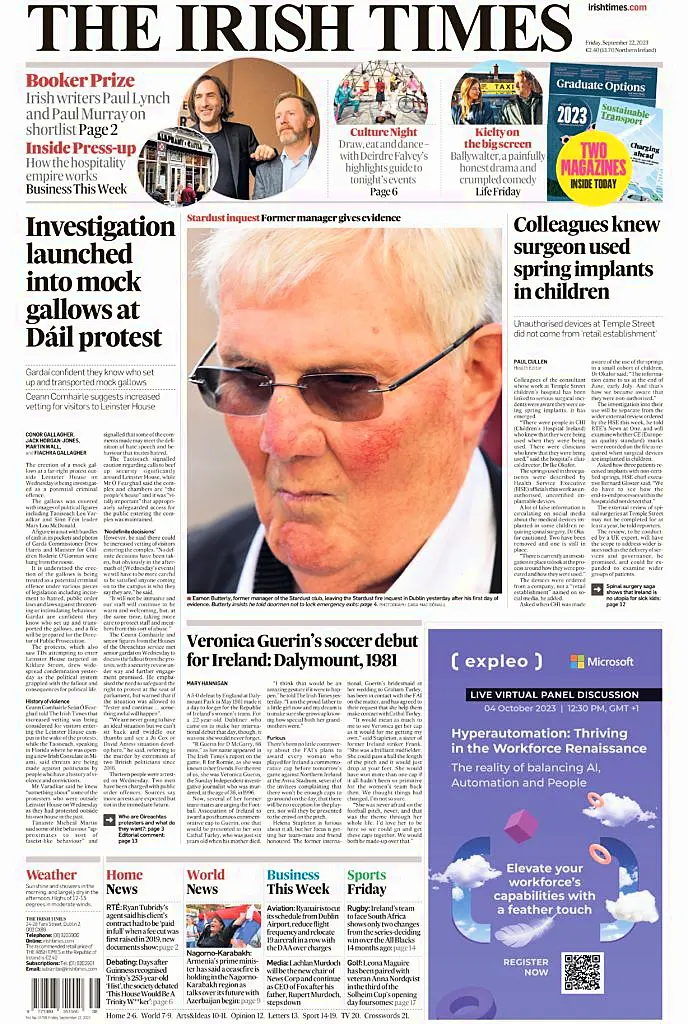 The Irish Examiner report that Gardaí are considering putting up barriers 1.6km from Leinster House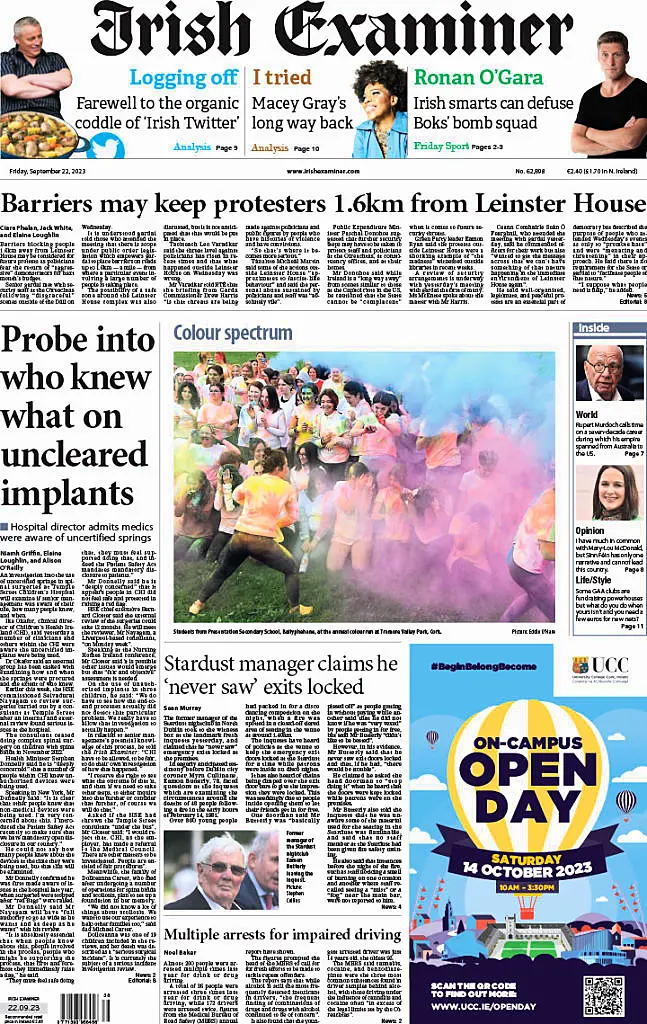 The Echo report that the Tánaiste said the protest were a threat to democracy and 'fascist-like'.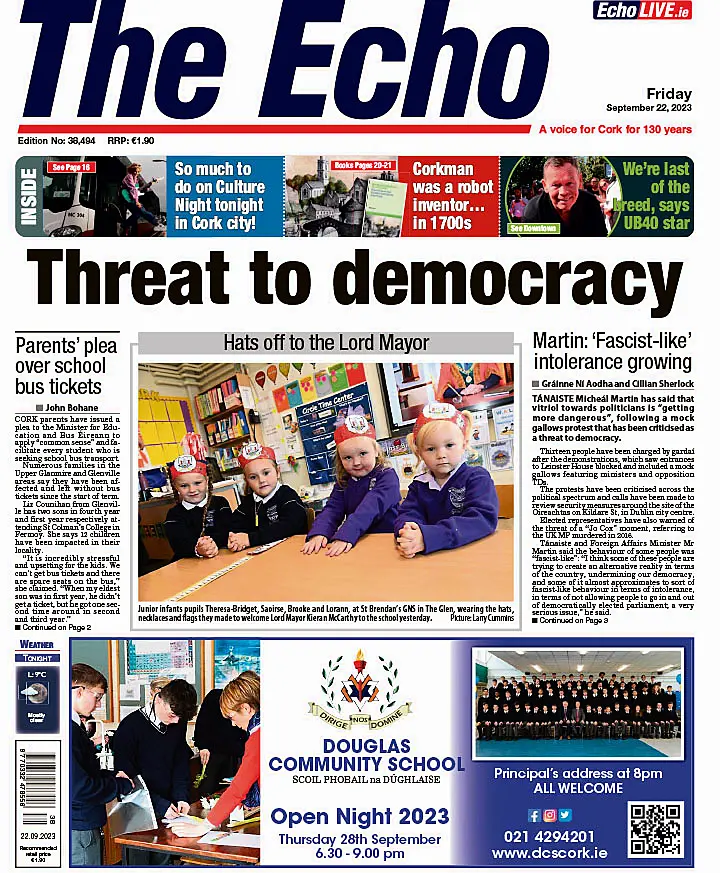 Good morning, here's the front page of today's Irish Independent pic.twitter.com/lY7CQEIFBn

— Irish Independent (@Independent_ie) September 22, 2023
Friday's front page pic.twitter.com/s1Dmagy1zf

— The Irish Daily Mail (@irishdailymail) September 21, 2023
Today's front page of The Irish Sun. pic.twitter.com/3XardCPQRz

— The Irish Sun (@IrishSunOnline) September 22, 2023
Meanwhile, in the UK the economy and reported plans for A-level reform are among the topics leading the nation's papers at the end of the working week.
The Daily Telegraph carries comment from UK Chancellor Jeremy Hunt, who says tax cuts before the Autumn Statement in November are "virtually impossible".
The front page of today's Daily Telegraph:

'Hunt: Tax cuts are virtually impossible'#TomorrowsPapersToday

Sign up for the Front Page newsletterhttps://t.co/x8AV4OoUh6 pic.twitter.com/OOTnLOL9Q4

— The Telegraph (@Telegraph) September 21, 2023
Mr Hunt also features on the front of the Daily Express, which leads with him saying the "tide is turning" on the cost-of-living crisis.
Friday's DAILY EXPRESS: If Mr Hunt says so...then it must be true!#TomorrowsPapersToday pic.twitter.com/5S4dQQFM27

— Jack Surfleet (@jacksurfleet) September 21, 2023
Meanwhile, the i says chief economists believe interest rates have hit their peak.
Friday's front page: Interest rates have now hit peak, predict economists#TomorrowsPapersToday

Latest by @CallumCMason: https://t.co/ydO4ac5vqf pic.twitter.com/LP1qnqVuTY

— i newspaper (@theipaper) September 21, 2023
Elsewhere, The Times reports British Prime Minister Rishi Sunak is drawing up plans to establish a new style of British Baccalaureate in which pupils would study more subjects after the age of 16.
Friday's TIMES: PM wants A-level reform to boost pupils' life skills#TomorrowsPapersToday pic.twitter.com/BLhBZUnfiI

— Jack Surfleet (@jacksurfleet) September 21, 2023
Environmental campaigners are planning legal challenges to thwart Mr Sunak's watering down of net zero pledges, according to The Guardian.
Friday's GUARDIAN: Campaigners plan legal challenges to Sunak's U-turn on green policies#TomorrowsPapersToday pic.twitter.com/dor1KlIHFD

— Jack Surfleet (@jacksurfleet) September 21, 2023
Staying with politics, the Daily Mail leads with Sir Keir Starmer saying on video he did not want to diverge from EU rules.
Friday's DAILY MAIL: Starmer lets cat out of bag on Brexit betrayal#TomorrowsPapersToday pic.twitter.com/wwOOZi2eWy

— Jack Surfleet (@jacksurfleet) September 21, 2023
The Sun says the BBC is investigating a claim that Russell Brand flashed a woman before laughing about it on his radio show.
On tomorrow's front page: BBC's shame over flasher Brand - 'exposed himself' then joked off air... bosses ignored vile anticshttps://t.co/SUrGGDk5Il pic.twitter.com/BV1SUO3NjI

— The Sun (@TheSun) September 21, 2023
Metro leads with the heart-warming story of an eight-year-old girl who has been spared from taking life-long drugs to stop her body rejecting her kidney transplant thanks to a UK-first treatment.
Tomorrow's Paper Today 📰

DRUGS-FREE TRANSPLANT REVOLUTION

🔴 Aditi, 8, makes medical history#TomorrowsPapersToday pic.twitter.com/N2tq2Qtc8z

— Metro (@MetroUK) September 21, 2023
The Daily Mirror reports a beautician has been charged with spying for Russia.
Friday's front page: For your eyes only#TomorrowsPapersTodayhttps://t.co/Q5uIApiHXv pic.twitter.com/NQ9us4J4e9

— The Mirror (@DailyMirror) September 21, 2023
And the Daily Star dedicates its front page to a campaign to save Spam.
Friday's Front Page 📰

Save our Spam!

Yet another agenda-setting mega-important @dailystar campaign!

Read more: https://t.co/BcOVcMQRAq#TomorrowsPapersToday pic.twitter.com/KwyPW6MoST

— Daily Star (@dailystar) September 21, 2023