Thursday's front pages are dominated by the tragic passing of iconic Irish singer Sinead O'Connor who died aged 56 on Wednesday.
The Irish Times and Irish Examiner both lead tributes to the singer calling her a "unique voice" and a "child of Ireland."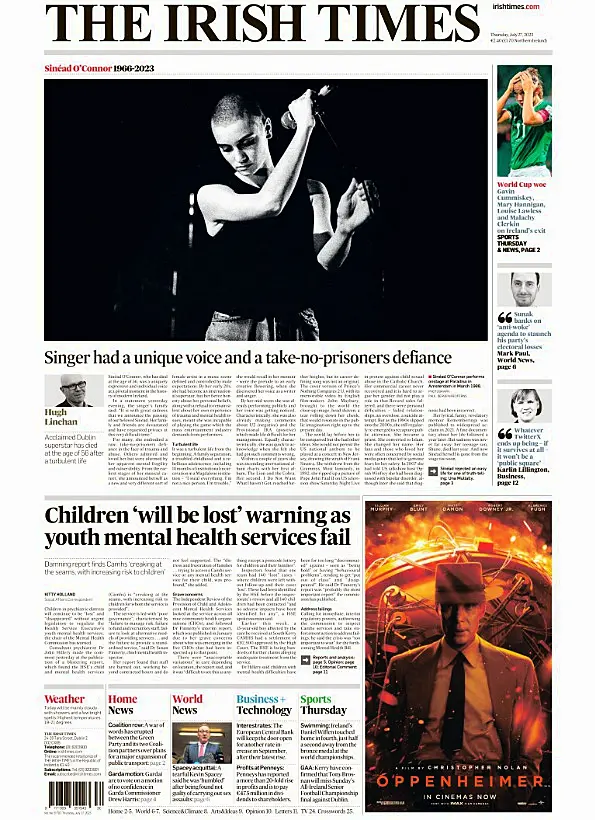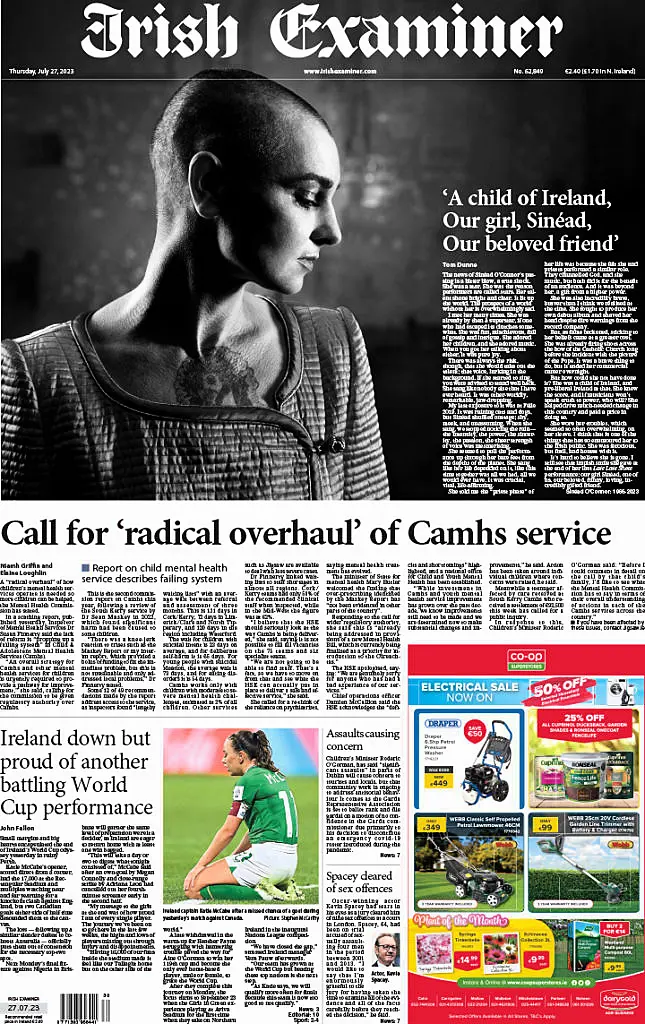 The Echo also pay tribute to Sinead O'Connor as well as leading with a piece about the chief executive of Cork City Council being 'shocked' with the conditions of social homes in the city.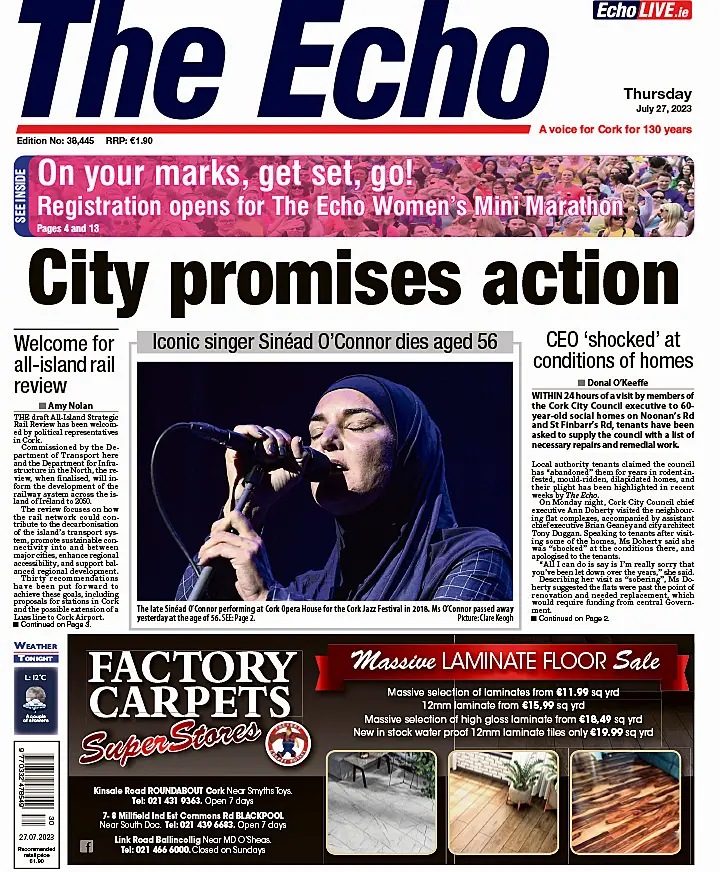 Here is the front page of today's Irish Independent: pic.twitter.com/SIgYNnA7I9

— Independent.ie (@Independent_ie) July 27, 2023
— The Irish Daily Mail (@irishdailymail) July 27, 2023
Today's front page of The Irish Sun. pic.twitter.com/1P3lX3azUT

— The Irish Sun (@IrishSunOnline) July 27, 2023
𝐒𝐢𝐧𝐞𝐚𝐝 𝐎'𝐂𝐨𝐧𝐧𝐨𝐫: 𝟏𝟗𝟔𝟔-𝟐𝟎𝟐𝟑 pic.twitter.com/juZb88JarE

— Belfast Telegraph (@BelTel) July 27, 2023
In the UK, Sinead O'Connor's death also dominated the papers as well as the ongoing turmoil surrounding the NatWest bank.
Pictures of the Irish singer appear on the front of almost all titles, the Metro giving over much of its front page and saying she has died at the age of 56, while finding room for the third big story of the day – actor Kevin Spacey being cleared of sex assault charges.
Tomorrow's Paper Today 📰

SINGER SINÉAD DEAD AT 56

🔴 Troubled Nothing Compares star is gone 18 months after beloved son's suicide at 17 #TomorrowsPapersToday pic.twitter.com/vMVOzyj3fE

— Metro (@MetroUK) July 26, 2023
The Daily Mirror and Daily Star opt for the same headline over pictures of Sinead O'Connor, referencing her biggest hit as they simply say "Nothing Compared".
Tomorrow's @DailyMirror pic.twitter.com/QrMNS5ZiAF

— Alison Phillips (@MirrorAlison) July 26, 2023
Tomorrow's front page: You will be missed Sinead 💔#Tomorrowsfrontpagestodayhttps://t.co/oGtaSiS6FF pic.twitter.com/t2voIMorq8

— Daily Star (@dailystar) July 26, 2023
The Daily Telegraph turns its attention to the NatWest scandal, saying the board is under pressure after £850 million was wiped off its value following the resignation of chief executive Dame Alison Rose.
The front page of tomorrow's Daily Telegraph:

NatWest may have broken law over Farage#TomorrowsPapersToday

Sign up for the Front Page newsletterhttps://t.co/x8AV4OoUh6 pic.twitter.com/4OHVJL9BuM

— The Telegraph (@Telegraph) July 26, 2023
That is echoed by The Independent, which says Nigel Farage – whose closed Coutts bank account sparked the turmoil – is calling for "more heads to roll".
INDEPENDENT DIGITAL: Natwest loses £850m ….#TomorrowsPapersToday pic.twitter.com/9nyemCMPMR

— Neil Henderson (@hendopolis) July 26, 2023
And the Financial Times says shareholders are venting their anger on NatWest chairman Sir Howard Davies.
FT UK: NatWest fails to stem Farage fallout #TomorrowsPapersToday pic.twitter.com/WujDDC3mnv

— Neil Henderson (@hendopolis) July 26, 2023
The political fallout is covered elsewhere with the i reporting MPs are launching an inquiry into "debanking" with ministers warned banks must be "reined in".
Thursday's front page: Banks must be reined in after NatWest crisis, ministers told#TomorrowsPapersToday pic.twitter.com/lHoGPnDSE4

— i newspaper (@theipaper) July 26, 2023
The Guardian says anonymous briefings had sparked concerns British Prime Minister Rishi Sunak and Chancellor Jeremy Hunt were "damaging UK plc".
Guardian front page, Thursday 27 July 2023: PM 'damaging UK plc' in row over exit of NatWest chief pic.twitter.com/OmJoA05Fyz

— The Guardian (@guardian) July 26, 2023
The Times manages to fit Sinead O'Connor, NatWest and Kevin Spacey on its front page, but opts for a different lead – focusing on research which says children who gave up on school during the Covid pandemic risk turning to crime.
Inheritance tax dominates the Daily Express as it says calls for it to be axed have grown among families affected by the measure.
Thursday's front page: Inheritance Tax Raid Must Be Ended #TomorrowsPapersToday https://t.co/bF3xYHqHrF pic.twitter.com/szOXL9vCtQ

— Daily Express (@Daily_Express) July 26, 2023
"Corrupt migration lawyers" remains as the focus of the Daily Mail on the back of an investigation by the paper, saying Mr Sunak wanted them to be hit with the "full weight of sanctions".
Thursday's @DailyMailUK #MailFrontPages pic.twitter.com/eSwwoSARlu

— Daily Mail U.K. (@DailyMailUK) July 26, 2023