Monday's front pages focus on a range of stories from wildfires raging in Rhodes to a lack of child psychiatric beds being an urgent issue.
The Irish Times report almost 19,000 people have been helped to safety from wildfires on the Greek island of Rhodes as part of Greece's largest emergency evacuation.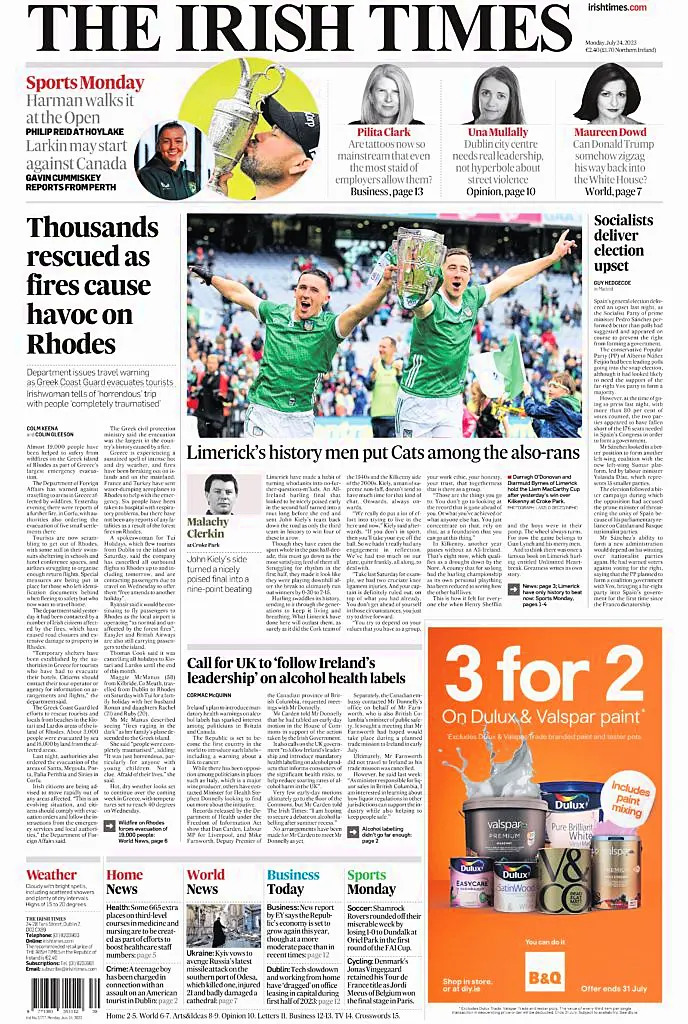 The Irish Examiner leads with psychiatric nurses, psychologists, and mental health campaigners calling for "urgent" action to address a continuing shortage of child inpatient psychiatric beds.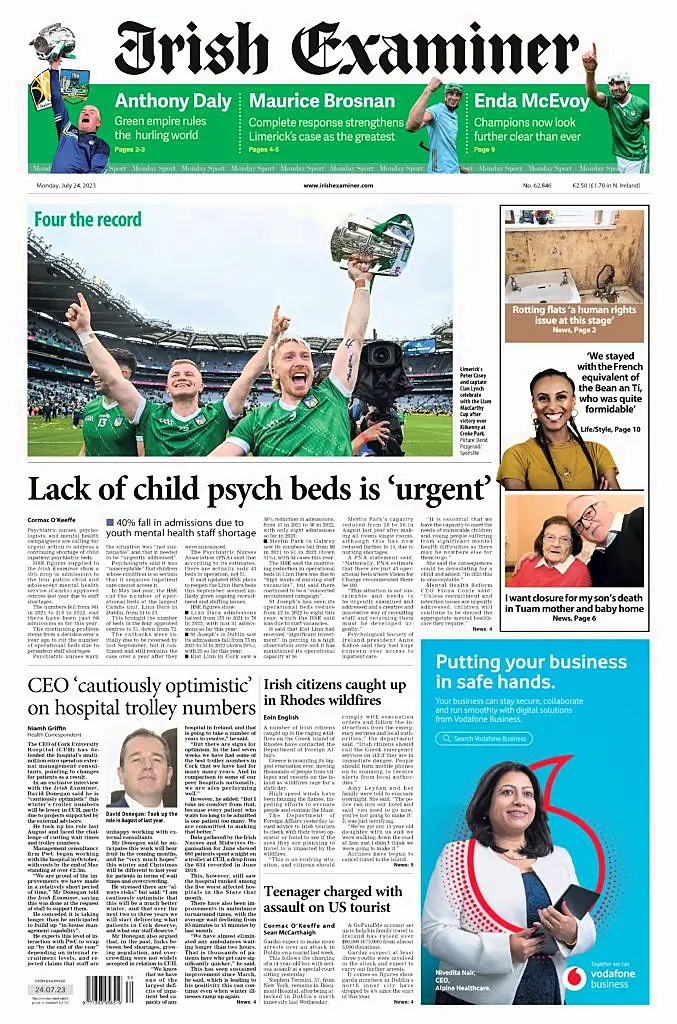 The Echo lead with an appeal to motorists as 10 people have died on the roads in Cork this year.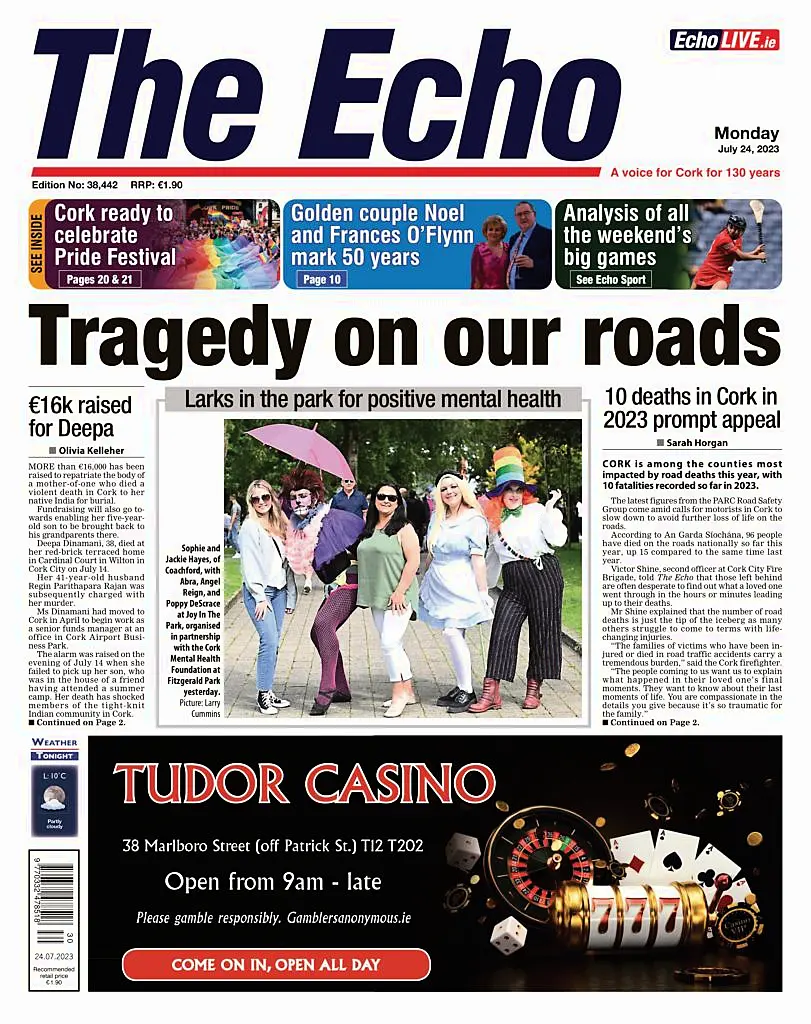 Here is the front page of today's Irish Independent. pic.twitter.com/xQMTvQdXR4

— Independent.ie (@Independent_ie) July 24, 2023
€163 to drive between Cork and Dublin... not including the petrol! pic.twitter.com/ybob88uABc

— The Irish Daily Mail (@irishdailymail) July 24, 2023
Morning readers. Stay with @BelTel for all your breaking news. Here's a look at the front page of the Belfast Telegraph this morning. 🗞️
To read the full newspaper on your device, go Premium +➡️https://t.co/1JEC5mNi73 pic.twitter.com/f61sWoPav6

— Belfast Telegraph (@BelTel) July 24, 2023
In the UK, the wildfires in Rhodes and the attempts to help holidaymakers escape the island dominates the front pages of Monday's newspapers.
The Daily Express simply calls the situation on the Greek island "Hell on Earth" while the Metro sums up the story with the simple headline "Rhodes on Fire".
Front page: Hell on Earth #tomorrowspapertoday

Brits flee raging wildfires in Rhodeshttps://t.co/z44n2CUAzp pic.twitter.com/8YxglggCc3

— Daily Express (@Daily_Express) July 23, 2023
Tomorrow's Paper Today 📰

RHODES ON FIRE

🔴 Brits flee holiday isle #TomorrowsPapersToday pic.twitter.com/anUo1sNDum

— Metro (@MetroUK) July 23, 2023
Thousands of people have been forced to flee the "nightmare" according to The Guardian, one of several titles to feature a picture of England cricket captain Ben Stokes as a different form of weather-related issue ended hopes of recapturing the Ashes at Old Trafford.
The Guardian: Thousands forced to flee Rhodes fire
'nightmare' #TomorrowsPapersToday pic.twitter.com/YLROWMAN12

— George Mann (@sgfmann) July 23, 2023
The Daily Telegraph concentrates on the efforts of travel companies which it says are "scrambling to repatriate thousands of tourists".
The front page of tomorrow's Daily Telegraph:

'Pressure on travel firms to fly Britons out of Rhodes'#TomorrowsPapersToday

Sign up for the Front Page newsletterhttps://t.co/x8AV4Oomry pic.twitter.com/gMJ890VuTi

— The Telegraph (@Telegraph) July 23, 2023
"Wildfire hell" features on the front of The Sun which says British families left their hotels with seconds to spare, while the Daily Mirror calls it "Our Terror".
On tomorrow's front page: Gary Lineker enjoys Ibiza holiday with ex-wife Danielle Buxhttps://t.co/cfHydx7Bu5 pic.twitter.com/So06WPLBXx

— The Sun (@TheSun) July 23, 2023
Monday's Front Page 📰

RHODES INFERNO AGONY

Our terror: Brit families tell of ordeal as they flee wildfires on the hols isle

Read more: https://t.co/Kj0Yhvlr2z#TomorrowsPapersToday pic.twitter.com/CHSbDhEh8W

— The Mirror (@DailyMirror) July 23, 2023
The i combines the wildfires with pressure on the Government to back climate pledges, saying they have been "warned over fiddling with green policies… while Rhodes burns".
Monday's front page: Tories warned over fiddling with green policies...while Rhodes burns

From @ChaplainChloe: https://t.co/iZR0nR6lPk#TomorrowsPapersToday pic.twitter.com/73rusLEkmk

— i newspaper (@theipaper) July 23, 2023
A "retreat" on those green policies is the focus of The Times, which says the Government is considering a backward step on what it calls "costly and unpopular".
The Times: Spanish PM could gain seats but lose power after snap election #TomorrowsPapersToday pic.twitter.com/IH2ujm7Z3F

— George Mann (@sgfmann) July 23, 2023
Chancellor Jeremy Hunt is the focus of the Daily Mail as he gives an interview on how cancer has hit him and his family and calls on Britain to lead the global effort to beat the disease.
Daily Mail: Chancellor - I'm blessed my cancer was caught quickly #TomorrowsPapersToday pic.twitter.com/RL0hf0xJLF

— George Mann (@sgfmann) July 23, 2023
The Financial Times crosses the Atlantic as it says US presidential candidate Ron DeSantis is losing support from billionaire donors.
Just published: front page of the Financial Times UK edition Monday July 24 https://t.co/CabzdC4rtU pic.twitter.com/c9IuPcVqRK

— Financial Times (@FinancialTimes) July 23, 2023
The Daily Star follows other titles in concentrating on green issues, but it focuses on extra time for "unfit Brits" to cross roads at lights.
Weight for the green man #TomorrowsPapersToday https://t.co/546cbv2IYg pic.twitter.com/uIp8Qeytth

— Daily Star (@dailystar) July 23, 2023