Taoiseach Leo Varadkar has accused Sinn Féin of being unable to handle democratic debate during a heated discussion about the Government's decision not to extend the evictions ban.
Sinn Féin leader Mary Lou McDonald said her party would be seeking a Dáil vote on the decision at the earliest opportunity.
The government has decided not to prolong the eviction ban, which was introduced last November, as it claims ending the ban will encourage more landlords to enter the market and increase the available supply of housing.
Critics say ending the ban will lead to an increase in homelessness.
Amid angry scenes during leaders' questions on Wednesday, the Taoiseach said: "The reason you consistently shout me down when I try to answer your questions is because you can't handle the answers because you know they're true."
Ms McDonald responded: "There's no-one shouting you down Leo, relax."
Mr Varadkar raised a point of order to accuse Sinn Féin of being unable to engage in democratic discourse.
"I really need to put on the record of the Dáil that what we see here is a party that really can't handle honest democratic debate," he said.
Ms McDonald responded: "The Taoiseach made a point of order and questioned the democratic capacity or ability of this party.
"I might remind the Taoiseach that on the last occasion that we went to the polls this party secured more votes than your own."
Mr Varadkar said: "The deputy betrayed the truth once again. Her party scored 24.5 per cent of the vote and they think that gives them the right to shout everyone else down. That's not democratic."
Ms McDonald responded succinctly: "That's a moronic point."
The exchange occurred as the two leaders debated the government's decision not to extend the eviction ban which was introduced last November.
Mr Varadkar claimed the ban is preventing new landlords from entering the market which is restricting the available supply of housing, while Ms McDonald said that allowing evictions during a housing crisis and cost-of-living crisis will put pressure on working families.
"Responsibility for the housing crisis lies fairly and squarely at the feet of you Taoiseach and your government," Ms McDonald said.
"It's about having a government with the basic intelligence and cop-on to know that you don't create more uncertainty for renters at a time when supply is that tight."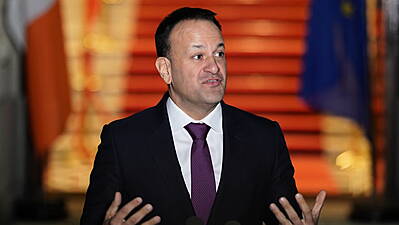 Ireland
Varadkar hits out at 'demonisation' of landlords
As the Taoiseach outlined his view of Sinn Féin's position, stating the party is "trying to create a divisive and false narrative that it's landlords versus renters," party leader Ms McDonald could be heard saying "Jesus, Mary and Joseph".
Labour leader Ivana Bacik said: "I think it's unedifying to see those two alternatives portrayed.
"It's good we live in a democracy where there are other choices."