Sinn Féin's council election success was a case of the party "turning a nationalist vote into a republican vote", DUP leader Sir Jeffrey Donaldson has said.
Mr Donaldson was speaking as he rejected the suggestion that the results of the local government elections showed any movement towards a united Ireland.
Sinn Féin leader Mary Lou McDonald responded to questions about a unity poll by saying there had been change in elections in Northern Ireland and that was "not going to stop".
As well as Sinn Féin winning the most council seats, nationalists outpolled unionists for the first time in an election in Northern Ireland.
But Mr Donaldson countered this by stating that unionist parties had won more council seats than nationalists.
A number of unionist politicians have raised concerns since the election about lower voter turnout in their areas and about the splitting of the unionist vote among three parties.
Mr Donaldson said: "Yes, there are lessons that need to be drawn from this election.
"Whilst the DUP vote held up well, whilst we held our seats, I think that we need to work with our fellow unionists to increase turnout in areas where unionists expect to do well and to ensure the splitting of the unionist vote is avoided and people transfer.
"I accept that unionism needs to recognise the task in front of it, we need to do more to get our people out to vote, we need to do more to win seats.
"The idea that nationalists getting the same vote as they got 20 years ago represents some movement towards a united Ireland or makes the case for a border poll, I think, anyone who is sensible, who does a proper analysis of the situation, will recognise that is not the case."
He also rejected the suggestion that the election had been easy for Sinn Féin, or that his position on the Stormont stalemate had galvanised support for Mrs McDonald's party.
He said: "We have knowledge across Northern Ireland of Sinn Féin workers from Wexford, from Dublin, from Limerick, from Cork, being bussed into areas to get the vote out.
"The idea that Sinn Féin were relaxed, laid back, in this election, didn't really make an effort, is frankly for the fairies.
"We recognise that Sinn Féin put in a hard campaign. They have eaten up the SDLP.
"What Sinn Féin have succeeded in doing is converting the nationalist vote into a republican vote.
"What we need to do on the unionist side is to ensure that those who support the union are voting for pro-union parties."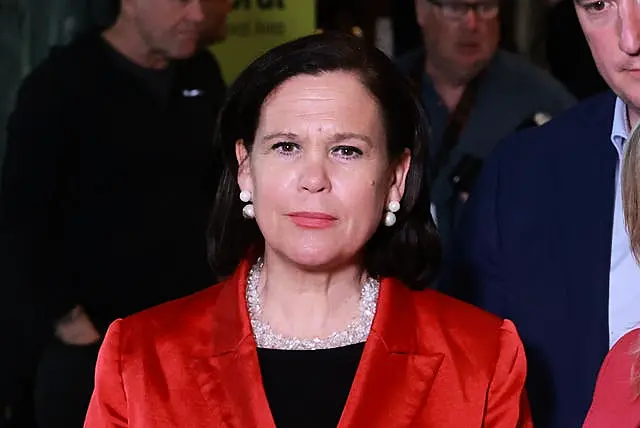 Ms McDonald repeated her call for parties from unionism and nationalism to work together.
"I think you've seen now in a succession of elections, and the results of elections, just the magnitude of change, and that's not going to stop," she said.
"That's where we're at. So let's manage all of that together in a way that's constructive and productive. That's the case for nationals, for republicans, for unionism as well.
"We need to talk to each other, we need to work together, we need to share power, we need to collaborate, because that is the way that we create a society that benefits everyone and that's what we want to do."
Ms McDonald repeated her call for the Government to convene a citizens' assembly to examine issues related to unification.