A Sinn Féin TD has said he has never supported the taking of hostages in any conflict.
Eoin Ó Broin was responding following criticism on social media of party leader Mary Lou McDonald paying tribute following the death of Irish businessman Ben Dunne.
Mr Dunne, the former director of family business Dunnes Stores and the owner of a chain of gyms, died aged 74 after suffering a heart attack in Dubai.
In 1981, Ben Dunne was kidnapped by the IRA and was released after seven days after a ransom was reportedly paid.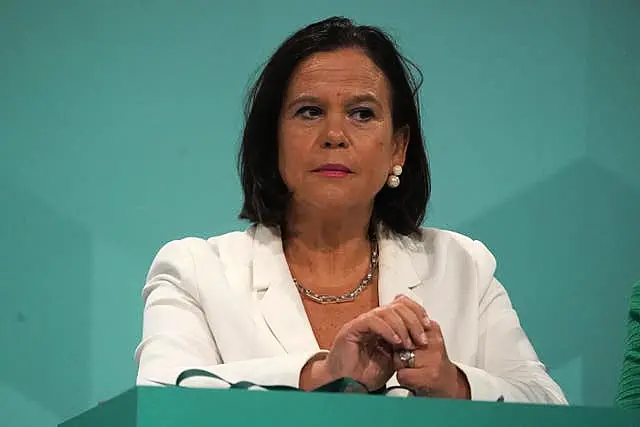 Ms McDonald was criticised on social media at the weekend after she said she was saddened to hear about the sudden death.
During a media appearance in Dublin, Mr Ó Broin was asked if he would condemn the IRA taking Mr Dunne hostage.
He responded: "I've never supported the taking of hostages in any conflict."
Asked about the criticism of his party leader, the TD said: "I haven't followed the interplay between Mary Lou and some folks on social media.
"What I would say is this.
"We have spent 25 years, in fact 30 years in real terms, not only bringing about an end to conflict, but ensuring there's a stable peace in the north.
"And I think that is a very, very good thing.
"There's obviously an issue around commemorating and commemorating people who died during the conflict, including Republican combatants.
"And I've always said, when we've asked been asked these questions, we need to find ways of doing that that is appropriate and sensitive.
"But we have a right to do that.
"But for me, what the party has been doing in recent years is ensuring there's never a return to conflict in this country and I think we've played a very important role in that."
Mr Ó Broin added: "I can't relive 30 years of armed conflict in this country, a large part of which I was a child during, but what I can ensure is what I do as a Sinn Féin politician is, like my colleagues, is ensure we never return to violence of any kind.
"And that we continue to build a stable peace and I think Sinn Féin's record stands in that matter."
Asked if he thought his party should have apologised to Mr Dunne, the Sinn Féin TD said: "I've never met Ben Dunne, but I have no doubt that he was a good man and no reason to believe otherwise.
"Republicans have apologised for a very large number of things that happened during the conflict, including spokespeople acting on behalf of the IRA, when the armed conflict was brought to an end and the IRA disbanded, apologising.
"And I think we all need to do whatever is required to ensure that people who lost loved ones or experienced conflict have their needs and concerns dealt with.
"That's a big part of work, that's a piece of work we are constantly engaged with others aren't particularly in the north with these issues are most acute.
"And on that basis I'd like to see us continue doing that work
"But all I will say is is very senior republicans, including people speaking on behalf the IRA previously have apologised for those matters and I think that was the appropriate thing to do."