Three men have been convicted of multiple offences carried out as part of a vigilante attack on men guarding a repossessed farmhouse in Roscommon five years ago.
Following a trial that ran for over three months, the jury at Dublin Circuit Criminal Court returned its verdicts on Friday after deliberating for a total of 13 hours and 58 minutes.
Shortly after 5am on December 16th, 2018, a convoy of vehicles carrying around 30 to 40 men arrived at a recently repossessed farm property at Falsk, just outside Strokestown, Co Roscommon. The men were variously wearing balaclavas, hoodies and yellow fluorescent jackets and were armed with sticks with nails in them, pickaxe handles, a meat cleaver, baseball bats and a hurley.
Four security men were beaten and forced to the ground, had their shoes removed, and their hands tied with cable ties. The windows and doors of the house were smashed, the men's vans were set on fire and a German Shepherd dog was beaten unconscious and later had to be put down.
On Friday morning, after a 50-day trial, a jury at Dublin Circuit Criminal Court convicted three men of taking part in the sustained and brutal attack that morning. Jurors found the fourth man not guilty of the charges he faced in relation to the incident.
PJ Sweeney (44), a builder from High Cairn, Ramelton, Co Donegal; Mayo farmer Martin O'Toole (58), of Stripe, Irishtown, Claremorris, Co Mayo, and cattle farmer Paul Beirne (56), of Croghan, Boyle, Co Roscommon, were each found guilty of 15 out of the 17 charges in relation to this incident at Falsk, Strokestown on December 16th, 2018.
The three men were found guilty of false imprisonment of and assault causing harm to Ian Gordon, Mark Rissen, John Graham, and Gary McCourtney. They were further convicted of aggravated burglary, three counts of arson in relation to three vans which were allegedly set alight, criminal damage to a door of a house, violent disorder and to causing unnecessary suffering to an animal by causing or permitting an animal to be struck on the head.
They were also each acquitted of robbery of a wristwatch from John Graham and one count of arson in relation to a car which was allegedly set alight.
The jury returned unanimous guilty verdicts in respect of the charge of violent disorder faced by O'Toole, Sweeney and Beirne. Jurors found the three men guilty by a majority of 11 to one on the 14 other charges of which they were each convicted.
Acquittal
David Lawlor (43), of Bailis Downs, Navan, Co Meath, was found not guilty of the 17 charges he faced. He was found not guilty of false imprisonment of and assault causing harm to Ian Gordon, Mark Rissen, John Graham, and Gary McCourtney at Falsk, Strokestown on December 16th, 2018, aggravated burglary and four counts of arson.
He was further acquitted of criminal damage to the door of a house, violent disorder, robbery of a wristwatch from John Graham and, finally, causing unnecessary suffering to an animal by causing or permitting an animal to be struck on the head.The four defendants had pleaded not guilty to all counts.
There was silence in court while the verdicts were read out.
Judge Martina Baxter thanked the jury for the attention and time they had given to this case, and excused them from jury service for a period of 15 years as a token of appreciation.
She told Mr Lawlor that he was free to go as he had been discharged from the indictment. Mr Lawlor and his supporters left the courtroom shortly afterwards.
Judge Baxter ruled against defence applications made on behalf of Sweeney and Beirne for a continuation of their bail as she said the convicted men had lost the presumption of innocence.
O'Toole has been in custody since last Tuesday when a bench warrant for his arrest was executed at his home.
He had failed to come to court the previous Friday, the day he was due to give a closing speech in his defence having fired his legal team the previous week. O'Toole repeatedly told Judge Baxter he did not recognise the court, used her first name and called her "a corporate banker".
In the absence of the jury, he said there were "people from outside this country on the jury" and "with all due respect to them, do they understand what a sovereign man is".
Judge Baxter said she believed he was deliberately obstructing the trial process.
Judge Baxter remanded Sweeney, Beirne and O'Toole into custody to appear again before the court for a sentence hearing on June 30th.
'Sustained and brutal violence'
Opening the prosecution case last February, Tony McGillicuddy SC told the jury that the four defendants stood accused of taking part in the sustained and brutal violence that morning which was designed to terrorise the men working there.
The trial heard that in late 2018, High Court proceedings relating to a small traditional farm holding in Falsk, Co Roscommon resulted in a repossession order for the house and 12 hectares of land. KBC Bank had initiated legal proceedings for possession of the property in 2009 and the High Court granted an order for possession in 2012.
The owner of the property, Anthony McGann, lived there with his adult brother who has autism, and on December 11th, 2018, they were forcibly removed by private security personnel engaged on behalf of the bank. Video footage showing this eviction was the subject of some publicity and was a source of distress for the McGanns and the wider community.
In the days that followed, a recorded interview at the farmhouse circulated on social media in which it was stated that the eviction was carried out by Northern Irish "mercenaries" and showed security men still at the residence.
On the morning of the attack, a convoy, which included a cattle truck driven by Beirne, gathered at the nearby town of Elfin before going to Falsk.
Four security guards described to the jury how they were forced to the ground, had their shoes removed and their hands tied with cable ties, and were seriously assaulted with baseball bats, sticks, a meat cleaver and other weapons.
Four other men managed to escape, with three of them jumping into the freezing waters of a nearby river to get away.
'Right a wrong'
Michael Kane testified that out of the pitch dark he saw the men with flashlights coming for him and he thought he was going to be killed. He ran for his life into a nearby field and only returned to the site when he saw the lights of emergency vehicles.
Ian Gordon said he had a gun put to his head and was ordered to crawl on the ground and eat dog faeces.
His security guard dog Quinn had lost control of his bowel moments earlier after men had beaten it repeatedly over the head with a bat. The dog was beaten unconscious and later had to be put down by a vet at the scene.
In garda interviews, Beirne admitted to driving men to Falsk in his cattle truck and driving them away after the incident. He claimed the plan was to peacefully take the property back, but things just got out of control. He also admitted to putting the front door in with a sledgehammer.
Beirne's lawyers told the jury that he genuinely believed the house still belonged to Mr McGann, and that he was trying to "right a wrong" done to a neighbour.
Analysis of Mr Lawlor's mobile phone allegedly showed the phone moving west from the Dublin area on the night of the incident and operating in Strokestown from around 4am to 6am.
Lawyers for the security professional, who also has a given address in Blanchardstown, Dublin, told the jury that this phone cell site analysis did not place him at Falsk and that he could have gone to Elfin but not travelled on with the convoy.
Identification
Seamus Clarke SC, defending, described as unreliable evidence that Ian Gordon recognised Mr Lawlor's voice from hearing him speak at previous eviction protests and security events.
He said it took place in a noisy and highly stressful situation where a witness was under attack and that the jury could not know if Mr Gordon had concocted the evidence because of animosity towards his client.
The prosecution's evidence was that two of the defendants were captured on video footage recorded on a body-cam worn by a security guard on the night. A garda from Ramelton identified builder Sweeney as the man holding a running chainsaw and a Castlerea-based garda, who knew O'Toole, identified him as one of the men holding a stick.
After repeated denials, O'Toole eventually admitted to gardaí that he was at the house in Falsk on the night. The Mayo farmer said that "events were nearly over" when he was there and that things had got out control.
He denied assaulting anyone and claimed: "I thought it was going to be a show of hands." He told gardaí that if they had stepped in to the earlier eviction "this would never have happened".
Sweeney denied having anything to do with the events that night and denied he was the man on the video footage. His lawyers said the process by which a local garda had identified him on the footage was flawed and contaminated by suggestion.
The prosecution also alleged that photographs taken at the Falsk property in December and a screenshot of a route map from Ramelton to Roscommon, taken on the morning of the attack, were found on Sweeney's iPhone 7.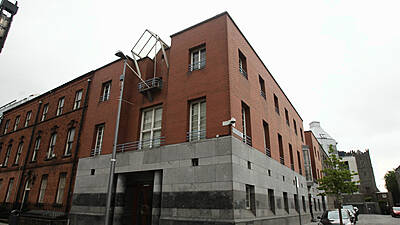 Ireland
Teen sentenced for hoax bomb threat at Dublin Gard...
Patrick McGrath SC, defending, said there was no evidence Sweeney even had this iPhone 7 in December, adding that the prosecution's evidence that the images were downloaded from Sweeney's "cloud account" onto the new phone was "utter speculation".
The case was prosecuted on the legal principle of common design, which holds that if two or more people embark on a plan together to commit crimes, each person is criminally liable for anything done by the others.
The prosecution said the defendants and others who went to Falsk all shared the common goal of getting the security men off the property and making sure they did not come back. The prosecution added to achieve this, the group engaged in sustained and brutal violence designed to terrorise the men working there.
Defending counsel said there was no evidence their clients had entered into any plan, tacit or otherwise, to carry out the alleged offences.