A garda detective in the trial of four men alleged to have taken part in an attack on security men at a repossessed farm in Co. Roscommon has told defence counsel that a two-second video clip was not disclosed as he didn't consider it "relevant"
The trial at Dublin Circuit Criminal Court has heard that at around 5am on December 16, 2018, a group of approximately 30 armed men, some wearing balaclavas, arrived at a repossessed rural property at Falsk, just outside Strokestown and attacked four of the security guards present.
Patrick Sweeney (44) of High Cairn, Ramelton, Co Donegal; Martin O'Toole (58) of Stripe, Irishtown, Claremorris, Co Mayo; Paul Beirne (56) of Croghan, Boyle, Co Roscommon and David Lawlor (43) of Bailis Downs, Navan, have pleaded not guilty to 17 charges each at Dublin Circuit Criminal Court.
Each man is separately charged with false imprisonment of and assault causing harm to four security personnel at Falsk on December 16, 2018. Each defendant is also charged with aggravated burglary, as well as four charges of arson concerning a car and three vans allegedly set alight.
The four men are also each charged with criminal damage to a door of the house, violent disorder, robbery of a wristwatch from security guard John Graham and, finally, causing unnecessary suffering to an animal by causing or permitting an animal to be struck on the head.
Body-cam footage
Aidan Devlin of Trinity Asset Management Services told Patrick McGrath SC, defending Mr Sweeney, that he downloaded footage from a body-cam to a memory stick, then handed this to gardaí on December 17, 2018. He said this footage was not available to view during the download.
Gda Sgt Enda Daly told Mr McGrath that he only became aware last week that a two-second clip of footage from a body-cam was not disclosed to defence counsel. He agreed that it should have been disclosed with the rest of the body-cam footage.
Mr McGrath put to it Sgt Daly that it is an "embarrassing" piece of footage for gardaí, and he replied that "it shouldn't have been turned on". The two second clip was played for the jury.
Sgt Daly said he viewed footage downloaded by Mr Devlin as he had to be satisfied there could be footage of evidential value on the device.
Sgt Daly told Mr McGrath that only one file, a 37-second clip, was played that day. He agreed with counsel that there was a dispute between his evidence and that of Mr Devlin, who said the footage was not available to view during the downloading process.
He told Mr McGillicuddy that he was interested in this file as it was the time of the alleged incident. Sgt Daly confirmed it was the same 37-second clip as had been shown previously to the jury.
He confirmed he took possession of the body-cam from Mr Devlin on the morning of December 16th, and he carried out other investigative duties during the day. Sgt Daly said the body-cam was in a garda patrol car during this time.
Gda Det David McDonnell confirmed to Mr McGrath that he and another garda are visible on this two second clip. He agreed that it is important that exhibits are preserved and accepted that he took out the body-cam and "inadvertently" recorded the clip.
He said there was no interference with the footage on the body-cam, which was in garda custody. Det McDonnell agreed this was not best practice.
He said he decided not to disclose this two-second clip to the defence as he "didn't believe it was relevant". Det McDonnell said the clip was on a memory stick, which had been examined by the defence at the start of the trial.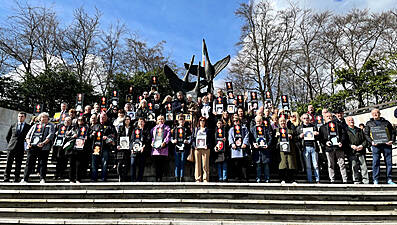 Ireland
'We saw terrible, terrible things that nobody shou...
Mr McGrath challenged this evidence and Det McDonnell said all relevant footage about Falsk between December 11 and 16, 2018 was disclosed to the defence. He said he couldn't recall speaking to Sgt Daly about the two-second clip at a later stage.
Garda Jonathan Bates told Tony McGillicuddy SC, prosecuting, that he viewed body-cam footage on December 20, 2018 and recognised Mr O'Toole. Under cross-examination, Gda Bates said he was "happy" it was Mr O'Toole in the footage.
Body-cam footage was played to the jury. A paramedic told the court that he transported security guard John Graham to Sligo Hospital. He said Mr Graham was "groggy" and appeared to have possible head, leg and arm injuries.
The jury also heard evidence in relation to text messages and calls retrieved from a phone purportedly owned by David Lawlor.