Michael Scott, who denies murdering his aunt Chrissie Treacy, told gardaí that his relationship with Ms Treacy was "fine" and that he gave a "deaf ear" to solicitor's letters looking to partition the land they jointly owned because he didn't know how the land could be divided.
He also described Ms Treacy as "decent" and "fine" and said: "She would let you know who was boss. She could eat the head off you and then have you in for a cup of tea."
Mr Scott (58) of Gortanumera, Portumna, Co Galway has pleaded not guilty to murdering Ms Treacy outside her home in Derryhiney, Portumna, Co Galway on April 27th, 2018. The prosecution case is that Mr Scott deliberately ran over Ms Treacy following a long-running dispute over land. Mr Scott's lawyers have said her death was a tragic accident.
Det Sgt Paul Duane told Conall MacCarthy BL, for the prosecution, that he arrested Mr Scott at Gortrea in Galway at 11.16am on December 11th, 2018 on suspicion of the murder of Chrissie Treacy and brought him to Loughrea Garda Station.
Det Gda Padhraic Healy said he was present for Mr Scott's first interview. The witness agreed that at the start of the interview Mr Scott described his family background and said Ms Treacy was his mother's sister. His mother, Maureen Treacy, died 30 years earlier, but his father was still alive, he said.
Tough when mother died
As the eldest of six siblings, Mr Scott said it was "tough" when his mother died but life growing up had been "fine". He added: "We made the best of it, work was all that kept us going."
As a young man, he said he worked on building sites, but then his grand aunt left him a 30-acre farm about 20 years earlier. It was rundown, but he cleared it and would use it to cut silage. He started working for his uncle Willie Treacy who farmed the land at Derryhiney with his brother Michael and sister Chrissie, the deceased. They were "good farmers, by god", he said, "ahead of their time".
After Willie died in 2009, the farm at Derryhiney was left to Chrissie and to Mr Scott and his siblings. Mr Scott paid money to his siblings for their portion and farmed the land while paying rent to Chrissie for her half, he said.
For a time, Mr Scott rented another 40-acre farm at Kiltormer that Ms Treacy had inherited. Mr Scott said an auctioneer named Declan McHugh told Ms Treacy she could get more for the Kiltormer land. Mr Scott said he agreed to increase his payment but "the next thing we found out" it had been leased to someone else.
'Hard to make a few pound'
"It was hard to make a few pound," he said, adding: "If everyone paid tax, you'd have feck all." He would get up at 6am every morning and finish at 8pm but when the cows were calving the days would be longer, he said.
After Willie died, Mr Scott said he helped his aunt and she was "delighted with the help" and was fond of his children. "She was decent," he said. Mr Scott said the electricity from her house was connected to the dairy farm, so he paid her electricity bill. "We didn't mind," he said.
As the years went on, he said, Ms Treacy stopped coming out of her home. She had home help three days a week after she had an operation on a hernia and on her bowel. When asked how she was to deal with, he said: "She's fine, but she would let you know who was boss. She could eat the head off you and then have you in for a cup of tea."
After the operation she was "very depressed" and her "mind got a bit blank," he said. She stopped working on the farm and wouldn't go out for walks. "That was her downfall," he said.
He said they only ever argued about "simple things" such as leaves being left on the yard or dirt from the tractor. Garda Healy asked if they had ever argued about anything more serious. "Oh no, nothing," he said. "She wasn't mean, she was decent behind it all."
Solicitors' letters
Garda Healy asked Mr Scott about letters from Ms Treacy's solicitors blaming him for damage being done to the Kiltormer land after the new tenants took it over. Mr Scott said he believed it was the auctioneer Declan McHugh who had blamed him. "He had a grudge into me," he said. The solicitor's letters, he said, didn't seem like they were from Ms Treacy.
He said there was another solicitor's letter about dividing up the land at Derryhiney that he jointly owned with Ms Treacy. He said he "gave it a deaf ear" because he didn't understand how you could divide up the land. They were tenants in common, he said, and neither of them knew which part they owned.
Det Sgt Duane told Mr MacCarthy that he was present for the second interview. He said Mr Scott told him that the letter about dividing up the land "didn't mean anything, really".
He said his relationship with Ms Treacy was "fine" and he didn't know why she had hired a solicitor to divide the land at Derryhiney.
Sgt Duane asked if Mr Scott would be good at operating farm machinery. He said he "wouldn't be top class". He said he had started driving machines aged 15, 40 years earlier, and had the teleporter for about seven years. He accepted that he was "well-used to driving it" and if he drove over a piece of silage he would probably feel it.
He said that he didn't see Ms Treacy when he was reversing the teleporter and when it happened, he thought he might have hit the tow-bar of the trailer. He said he wouldn't normally check his mirrors when reversing, adding: "I would be so used to driving and reversing, I didn't realise there would be anyone out there." He said ordinarily there wouldn't be anyone in the yard.
Gardai asked Mr Scott about Regina Donohue, a neighbour and close friend of Ms Treacy who gave evidence earlier in the trial. Mr Scott accepted that he had called her "that bitch" when talking to his friend Francis Hardiman. He said he never called her that to her face. He said he found her "very interfering in the last few years".
Leased land
Agricultural consultant and auctioneer Declan McHugh previously told the trial that Ms Treacy hired him in early 2017 to lease 40 acres she owned at Kiltormer that had previously been farmed by Mr Scott and his brother.
A little over two weeks before Ms Treacy died in April 2018, Mr McHugh said he received further instructions to write to Mr Scott asking him not to request a single farm payment in respect of three portions of land on the 140-acre farm he jointly owned with his aunt at Derryhiney. Ms Treacy was going to claim the payment for herself, Mr McHugh said.
The loss of the 70 acres at Derryhiney and the 40 acres at Kiltormer equated to "in the region of 50 per cent of Mr Scott and his wife's total holding," Mr McHugh said.
He said that under farming regulations, the loss of 110 acres would cause a potential reduction in Mr Scott's herd and would also reduce the amount of land available to him for drawing down the EU single farm payment. Mr McHugh said: "With the loss of such a vast area of land, you are going to have massive problems in terms of stocking density and compliance with nitrates directives and that has huge financial implications for any farmer."
Earlier, Robin Acheson told Dean Kelly SC, for the prosecution, that he works with JCB machinery and is familiar with the workings of the JCB teleporter that caused Ms Treacy's injuries. He said that if the machine changed direction suddenly, it would cause a "tearout" whereby the wheel would bite into the surface to get momentum to change direction. He said this could be achieved using the "shuttle box" which switches the teleporter from forward to reverse or vice versa by pushing a single lever.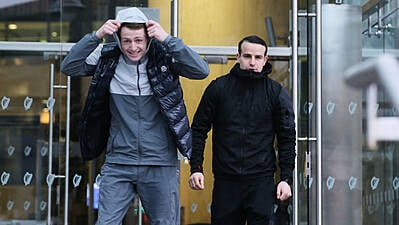 Ireland
Man shot in shoulder during alleged assault on off...
He agreed with defence counsel Paul Greene SC that the change of direction can be "very sudden" and that the handbrake on this machine was broken. He also agreed that leaving the JCB in gear would not prevent it from moving in the way that it might prevent an ordinary car from moving.
He further agreed that since Mr Scott's JCB was made in 1999, steps have been taken by JCB to improve visibility by lowering the position of the boom.
The suspension in the seat of the JCB, he said, would "assist in a smoother journey".
The trial continues in front of Ms Justice Caroline Biggs and a jury of seven men and eight women.