Prisoners serving sentences for homicide offences, weapons and explosives offences, and attempts or threats to murder are among those being granted temporary release by the Irish Prison Service.
The prison system is grappling with severe overcrowding with anywhere between 350 and 380 inmates being given early release from their sentence over the past two months.
A snapshot of temporary release from a single day reveals more than 20 per cent let out were women despite females making up less than five per cent of the prison population.
There were also two male prisoners convicted of homicide offences freed from jail, both of them serving sentences of between five and ten years.
One of them was serving time in Mountjoy Prison in Dublin while the other was doing their sentence in Castlerea Prison in Co Roscommon.
Eight people convicted of weapons or explosives offences were also granted temporary release as were 62 people serving sentences for controlled drug offences.
There were eight out free from jail, who had been convicted of crimes relating to government, justice, or organised crime according to Irish Prison Service figures.
34 were on temporary release following convictions for attempts or threats to murder, while seventeen were released who were serving time for fraud, deception, or related offences.
There was a single prisoner given release who had been convicted of kidnapping or related offences, and two inmates with convictions for robbery, extortion, or hijacking.
The largest number of individuals on temporary release (TR) were serving sentences for road and traffic offences, with 85 such offenders on TR.
There were also sixteen temporarily set free from convictions for burglary or related offences, twenty from public order and social code offences, and twelve for dangerous and negligent acts.
The detailed headcount from 31 March shows that 358 prisoners were on temporary release that day, made up of 283 male offenders and 75 female prisoners.
Numbers on temporary release have steadily risen since with 389 prisoners on release last Friday, the most recent day for which data is available.
The March 31 headcount also shows that the majority of those given release are serving shorter sentences with 222 of them due to serve less than a year in jail.
There were 59 people with sentences of between one and two years, 36 with jail terms of two to three years, and 25 serving between three and five years.
The Irish Prison Service said there were sixteen people with sentences of between five and ten years on temporary release, around half of them who were in jail for drugs offences.
The highest number of prisoners were on release from Mountjoy in Dublin with 82, followed by Cork Prison with 57.
There were 51 female prisoners granted temporary release from the Dóchas Centre in Dublin, and a further 24 from the women's prison in Limerick.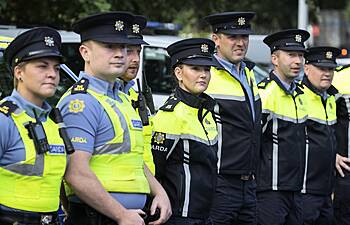 Ireland
Gardaí facing a recruitment and retention crisis,...
There was just a single prisoner from Portlaoise high-security jail free and nobody serving a sentence for sex offences was granted temporary release on the day in question.
In a statement, the Irish Prison Service said the power to direct temporary release was a statutory power that must be exercised in accordance with law.
A spokeswoman said: "In addition, relevant statutory restrictions on the granting of temporary release for minimum mandatory sentences for certain drugs, firearms and second or subsequent serious offences also need to be considered.
"Decisions in relation to temporary release are considered on a case by case basis and the safety of the public is paramount when those decisions are made."