A new inquest has been directed by the Northern Ireland Attorney General, Dame Brenda King, into the death of a man who was murdered weeks after the Good Friday Agreement was signed in 1998.
The body of Thomas Lockard was discovered in Co Louth two days after he disappeared from his south Belfast home.
Nobody has been convicted over Mr Lockard's death.
The legal firm representing Mr Lockard's family said the inquest will not be affected by the UK government's new Troubles legacy Act because it occurred after the signing of the 1998 peace deal and because it is not a Troubles killing.
The Northern Ireland Troubles (Legacy and Reconciliation) Act, which received royal assent on Monday, will halt future civil cases and inquests relating to Troubles deaths.
Mr Lockard (34) disappeared from his home on April 25th, 1998.
His badly beaten body was found two days later at the side of a road at Raskeagh in Co Louth.
Following representations from KRW Law on behalf of the next of kin, Ms King has this week written to the Presiding Coroner of Northern Ireland, Mr Justice Humphreys, to direct a new inquest into the death of Mr Lockard.
In a letter on her behalf to the legal firm, it was stated that evidence suggests the death of Mr Lockard occurred in Northern Ireland.
The letter also said that a previous inquest held in Co Louth was conducted on the basis of limited evidence and "did not address the wider circumstances of the death".
A spokesperson for KRW Law said the family of Mr Lockard have fought for years to find out what happened to him and have been bereft by the failure to gain justice.
His death was previously investigated by Gardaí and the RUC.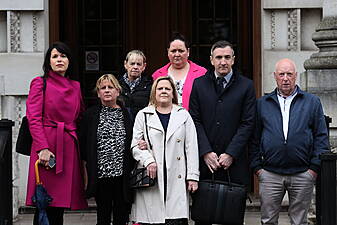 Ireland
UK's Troubles Legacy Act has sparked 16 legal chal...
A more recent PSNI investigation led to a number of people being charged with murder, false imprisonment and kidnapping. However, the charges were later withdrawn.
Barry O'Donnell, associate solicitor at KRW Law's conflict litigation department, said: "This is really the news the family have been waiting for.
"They have been both patient and resilient in their push for an inquest."