More than 70 per cent of doctors in Ireland have experienced burn-out since the Covid-19 pandemic, a new survey shows.
Burnout is a psychological syndrome which includes emotional exhaustion, feelings of cynicism and detachment from the job and a sense of ineffectiveness and lack of accomplishment.
An Irish Medical Organisation (IMO) survey of members was carried out between December 2020 and January 2021, of which 1,082 doctors responded to the survey, with 43 per cent of respondents from General Practice, 35 per centof respondents were Non Consultant Hospital Doctors (NCHDs), 13 per cent were consultants, 5 per cent were public health, 1 per cent were from community medicine and 3 per cent uncategorised as other.
Of those who took part, 56 per cent female, 47 per cent male, and 87 per cent were working full-time with an even spread across all age ranges. While 74 per cent of respondents reported their overall health as good, 90 per cent reported having experienced some form of mental health condition related to or made worse by work and 79 per cent reported their mental health was made worse by the pandemic.
Three in five doctors were dissatisfied with their work-life balance, and 85 per cent believed the pandemic had a negative influence on their work-life balance.
Burnout was determined in the survey using the Oldenburg Burnout Inventory (OBI). 70.5 per centof respondents were determined to be at a high rate of burnout, which was highest amongst NCHDs at 77.9 per cent and public health doctors at 79.6 per cent.
The co-authors of the study, Burnout in Doctors Practising in Ireland Post Covid-19, published in this month's Irish Medical Journal said: "The main concerns of doctors following the pandemic were staffing shortages, backlog of waiting patients and the impact on personal health and wellbeing.
"Workload was found to have a large impact on burnout for doctors in the study with a broad range of respondents, 21 per cent of consultants to 65 per cent of public medicine doctors, indicating that their working week has been extended by 9+ hours."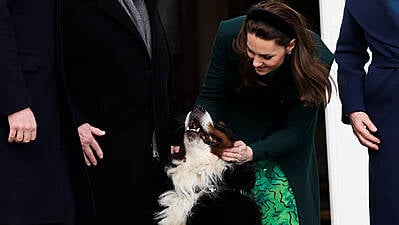 Ireland
Michael D Higgins' dog Bród dies, aged 11
The pandemic has had a profound effect on healthcare systems globally, including on the mental wellbeing of the workforce which can manifest as burnout. Burnout has been evident in Ireland since pre-pandemic and rates of burnout vary greatly.
The study authors added: "While data looking at rates of burnout in Ireland since the onset of the Covid-19 pandemic remain limited, studies available show a worrying trend of increasing burnout amongst doctors. In addition, staff noted feeling increased demands of workload and staff shortages in all studies post pandemic.
"Covid-19 has affected the mental well-being of the health workforce globally with many healthcare workers experiencing burnout, with one global study showing burnout ranging from 12 per cent to 45.6 per cent, while another review showed overall rates of burnout ranging from 14.7 per cent to 90.4 per cent."
The authors state that burnout is not a medical condition but an occupational phenomenon and requires a coordinated, effective organisational strategy to deal with the issues causing it.