Taoiseach Micheál Martin has said infectious diseases experts tell him it is "inconceivable" that a new and more infectious strain of Covid-19 is not already in Ireland.
Speaking on RTÉ radio's Today with Claire Byrne show, Mr Martin said the new strain was likely a "key factor" in the recent surge of infections seen across the country.
He said the strain, which is up to 70 per cent more transmissible than previous ones, was a development that had not been accounted for in plans to safely celebrate Christmas.
"We certainly don't know that it isn't here, and most people I speak to, who are experts in infectious diseases, are telling me it is here," he said.
"They're saying that it's inconceivable that it's not here [because of the rate of the spread] and also because of the fact of our close proximity to the United Kingdom.
"I think that is a key factor in terms of what's happened in the last week, that was not factored in by anybody, including Nphet, at the beginning of December."
The Taoiseach defended the Government's decision to reject the advice of the National Public Health Emergency Team (Nphet) in November and to reopen the hospitality sector with indoor dining.
Nphet had previously advised against allowing both indoor dining and household visits to take place at the same time, warning both would result in a surge of infection.
"Well we haven't had the visits over Christmas, I mean this has happened prior to that," Mr Martin said of the recent rise in infections which saw 970 new cases confirmed Tuesday evening.
The rapid rise in cases could be linked to the more virulent mutation of the virus, and not specifically to the opening of the hospitality sector. Other events such as funerals were also having an impact on numbers, he said.
Huge ask
The Taoiseach acknowledged it was a "huge ask" to request those arriving from Britain since December 8th to self-isolate in their room for 14 days and not spend Christmas Day with their families, in line with upgraded public health advice to curb the spread of the new strain.
"We will learn more in the next two weeks about this new strain which may steady the situation ... but right now, we have to, in terms of isolation and self-isolation, people have to be very careful," he said.
Mr Martin described the arrival of Covid-19 vaccines in Ireland, with 10,000 doses expected in the coming days from Pfizer and BioNTech, as the country's one "significant hope".
"The only hope we have and significant hope is the vaccine arriving and that does give us an opportunity to change our decision-making over time, because hopefully we will be able to vaccinate those who are most at risk in relation to death or illness," he said.
Volumes of the vaccine will be "low enough" in January and February, with residential homes and healthcare workers prioritised.
Availability will pick up significantly in March, April and May, he added, with Moderna's vaccine also likely to come on stream shortly after its authoristation in early January.
We are working on the absolute premise it's here
Mr Martin said he will not be vaccinated on television, as US President-elect Joe Biden was, when the vaccine programme commences.
"I have no issue leading by example. But I think any available vaccines should be given to someone who needs it to stay alive," he said.
It comes as the CEO of the HSE has said public health officials are working on the "absolute premise" that the new contagious strain of Covid-19 is already present in Ireland.
"We assess from some of the tests that we have seen each week coming through the lab, and each day coming through the lab, and that's an extra process which we've put in place since we became aware of the variant," Paul Reid said.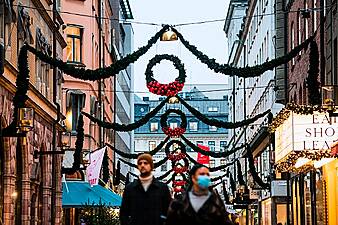 Ireland
Level 5 lockdown: Ireland's Christmas and New Year...
"We haven't identified it to date, but I think... that doesn't indicate that it's not here. We are working on the absolute premise it's here."
Ireland will introduce fresh lockdown measures from Christmas Eve, amid fears the new variant of coronavirus identified in England is a factor in spiralling infection rates.
Christmas Eve closures will include restaurants, gastropubs, hairdressers and beauty salons. Inter-county travel will be prohibited after December 26th, while there are to be no gatherings in households from January 1st.
The new restrictions are likely to be in place for more than two months but will be reviewed on January 12th, the Tánaiste has said.