Michael Scott subjected his elderly aunt Chrissie Treacy to "verbal abuse and mental torture" before he caused her death by driving over her, a friend of Ms Treacy's has told the Central Criminal Court.
Regina Donohue gave a statement at a sentencing hearing for Scott, who was convicted earlier this year of the manslaughter of his aunt through gross negligence when he drove over her in an agricultural teleporter outside her home.
He had gone on trial accused of her murder, but the jury returned a unanimous verdict, acquitting him of that charge.
Scott will spend his first night in prison on Monday having been remanded in custody until Ms Justice Caroline Biggs passes sentence on July 26th.
Manslaughter
At Monday's hearing, the Director of Public Prosecutions said that Scott's offence falls within the mid-category for manslaughter and should carry a headline sentence of four to ten years. Paul Greene SC, on behalf of Scott, said that the offence falls into the lower category.
Mr Greene said the issues to be considered are the roadworthiness of the teleporter and Scott's failure to keep a proper lookout when reversing.
Counsel also pointed out that Scott has no previous convictions and that psychological and probation reports state that while he is "not in the highest rank of intelligence", Mr Scott has expressed regret and displayed an awareness of the harm he caused.
Mr Greene said his client has been described as a "pariah" in his community and he asked the court to consider the impact that will have on his life.
Counsel accepted there was a "high degree" of negligence in Scott's driving but he asked the court to also consider that it was unusual for Ms Treacy to be in the yard where she was struck.
Ms Justice Biggs said she will be considering a number of issues in sentencing, including "a number of self-serving lies" that Scott told to gardaí.
She said she will consider whether Scott was truly remorseful and genuine during his garda interviews and she noted that he said he didn't call emergency services because he didn't know that he could ring 999 to summon an ambulance.
Scott (59) of Gortanumera, Portumna, Co Galway had pleaded not guilty to murdering his aunt Christina 'Chrissie' Treacy (76) outside her home in Derryhiney, Portumna, Co Galway on April 27th, 2018.
The prosecution case was that Scott deliberately reversed over Ms Treacy following a long-running dispute over land. The trial heard that the Health Service Executive and gardai had been informed of concerns regarding Ms Treacy's welfare due to her relationship with Scott.
The jury were told that Ms Treacy and her brothers farmed about 140 acres at Derryhiney and that she owned another farm at nearby Kiltormer.
Following the deaths of Ms Treacy's brothers, Michael Scott came to own half the land at Derryhiney and Ms Treacy owned the other half. She leased her land at Kiltormer and Derryhiney to Michael Scott.
In early 2017, Mr Scott did not bid to continue leasing the land from Ms Treacy in Kiltormer when it went up for auction. Ms Donohue told the trial that by Christmas 2017, the deceased had made an application through her solicitor to split the land at Derryhiney and put a new lease on the half that she owned.
On the day of Ms Treacy's death Scott received a letter from an agricultural consultant telling him not to claim payments for parcels of land on the farm he jointly owned with his aunt.
Scott told gardaí that he was not concerned about the letter and drove to the yard outside his aunt's home to do some work on the farm. He said he was reversing across the yard when he felt a "thump", thought he might have hit a trailer and moved the teleporter forward to level ground.
He said that when he got down from the cabin he saw his aunt lying on the ground. He described her death as a tragic accident.
Statement
In her statement to the court, Ms Donohue said that her "great friend and neighbour was needlessly robbed of her life by the reckless actions of Michael Scott".
She said that since Ms Treacy's death she has discovered the "absolute disregard" Scott had for his aunt. She described the background to a land row between Ms Treacy and Scott which Ms Donohue first learned of in late 2016.
At that time, Ms Treacy told Ms Donohue that Scott was attempting to draw up leases on his terms to rent land belonging to Ms Treacy at a time when Ms Treacy did not have independent legal advice.
Ms Donohue said she and Chrissie were met with a "torrent of verbal abuse from Michael Scott" on Ms Treacy's birthday in 2017 that left Ms Treacy visibly upset and Ms Donohue shocked and scared.
After that, Ms Donohue could only visit her friend and mentor when Ms Treacy was sure Scott would not be around. Ms Donohue would pull her car up to the house and Ms Treacy would let her in and immediately lock the door.
Ms Donohue said Ms Treacy became more dependent on her "as the abuse and torment got worse". She added: "I was very concerned for Chrissie, but she was still determined to live out her life in her home."
In February 2018 Ms Treacy's spirit was broken when her dog Bradley, a "much-loved and loyal friend", vanished. Ms Donohue said she tried to calm her distraught friend while Scott "sat in stoney silence totally ignoring the sobs of his only aunt as she pined for her loyal dog, Bradley."
Following Ms Treacy's death, Ms Donohue said she was left in no doubt "that I had every reason to be very alert as to the safety of myself and my family". Ms Treacy left her lands, including the land she shared with Michael Scott, to Ms Donohue.
In April 2019 Ms Donohue attempted to gain access to the lands but, she said, Michael Scott acted aggressively towards her and drove "erratically on his newly acquired loadall machine".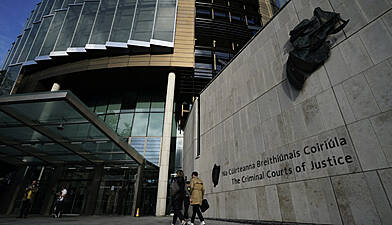 Ireland
Galway man sexually exploited and raped teenage ne...
When Ms Donohue tried to access Ms Treacy's home, she said Michael Scott blocked the entrance with his tractor. When she walked past the blockage and into the house, Ms Donohue found it had been "totally ransacked" and certain items had been removed.
Ms Donohue said she has been left "shocked" by allegations of threatening behaviour by Michael Scott towards other people. In particular she said she was shocked by evidence heard during the trial that on one occasion Scott, with a shotgun in his hand, told his friend Francis Hardiman,
"I hope there's none of them people does cross me." Mr Hardiman told the trial that he understood Scott to be referring to Ms Donohue and her family.
After striking his aunt with the teleporter, Scott phoned Mr Hardiman who was the first person at the scene. He described how Scott was crying to himself before retrieving a shotgun which Mr Hardiman feared he would use to shoot himself.