A man has avoided jail for a "humiliating" attack on a prominent anti-lockdown protester Dolores Webster after a demonstration in Dublin.
Barry O'Sullivan (45), of Sli an Chanail, Leixlip, Co Kildare, was given a suspended sentence when he pleaded guilty on Wednesday to the assault at Merrion Row, Dublin 2, on September 12th, 2020, when he squirted water into Ms Webster's eye.
The incident followed a demonstration against Covid-19 restrictions attended by Ms Webster, also known as Dee Wall, who reported the matter to gardaí at the scene.
Dublin District Court heard how O'Sullivan squirted a liquid believed to be water into her face causing her eye to sting as a result of her mascara running.
Judge Hughes imposed a two-month sentence but suspended it on the condition O'Sullivan keeps the peace for two years, fined him €500 and ordered him to pay €1,000 in compensation via gardaí before the third anniversary of the incident.
Judge Hughes described the incident as humiliating, degrading and insulting, and he held the stinging sensation was an effect of the water thrown into her face.
The minor assault category offence – contrary to section two of the Non-Fatal Offences Against the Person Act – carries a six-month prison sentence.
Protest
Detective Garda Grainne Collier told Judge Hughes a protest took place at Merrion Street, Dublin 2, about the temporary restrictions and regulations imposed by the Government during the pandemic.
Ms Webster was part of the demonstration which concluded at about 5pm, and she then walked with friends on Merrion Row towards St Stephen's Green.
The court heard three people walked towards her, and "one male, unknown to her, threw a liquid into her face".
There was a large garda presence in the area, and she reported the incident. O'Sullivan was subsequently stopped and identified himself.
Questioned by the judge about the liquid, the detective said it was believed to be water, but "Ms Webster said there was a sting in her eye as a result of the liquid being thrown at her face". "We have not established exactly what it was," she added.
The court heard Ms Webster did not suffer any medical bills or expenses, but her clothes were stained, and the incident had a "profound effect" on her.
The detective agreed with defence solicitor Michael Finucane that the victim said in her statement that the sting was from mascara running into her eye.
She also accepted the defence proposition that, in all probability, O'Sullivan had squirted water "in an unpleasant but otherwise self-contained incident".
O'Sullivan did not address the court but his solicitor offered an unreserved apology to Ms Webster on his behalf.
Heightened atmosphere
Mr Finucane said there was a "heightened atmosphere" at the time of O'Sullivan's unfortunate and unnecessary action.
He asked the court to note his client was attending counselling and trying to "move on" and obtain full-time employment, and there has been no further incidents.
O'Sullivan had 13 prior criminal convictions, the latest of which was for a public order offence in May 2020, which resulted in him being bound to keep the peace.
Previously he received a fine for a breach of the peace and wilful obstruction in 2014, which followed a 14-year gap to earlier unspecified offences.
Ms Webster was in court, but due to the guilty plea she was not required to give evidence, and she declined to give a victim impact statement.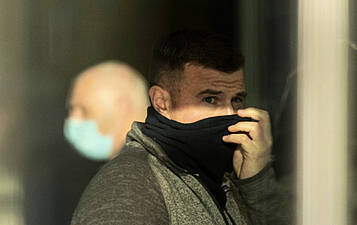 Ireland
Man jailed for throwing firework at anti-lockdown...
Gardaí also obtained CCTV footage of the incident, which did not have to be shown.
The judge said the case was "not a trivial matter" and was an assault.
O'Sullivan had initially denied the charge, so the judge said he could not get maximum credit for his late change of plea to guilty because a hearing date had been set in September, requiring Ms Webster and all witnesses to come to court on Wednesday.
The judge also ordered O'Sullivan to attend appointments with the Probation Service, comply with its recommendations, and have no contact with Ms Webster except via solicitors.