GPs may not receive their full orders of Covid-19 vaccines in the coming weeks, due to a new supply shortage of the Moderna jab.
In an email to GPs on Saturday night, the Health Service Executive (HSE) said the number of doses available is set to be less than previously advised.
The available supply will be about 15 per cent less than the required amount to vaccinate the entire over-80 population, the health service confirmed.
However, the HSE said the shortfall will be made up in the coming weeks, with a big ramp-up in vaccine delivery in April.
It added that plans to fully vaccinate all those aged over 70 by the middle of May remain on track.
Responding to the news, Dr Denis McCauley of the Irish Medical Organisation (IMO) said doctors are hoping for more certainty over the State's rollout.
"We were heading now the start the process of giving the 80 to 85 group their vaccines," he said.
"We got a communication to say that the Moderna vaccine that was due to come in... I think on Tuesday, is being rescheduled, so that will come in later.
"We were going to have 200 people at our next clinic. Now, that will be reduced by 15 per cent."
High uptake
Around 30 GP surgeries where patients over the age of 85 have yet to be vaccinated will hold clinics for them early next week, the IMO said.
Some 98 per cent of the cohort has now received a jab, it added.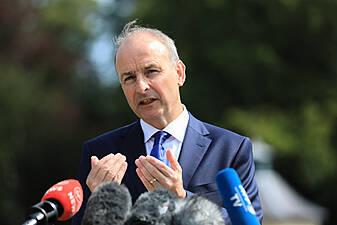 Ireland
'Vaccine bonus' with greater freedom for those ino...
Dr McCauley said uptake among the older age group has been extremely high.
"Nobody has refused the vaccine in my practice and I have not heard of anybody actually refusing the vaccine so far, which is wonderful," he said.
"I think that this is a group that are well-informed, and they know that, as they say, the risk-benefit analysis means it is without doubt the most sensible thing to do. Hopefully that attitude will continue down through the cohorts, even below the under 70s."
The new supply shortfall from Moderna follows intense scrutiny of EU-wide delays concerning the AstraZeneca jab.