The Democratic Unionist Party will seek additional British government funds for Northern Ireland as a condition for restoring the region's powersharing government, its leader said on Tuesday.
The DUP is in talks with London about restoring the Stormont Assembly, which collapsed in February last year over the party's rejection of the UK/EU post-Brexit trade deal for Northern Ireland. The crisis deepened when it rejected a revised deal, the Windsor Framework, in February.
The party confirmed it would seek a financial package alongside its ongoing request for legislation to protect Northern Ireland's ability to trade freely with Britain.
"Of course, it has to be," said Donaldson when asked if finance for the region was part of the discussions.
"If we're to see an executive restored on a sustainable and stable basis, that's not just about resolving the issues around the Windsor Framework," he told reporters.
Donaldson added that there was no clarity on the size of any financial package but that the DUP was developing a range of proposals and that it was clear the UK treasury wanted to see reforms to the Northern Irish public service.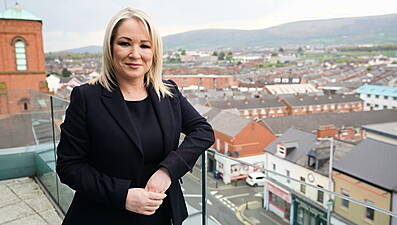 Ireland
Michelle O'Neill reiterates plea to DUP to return...
All parties in the North have said more money is needed to fund services after the British government left planned spending for the region for the coming 12 months at the same level as the last year, despite UK inflation running at 10 per cent.
Asked if the legislation around the post-Brexit trade would be introduced before parliament goes into recess in late July, Donaldson said the party was engaging with the British government and "will see when they bring forward the legislation."
London has pledged to introduce laws to protect Northern Ireland/British trade, but it is unclear what exactly is needed to satisfy the DUP and whether the legislation will be compatible with the revised EU/UK trade deal.
Speaking at the same trade event in London, the Northern Ireland Secretary Chris Heaton-Harris said he would not provide a timetable on when the legislation would be introduced.