Catherine Corless, whose work concerning the deaths of children at a mother and baby home in Tuam, Co Galway led to the setting up of the Mother and Baby Home Commission, has called for the publication of new report to be delayed.
The report of the Mother and Baby Homes Commission of Investigation will be officially published tomorrow, Tuesday.
Speaking on RTÉ Radio's Today with Claire Byrne, Ms Corless said she believed the publication of the report should be delayed to allow survivors to have time to talk to the Government and to look at the report before it is released to the media.
Ms Corless expressed concern that a leak of the report — with some of its details published in the Sunday Independent — had "broken a trust" between the Government and survivors of the institutions, who had lobbied to receive the information first.
"I'm still very apprehensive especially after the leak on Sunday," she said of the report's publication.
"I think it has kind of broken a trust again in the Government because the one thing that all the groups lobbied for was that they would get information first... this time they really thought they'd be first in line."
Secondhand citizens
Ms Corless said she hoped the publication of the report would be a great relief, and that survivors would be given time and space to process its findings.
Among other findings, the report will reveal that up to 9,000 children died in 18 institutions between 1922 and the closure of the last such home in 1998.
"This is what survivors have had to live with all their lives," Ms Corless said of the leak.
"They are treated as secondhand citizens, this was the one chance just to put them to the front... perhaps tomorrow they may make up to them in some way.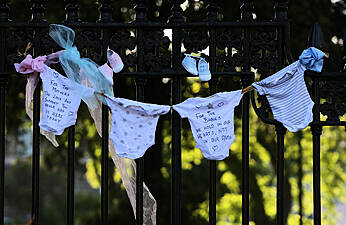 Ireland
Campaigners reveal human rights fears for mother a...
"Perhaps the Government just might try to make up to them with extra time to talk to them and give them a chance to look at this report before it's sent to the media... maybe delay the report going to the media for another while."
Church apology
Taoiseach Micheal Martin is set to make a formal State apology to survivors of the homes in the Dáil on Wednesday.
There are concerns the Government will "trivialise" human-rights issues in mother and baby homes in the report, campaigners have said.
Ms Corless said the apology from the Taoiseach had to be a heartfelt one. She also called for an apology for survivors from the Church and the religious orders "who were very much in collaboration with everything that went on over those years... we'll be looking out for that."