The mother of a teenage girl killed in a road crash that claimed four young lives in Co Tipperary has paid tribute to her "beautiful angel".
Nicole Murphy's mother Serena gave an emotional address at her daughter's funeral at St John the Baptist Church in Kilcash, near Clonmel.
The 18-year-old died along with Zoey Coffey and Grace McSweeney, both also 18, and Ms McSweeney's 24-year-old brother Luke.
Mr McSweeney was driving the teenagers to a bus on Friday when the car overturned and crashed into a wall in Clonmel.
The youngsters were on their way to celebrate their Leaving Certificate exam results, which they had received earlier on Friday.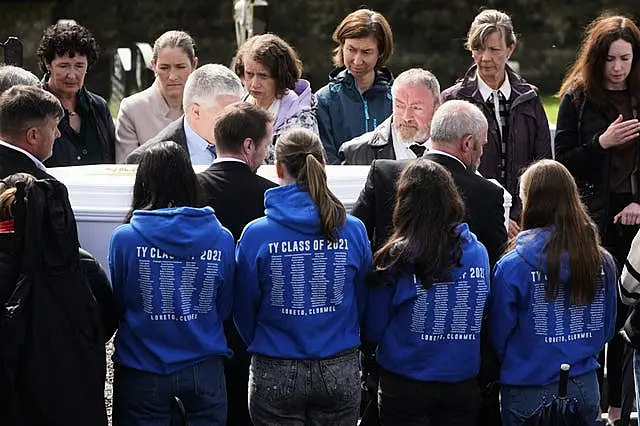 President Michael D Higgins and Minister for Education Norma Foley were among those who attended Thursday's funeral.
Members of the McSweeney and Coffey families were also present at what was the first funeral following the tragedy.
Hundreds of people gathered outside the church as the hearse carrying the teenager's white coffin arrived just after 12pm.
Classmates from Loreto Secondary School formed a guard of honour as the casket was brought into the church.
There were tears as some members of the congregation comforted each other with hugs.
Serena Murphy described her daughter as "truly beautiful inside and out".
"We always told her how she lit up a room when she walked in," she told mourners.
"She was the life and soul of our family, especially at Christmas. In fact, she was the boss of Christmas. She told us when and how to decorate the tree, and sometimes those decorations never came down.
"I remember she would stare at the angel on the top of the tree and admire how beautiful it was.
"Now she is our beautiful little angel. We would like to ask you when you are putting an angel on top of your Christmas tree this year will you please think and pray for our angel Nikki, that she is somewhere more beautiful than any Christmas she can think of.
"We only had Nikki for 18 years, but they were amazing. She was so caring and too good for this world. I was so lucky to have been her mother and I thank God every day for giving her to me.
"We wish we could have had her for eternity but now she will live in our hearts forever."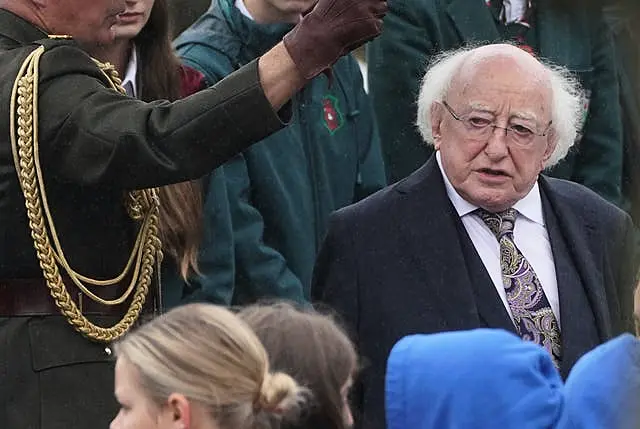 The teenager's mother said the family was always so proud of her.
She told the service of the moment her daughter received her Leaving Certificate results on the morning of the fatal crash.
"She got 531 points. She was so thrilled. She couldn't believe what she had gotten. She triple-checked them. At one point she even thought she was in someone else's account," she said.
"She never truly believed in herself until that moment and she started to believe she could achieve her goals in life. We went out to breakfast that morning and we were sitting at the table planning her future.
"Nikki was planning to go to Cork to study midwifery, but her end goal was radiography. She dreamt of that job since she was a little girl but never believed she could reach that goal.
"She loved to dream about things. She was a dreamer. Actually, we used to sing A Million Dreams together in the car. It was her favourite song. Nikki had a bright and good future but that evening her dreams were taken from her. Our lives will never be the same. Our family is now left with broken dreams and broken hearts, but we know she's looking down on us right now smiling and laughing, and that gives us the strength to continue on our journey through life.
"I know she's given that strength through her sister Zoe and brother Ryan. I just want to finish by saying God bless the families of Luke, Grace (McSweeney) and Zoey (Coffey), and that we may find peace after this tragedy.
"God bless my beautiful baby girl that was my best friend and may she still be following her dreams somewhere more beautiful than here. We pray that God will take her into his loving arms now and love her just as much as we do."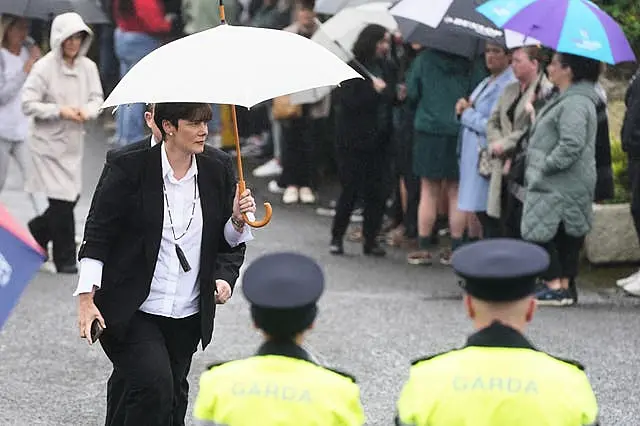 The song A Million Dreams was played as Ms Murphy's coffin was carried out of the church and onward for burial after the service.
Around 2,000 people attended a vigil for the four young people in Clonmel on Sunday evening.
A joint funeral for Mr and Ms McSweeney will take place in Clonmel on Friday while Ms Coffey will be laid to rest in the town on Saturday.