US president Joe Biden was nearly called upon as a ball boy during a young girls' Gaelic games demonstration.
Mr Biden stood with Taoiseach Leo Varadkar and watched girls from St Brigid's GAA Club play camogie at Farmleigh House in sunny Dublin on Thursday.
During the demonstration, a sliotar flew past the president, prompting him to quickly turn and almost break into a jog before a young girl ran past him to collect it.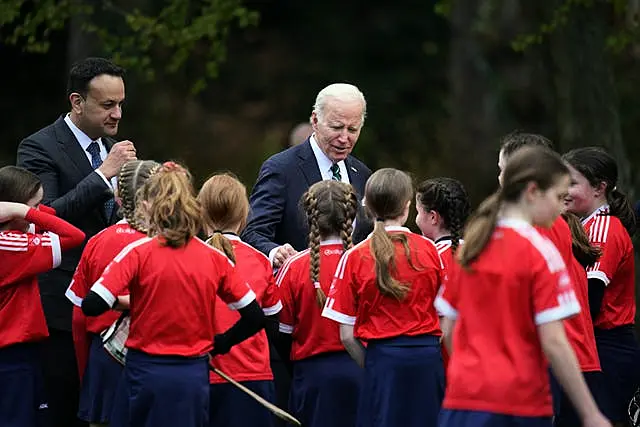 Mr Biden turned back to face the pitch and smiled as the game continued.
The president put his arm round the Taoiseach as they watched the demonstration, before going over to speak to the children.
The girls asked Mr Biden questions before he posed for photos with the camogie teams and boys from Castleknock GAA Club and St Oliver Plunkett Eoghan Ruadh GAA Club, who were playing Gaelic football.
Two camogie players presented Mr Biden with a St Brigid's cross – a religious symbol made of reeds named after the Irish saint.
Mr Biden arrived at Farmleigh House earlier on Thursday where he was greeted by Mr Varadkar on a recently cleaned red carpet outside the entrance to the official Irish state guest house.
"Beautiful day," the president said as the pair shared a joke while shaking hands in front of a number of cameras.
Irish and US flags were positioned side by side next to the carpet, with a bed of purple flowers in front of them.
A small guard of honour greeted the president before he entered the building with Mr Varadkar.
During their meeting, the Taoiseach hailed the importance of US and European leadership and praised the US following Russia's invasion of Ukraine.