Aspartame – an artificial sweetener used in diet fizzy drinks, ice cream and many other products – is a possible cause of cancer but can be safe to consume in moderation, according to the World Health Organisation (WHO).
In a report published on Thursday, the WHO's International Agency for Research on Cancer (IARC) classed the sugar substitute as "possibly carcinogenic to humans".
– What is aspartame?
Aspartame is a non-nutritive sweetener, which means it contains zero or very few calories and provides no vitamins or minerals.
It was discovered by accident in the lab by American chemist James Schlatter in 1965 after he licked it off his finger – against work safety regulations.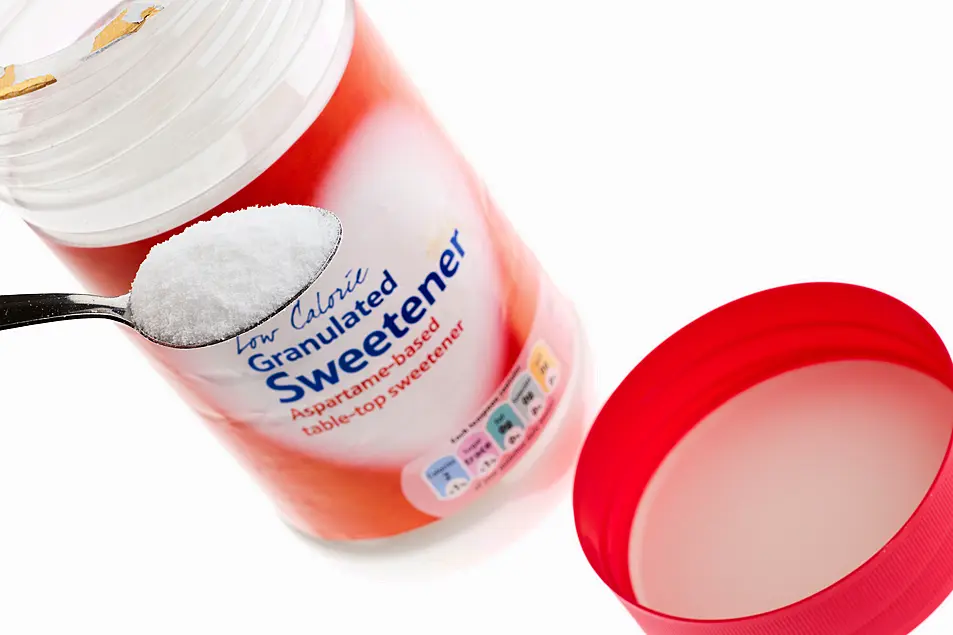 Mr Schlatter was hunting for anti-ulcer drugs when he found that aspartic acid and phenylalanine, two naturally occurring amino acids (molecules used by all living things to make proteins), when mixed with methanol, a simple alcohol found in fruits and vegetables, produced a substance with intense sweetness.
Thus aspartame was born and eventually approved for use in food products in Canada 15 years later.
In 1983, approval was granted by the US Food and Drug Administration and other countries followed suit.
Aspartame is around 200 times sweeter than regular table sugar and is now widely as a table-top sweetener as well as in products such as diet fizzy drinks, chewing gum, breakfast cereals and cough drops.
– What does 'possibly carcinogenic to humans' mean?
A substance that is carcinogenic has the potential to cause cancer.
IARC uses four possible classifications related products that may be associated with cancer risk: carcinogenic to humans (Group 1), probably carcinogenic to humans (Group 2A), possibly carcinogenic to humans (Group 2B) and not classifiable (Group 3).
Aspartame has been listed as "possibly carcinogenic" alongside other substances such as aloe vera and lead.
This decision is mainly based on three studies suggesting an association with a type of liver cancer.
Paul Pharoah, professor of cancer epidemiology at the Cedars-Sinai Medical Centre in Los Angeles, said: "In short, the evidence that aspartame causes primary liver cancer or any other cancer in humans is very weak.
"This is why it is classified as Group2B. Other examples of classified as Group2B are extract of aloe vera, diesel oil, caffeic acid found in tea and coffee."
– How much aspartame can a person consume?
The Food and Agricultural Organisation's Joint Expert Committee on Food Additives, which carried out a complementary study, retained its advice that it is safe for a person to drink 0-40mg per kilogram of body weight each day.
The WHO said a person weighing 70kg would need to consume between nine and 14 cans of diet soft drink per day to exceed the daily guideline.
– What is the advice from the WHO?
Dr Francesco Branca, director of the WHO's department of nutrition and food safety, said: "The assessments of aspartame have indicated that, while safety is not a major concern at the doses which are commonly used, potential effects have been described that need to be investigated by more and better studies.
"We're not advising consumers to stop consuming (aspartame) altogether.
"We're just advising a bit of moderation."
The WHO said it and the IARC will continue to monitor evidence and encourage independent research groups.
– What have independent experts said about this decision?
Gunter Kuhnle, professor of nutrition and food science at the University of Reading, said the move illustrates the "importance of distinguishing between hazard and risk".
He said: "Sunlight is a hazard as it can cause cancer, but the risk depends on the amount of sunlight and whether we use protection.
"Likewise, even if aspartame causes cancer at very high amounts, there is no risk when consuming it at the amounts that are permitted in foods."
Dr Duane Mellor, registered dietitian and senior lecturer at Aston Medical School, Aston University, said the guidance does not mean people should start consuming aspartame – and other non-nutritive sweeteners – more often as an earlier report from the WHO found no beneficial link between sweeteners and weight management.
He said water is still the healthiest option for most people but if a sweetened drink is desired, using non-nutritive sweeteners as a way of reducing sugar intake "would be sensible".