This Morning will air on Monday as the ITV show continues to face controversy after Phillip Schofield admitted to having an affair with a younger colleague, the broadcaster has confirmed.
The veteran TV presenter (61) resigned from the broadcaster on Friday and was dropped by his talent agency after confessing to having an "unwise, but not illegal" relationship with a young male who worked on the programme while he was still married to his wife.
Schofield stepped down from This Morning last weekend with "immediate effect" and his former co-host Holly Willoughby remains on half-term holiday leave.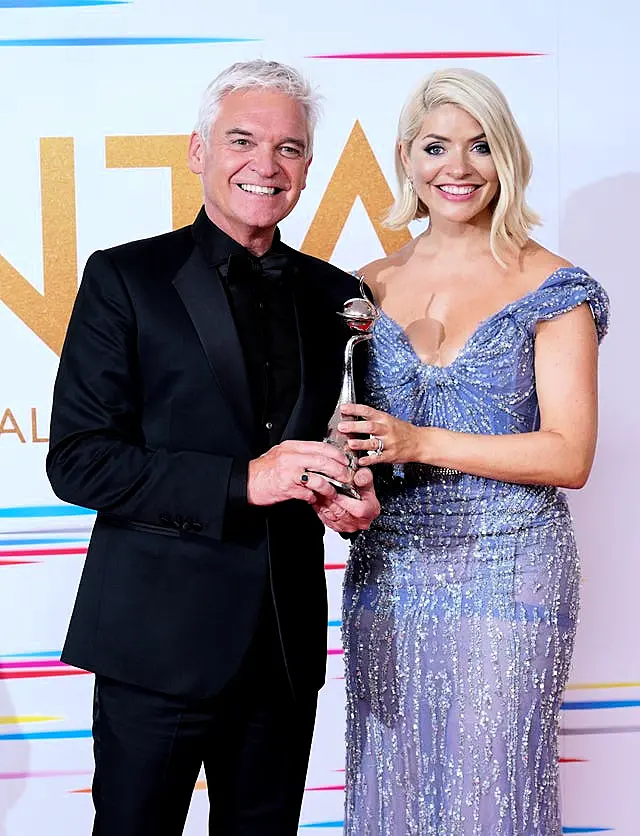 Alison Hammond and Dermot O'Leary will continue to fill in for them, although it is not clear if they will be the presenters when the Monday show airs at 10am.
The controversy surrounding This Morning over the last few weeks amid rumours of a rift between Schofield and Willoughby has put the show's future in question, with reports claiming it could potentially be axed entirely.
But an ITV spokesperson told the PA news agency: "As we said on the record yesterday, This Morning is not under review and there are no plans for the show to be axed. This Morning will return as normal tomorrow."
Willoughby, who hosted the mid-morning show alongside Schofield since 2009, said in a statement that his admission of the affair was "very hurtful" after previous denials he had given her.
"It's taken time to process yesterday's news," Willoughby wrote on an Instagram story posted on Saturday.
"When reports of this relationship first surfaced, I asked Phil directly if this was true and was told it was not.
"It's been very hurtful to now find out that this was a lie."
Willoughby is due to be back in the studio from Monday, June 5th, although it is not yet known who her co-presenter will be.
ITV said on Saturday it had investigated "rumours of a relationship" between Schofield and the ITV employee around three years ago but claimed both parties "categorically and repeatedly denied" it.
A spokesperson for ITV said the broadcaster was "not provided with, and did not find, any evidence of a relationship beyond hearsay and rumour" when it looked into the matter in 2020.
"Phillip's statement yesterday reveals that he lied to people at ITV, from senior management to fellow presenters, to YMU, to the media and to others over this relationship", they added.
The broadcaster also said it was "deeply disappointed" by the "admissions of deceit" by Schofield after he spoke publicly about the affair.
"The relationships we have with those we work with are based on trust," the ITV statement added.
"Phillip made assurances to us which he now acknowledges were untrue and we feel badly let down."
Schofield, who also co-hosted Dancing On Ice with Willoughby, said he would also no longer present the British Soap Awards, his last public commitment.
Days after his exit, it was announced both Schofield and Willoughby are among 50 names longlisted for the National Television Awards presenter prize, alongside their fellow This Morning hosts Hammond, O'Leary and Rylan Clark.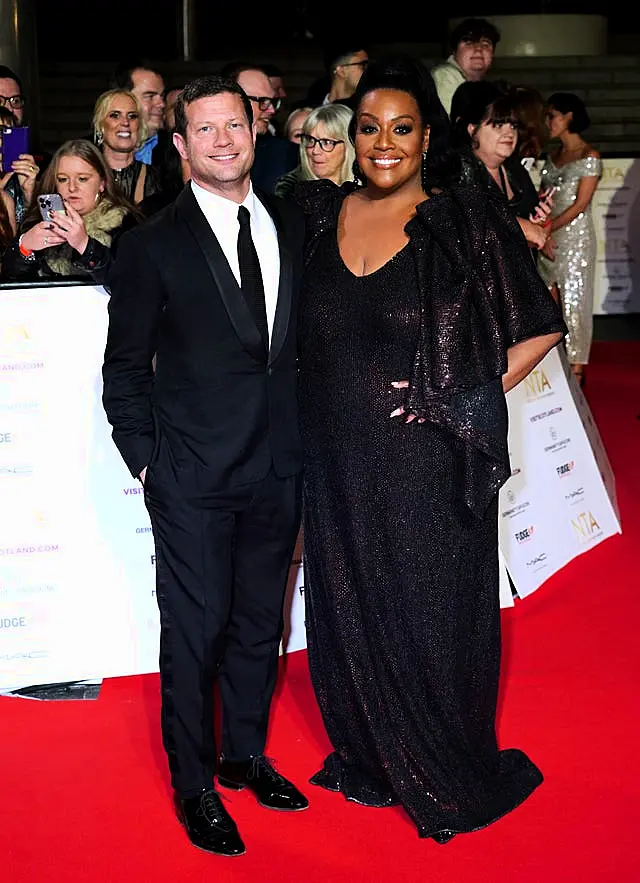 The NTA has said the awards are voted for by the public and that it will be them who will "decide on the shortlisted nominees which will be announced in August".
Schofield revealed the affair began while he was still with his wife Stephanie Lowe, in a statement published by the Daily Mail on Friday, adding he was "very, very sorry" for having been unfaithful to her.
Schofield also apologised for lying about the relationship.
"The first thing I want to say is: I am deeply sorry for having lied to them (the Daily Mail), and to many others about a relationship that I had with someone working on This Morning," he said.
"I did have a consensual on-off relationship with a younger male colleague at This Morning."
He added that "contrary to speculation" the relationship was "not illegal".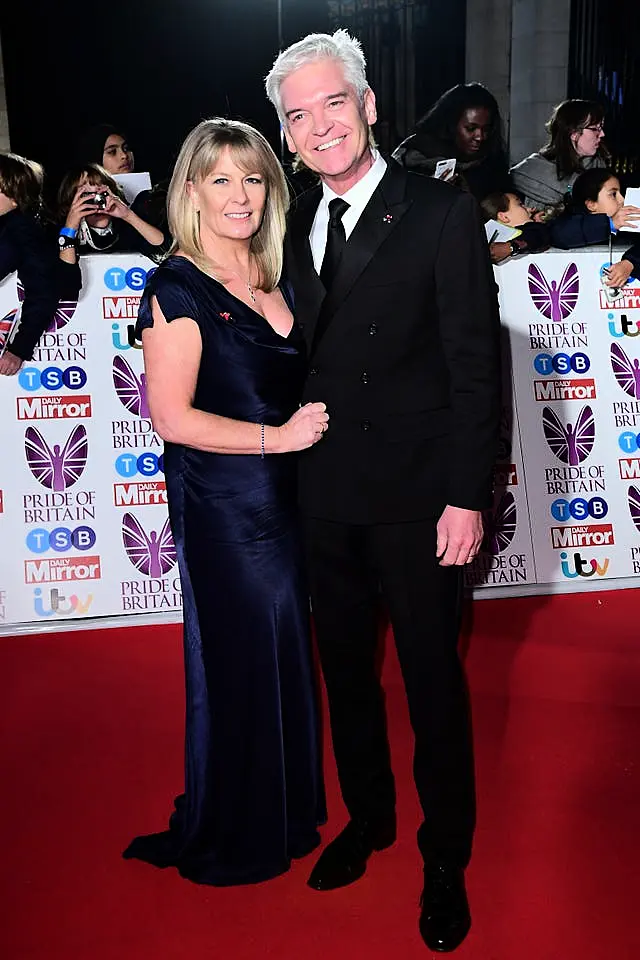 He said: "Contrary to speculation, whilst I met the man when he was a teenager and was asked to help him to get into television, it was only after he started to work on the show that it became more than just a friendship.
"That relationship was unwise, but not illegal. It is now over."
He also denied that a super-injunction had been issued by him, or on his behalf, regarding the relationship.
"When I chose to come out I did so entirely for my own wellbeing," he said.
"Nobody 'forced' me out. Neither I nor anyone else, to my knowledge, has ever issued an injunction, super or otherwise, about my relationship with this colleague, he was never moved on or sacked by or because of me.
"In an effort to protect my ex-colleague I haven't been truthful about the relationship. But my recent, unrelated, departure from This Morning fuelled speculation and raised questions which have been impacting him, so for his sake it is important for me to be honest now."
The presenter added: "I am painfully conscious that I have lied to my employers at ITV, to my colleagues and friends, to my agents, to the media and therefore the public, and most importantly of all to my family.
"I am so very, very sorry, as I am for having been unfaithful to my wife."
Talent agency YMU said it has "parted company" with Schofield "with immediate effect".
The revelations come after the TV presenter faced months of controversy including reports of the rift with Willoughby, the furore over their visit to the late Queen's lying-in-state, and his brother's sex abuse trial.
Just a day before he stepped down from This Morning, Schofield's brother Timothy, 54, was jailed for 12 years for sexually abusing a boy.
The TV presenter said "I no longer have a brother" following guilty verdicts in April.
Schofield married Stephanie Lowe in 1993 and they have two grown-up daughters together, Ruby and Molly.
After he came out in February 2020, in an emotional on-air chat with Willoughby, his wife told The Sun she supported his "brave step" and "always will" love him.