Liam Payne has said being a father has encouraged him to support Unicef's Soccer Aid match more as he wants every child to have the "right to play".
The 29-year-old singer, who shares 6-year-old Bear with singer Cheryl, is returning to play for the England team in the upcoming charity football game in June.
Payne also revealed that he hopes some of his former One Direction bandmates are not drafted into the opposite team again as they might make him "look silly".
Reflecting on his son, he told the PA news agency, "He's fantastic and more than anything, he's just got such a kind heart. He checks in on other kids, he even goes as far as checking in on teachers.
"And that's what we want for every child here with what we do for Soccer Aid for Unicef.
"He gets the right to play, every child deserves that. I think it's what you want to do for your whole life is still feel like a child as you go on.
"It's just such a great charity. It's great to be back here. The money we're raising is used to fight real world problems (like) malnutrition."
He added that he gets even more emotional watching the appeal films after becoming a father as he thinks about his own child in these difficult scenarios.
Soccer Aid raises money for Unicef to help give children all over the world an early start full of play.
The former boy band member also revealed that he has not taken his son Bear to any football games yet as he tries to "him as protected as possible".
"I started my career when I was 14, and I've been doing it for half my life and I haven't not been in the spotlight since then and I want him to make his own choice on that sort of thing," he explained.
"So we don't get to do as many dates out as I'd like, not that he lives a sheltered life, he has a very, very fun time with friends and stuff. But if Cheryl and I turn up somewhere, it's a bit difficult sometimes to keep your heads down."
Last year, Payne captained the England squad, but they lost in a penalty shoot-out.
He said he is happy to hand over the reins to Women's Euros winner Jill Scott who is leading the squad this year, adding: "I believe she knows more about this game than I do."
The singer admitted that he was apprehensive about going into the match last year as he did not have a lot of past football experience but he feels this year he will just focus on having more fun.
"I think its different this year approaching 30. I feel like I know myself so much more and not feeling those confidence issues I had last year", he said.
"I was really serious and I just wish I just had more fun and that's what it's about."
However, he revealed he hopes they do not call his former bandmates Niall Horan and Louis Tomlinson to return to the pitch after they faced off against each other at the 2016 tournament.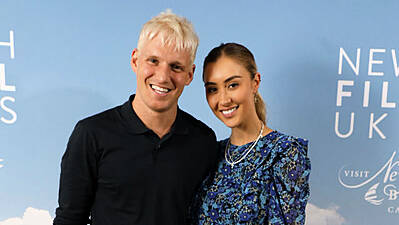 Entertainment
Made In Chelsea stars Jamie Laing and Sophie Habbo...
"He's quite good Louis. Niall was really good too so I hope they don't call Niall and put him on the opposition because he will make me look silly".
The charity match is back at Manchester United's Old Trafford on June 11 and will be broadcast on ITV1, STV and ITVX with Dermot O'Leary on hosting duties.
A family of four can attend the game for just £60 – buy your tickets at socceraid.org.uk/tickets.