James Nesbitt has praised the "absolutely amazing" work of end-of-life charity Marie Curie after visiting residents and staff at its Belfast hospice.
The Northern Irish actor, who has starred in Cold Feet and Bloodlands, spent nearly two hours speaking with patients, family members and staff.
The 58-year-old – who was invited by his friend who works at the hospice, Dr Catherine Doherty – said his experience was different to what he had expected.
He said: "I suppose I was a little reticent before coming into the Marie Curie hospice but I was blown away by the place, the sheer positivity and warmth of it all and all the staff. It was absolutely amazing.
"The emphasis is on living well and it was completely different to what I thought it was.
"The patients told me that their time in the hospice was like being in a home from home and I could feel that. It's a standard of care that I wish everyone could have.
"It was lovely to see one woman have her little dog in her room to visit her along with her husband and to hear how family parties and events are organised by the staff for the patients."
Mr Nesbitt wished the staff at Marie Curie well as they prepare to celebrate the charity's 75th anniversary on July 6.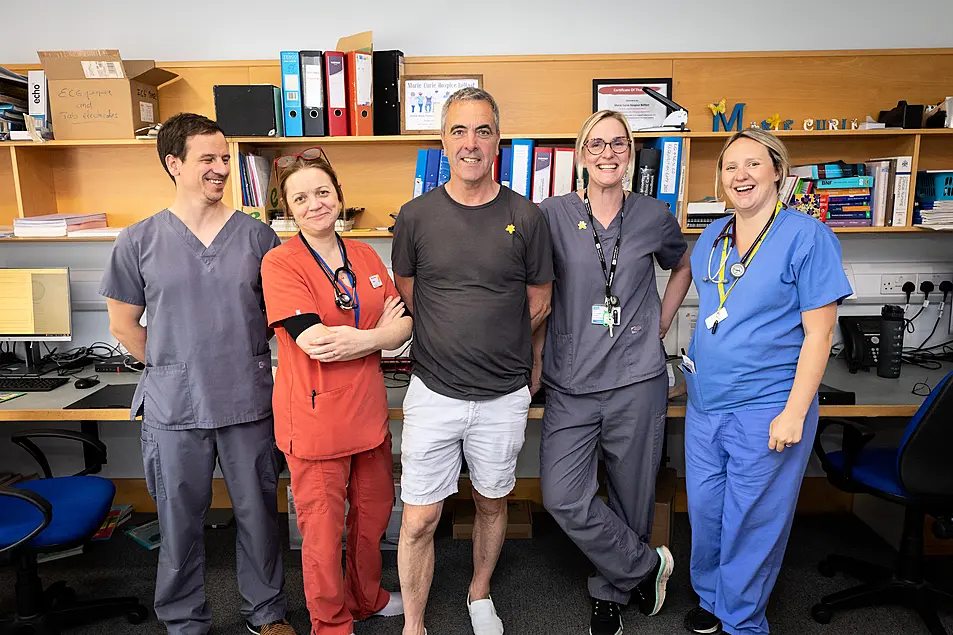 Paula Heneghan, strategic partnerships and services associate director of Marie Curie Northern Ireland, thanked Nesbitt for giving his time and bringing "cheer" to patients and staff.
"James chatted and spent time with everyone and was very sensitive and warm with our patients, who really appreciated his visit," she said.
"He showed a real interest in end-of-life care for people and what we do at Marie Curie and it was a pleasure to have hosted him.
"Thanks, too, to Dr Doherty and the rest of the medical team for all they do for our patients."
Marie Curie provides end-of-life care for people at home and in hospices, helping to manage symptoms of terminal illnesses.