Eurovision's preparations for a potential cyberthreat from Russia are in a "really good place" and organisers feel "very confident" about their preparations, the BBC's managing director of the event has said.
The broadcaster has been working with the European Broadcasting Union's specialist team and the UK National Cyber Security Centre ahead of the week-long event in Liverpool.
Ukraine won last year's competition but Russia's invasion means the UK is hosting this year, prompting fears of possible interference.
The BBC's Martin Green, who also led the Olympic ceremony at London 2012, said the best way to deal with any threat was "by making sure you are surrounded by the best".
Speaking during a press conference at the M&S Bank Arena in Liverpool, he added that he has "some form in doing these big shows".
"Obviously I did the Olympic opening ceremony 12 years ago and now we are doing this," he added.
"There is just a tip where you are looking at security but in those days it was primarily physical threat and secondarily a technical threat.
"The scales have just gone like that really. Such is life. What I can say is that there is no more work going on on this event than any other global event that I have worked on.
"It is just the scales are switching and you put a lot more effort into it.
"The way to deal with it is to just make sure you have got the best people around you, and we have, and we are very lucky for that."
Mr Green said there had been "a lot of testing" but said he was unable to share more specific details.
"But we are in a really good place and I feel very, very confident about the rest of the week and what we have got out there," he added.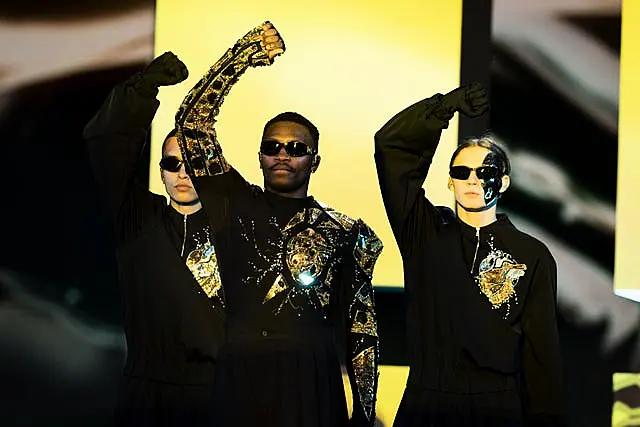 Martin Osterdahl, the EBU's executive supervisor for Eurovision, also addressed its decision to partner with social media platform TikTok as official entertainment partner for a second year.
In March, the UK Parliament announced it would block the Chinese-owned app from its devices and networks over security concerns, and other countries have also restricted or banned it.
Mr Osterdahl said the EBU planned to review its partnership with TikTok when the current contract ends.
He told the press conference: "Obviously we are aware of the conversation around TikTok. We are following it very closely. We are working with a lot of public service media.
"They are members of our organisation so we know what is going on in each country and we will continue to follow that very closely.
"We review all our sponsorship agreements regularly and when they expire. We will do the same with TikTok. We will see what the situation is when that contract expires."
He also confirmed people in Russia are effectively barred from voting in this year's contest due to financial sanctions on the country making it impossible for them to pay the voting fee.
Russia was banned from competing in the contest last year after its invasion of Ukraine.
Its national broadcasters subsequently suspended their memberships of the EBU, which organises the show, preventing them from taking part in future contests.
But for the first time in the competition's nearly seven-decade history, people from countries outside the contest are able to vote for their favourite act this year.
Their votes are converted into points that have the same weight as one participating country, potentially allowing some Russian citizens to sway the vote.
"Some territories are subject to sanctions and to payment providers having suspended their operations and that includes Russia," Mr Osterdahl said.