Billie Eilish has showcased a blonde retro look in the new music video of her emotional ballad, which features on the Barbie movie soundtrack.
The US singer dons a yellow 1950s-style dress along with a high-ponytail hairstyle for the self-directed video of What Was I Made For?, which she said "means so much to me and I hope it will mean just as much to you".
In the video, she can be seen sitting at a desk sorting through doll-sized versions of her own red carpet looks and hanging them onto a mini clothing rail as her delicate vocals play over the top.
However, the peaceful moment gets disrupted as the elements of wind and rain start up, leaving Eilish flustered and soaking wet.
As calm resumes, she packs up the items into a small suitcase before running out of the scene.
The pop star, 21, shared a clip of the video to her Instagram and revealed her and her brother Finneas wrote the song in almost one night after the Barbie movie director Greta Gerwig showed them a handful of unfinished scenes of the film earlier this year.
Eilish wrote: "We had no idea what to expect at all… We were so deeply moved.. that the next day we were writing and couldn't shut up about it.
"And ended up writing almost the entire song that night."
She added: "To be real with you this all seemed to happen in a time when I really needed it. I'm so so thankful for that.
"This video makes me cry. It means so much to me and I hope it will mean just as much to you.
"Don't have much to say other than that, I think it will speak for itself, enjoy."
In an interview with Zane Lowe for Apple Music, Eilish revealed that she and her brother, with whom she writes a lot of her material, had been struggling with writer's block until the Barbie soundtrack opportunity came along.
"Through this last winter, we've both been incredibly uninspired", she explained.
"And we've still been working and trying to make stuff. And honestly, that song was the first thing we'd written in a minute.
"Even though we were coming up with ideas… I remember after we wrote that first half, I go, 'I think we still got it'.
"We were really in a zone of feeling like we lost it and feeling like 'Man, I don't know if we can do this anymore'… And Barbie and Greta just pulled it out of me."
Eilish directed the music video and hailed it a "special" moment, adding: "I love all my videos, and some of them of course have aged poorly, but I still really love them all. But this one, I feel really proud of it."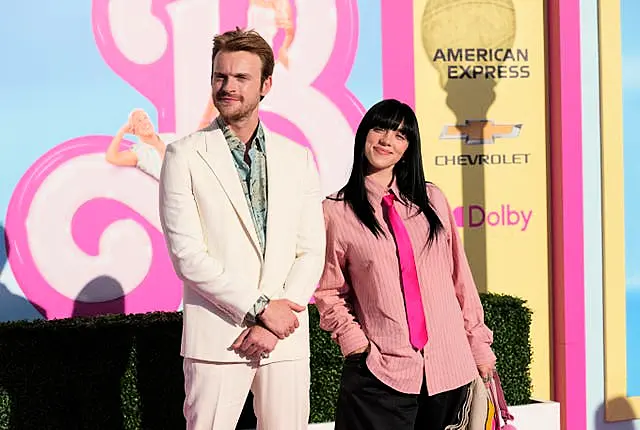 The singer is among a plethora of top talents who all feature on the soundtrack for the highly-anticipated Barbie movie, which stars Margot Robbie and Ryan Gosling.
Single Dance The Night by Dua Lipa has already been released and so has Speed Drive by Charli XCX.
Nicki Minaj and Ice Spice have also created a rap adaptation of Aqua's classic track Barbie Girl.
Also on the line-up are Lizzo, Ava Max, Sam Smith, Dominic Fike, three-piece family band Haim, British artist Pink Pantheress and Australian instrumentalist Tame Impala
South Korean girl group Fifty Fifty featuring rapper Kaliii, US singer of Abcdefu Gayle, Colombian singer Karol G, rapper The Kid Laroi, US singer Khalid and actor Gosling also all feature.
The Barbie movie, based on the Mattel doll, is one of the most eagerly-awaited films of the year and will also star Issa Rae, Simu Liu and America Ferrera.
It is director Gerwig's first film since her adaptation of Little Women and she has written the screenplay with her long-term partner Noah Baumbach, the director of films such as Marriage Story, Frances Ha and The Squid And The Whale.
Barbie will be released in Irish cinemas on July 21st.
The soundtrack album will also release on July 21st.