Ryan Gosling can be seen laughing at his own dramatics in a video which reveals how his hit musical number in the Barbie movie was created.
The Hollywood star played Ken alongside Margot Robbie's Barbie in Greta Gerwig's blockbuster comedy about the world-famous Mattel doll.
The previously unreleased footage shows the cast and crew creating both the song and the scene in the film for the track I'm Just Ken.
In the behind-the-scenes video, Gosling can be seen perfecting his dancing and dramatic singing while dressed in his character's flamboyant costumes such as a white floor-length coat and bandana.
At one stage, Gerwig can be seen laughing with Gosling and covering her mouth in shock as she watches the scene come to life.
Clips also show the cast learning the choreography and stunt training for the collective group numbers.
The footage also gives an insight into the musicians behind the track as they are shown recording their parts in the studio as well as the support actors, including Ncuti Gatwa and Simu Liu, recording their backing vocals.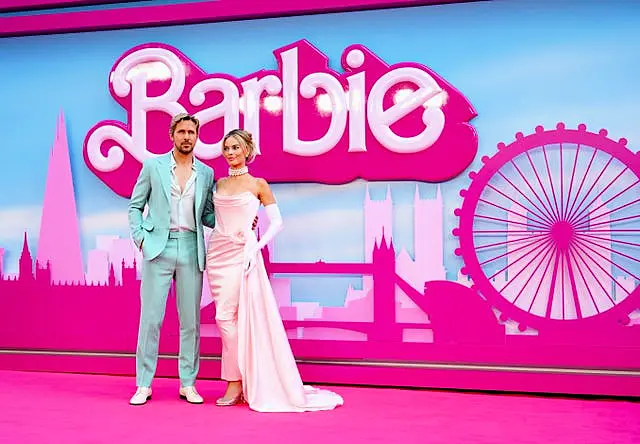 The nearly four-minute video ends with Gosling laughing at himself as his character screams "I'll see you on the Malibu beach" into the screen.
Earlier this month, Barbie became the highest grossing film of the year so far at the UK and Ireland box office.
The blockbuster comedy took £67.5 million in its first three weeks on release – enough to push the previous chart-topper, The Super Mario Bros Movie, into second place on £54.6 million.
The film sees Barbie venture into the real world with her counterpart Ken in the hope of restoring her happiness.
However, the pair become embroiled in trouble after becoming the target of a hunt led by the chief executive of a toy company, played by Will Ferrell.