The boss of Instagram has said new features for app Threads are on his "list", including the ability to revisit liked posts, and an alternative home page to view posts just from followed accounts.
Adam Mosseri responded to users on the platform suggesting updates they would like to see on the nearly one-week-old app.
Threads is available in 100 countries but it is not yet available in Ireland or other EU countries due to GDPR and privacy concerns.
He said that a home feed just showing posts from individuals a user follows is "on the list", while tech titan Mark Zuckerberg, the chief executive of parent company Meta, also responded to the suggestion with a thumbs up emoji.
Currently, users can see a mix of posts from accounts they follow and recommended posts on their home page.
The fast-growing Twitter rival amassed 100 million sign-ups in the five days after launching, according to Mr Zuckerberg.
"That's mostly organic demand and we haven't even turned on many promotions yet", Mr Zuckerberg posted on Threads, under his username "zuck".
Instagram, which is also owned by Meta, developed the Threads app.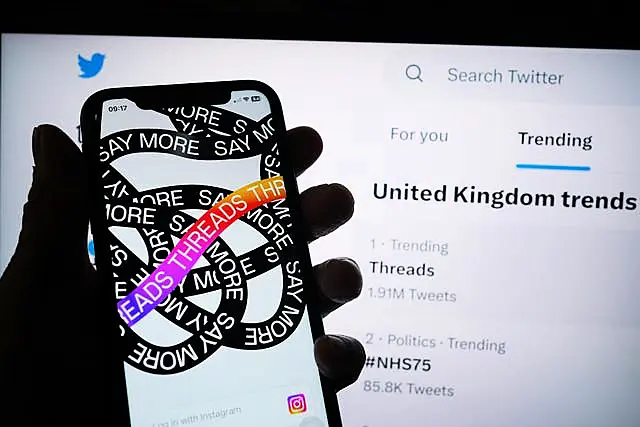 Mr Mosseri, who has been the head of Instagram for just under five years, responded to other suggestions from users on what they would like to see to improve their experience on the app.
Also "on the list" is the ability to revisit posts a user has liked or seen on their app earlier.
Currently, the search function can be used only to find accounts on the platform rather than posts, but Mr Mosseri said it was a feature Instagram was working on.
He also responded to a question asking whether hashtags will be introduced, saying: "At some point yes, but it might be a while".
The American businessman insisted his team is focused on making Threads "better and fast", in response to a post alleging that Twitter had censored the new app from being a top-trending hashtag on its platform.
Last week, Twitter threatened to sue Meta, alleging that it stole trade secrets and intellectual property.
Meta appeared to deny that former Twitter employees worked on the creation of the app and used insider knowledge.
US copyright law does not cover ideas so Twitter will need to prove that intellectual property has been stolen if the dispute is taken to court.
A Meta spokesperson said the company will be making no further comment at this time.