Galway-based sports data company Orreco has won The Irish Times Innovation of the Year award.
Founded by sports scientist Brian Moore and consultant haematologist Andy Hodgson in 2010, the company uses machine learning and data analytics to monitor the health of sportspeople, helping to accelerate recovery and prolong careers.
The Orreco team includes 17 PhD-holders, who have delivered more than 400 peer-reviewed scientific papers.
The company's award-winning innovation is its AI-powered Te@m platform, which combines its established machine learning algorithms with a software model that provides advance warning of illness and injury risk. The platform and its modules are now in full use with multiple teams in the English Premier League and a host of renowned global soccer, NFL and NBA teams.
Orreco describes Te@m as the first-ever unified platform connecting every athlete with trainers, medical teams and executives. It helps these non-players to truly understand the demands the athletes are experiencing.
As well as helping sports franchises with player recruitment, Te@m enables players to own their own data, stored on the blockchain and helps them to understand their market value based on their up-to-date performance stats.
The platform also incorporates Orreco's FitrCoach tools, centred on female health education and menstrual cycle tracking, an area that has been poorly served until recently. The software is used by thousands of professional female athletes all around the world, from LPGA Tour players to athletes in America's WNBA.
Orreco has been supported by angel investors including golfer Pádraig Harrington, as well as former NBA player Joe Dumars, Intercom co-founder Des Traynor, former Aryzta chief executive Kevin Toland and ex-Glanbia managing director John Moloney.
Orreco also won the IT and Fintech category, sponsored by Mason Hayes & Curran. It was one of five category winners vying for the overall award at a ceremony in the CHQ in Dublin city centre on Wednesday.
The New Frontiers category, which is sponsored by the UCD Michael Smurfit Graduate Business School, was won by SFI Adapt Centre spinout Ai Mapit.
Maintaining vast swathes of geographically dispersed roadside infrastructure, such as road signs and lampposts, represents a significant cost for those responsible for its upkeep.
It is costly and time-consuming to send engineers to sites, especially if they can't find what they're looking for when they arrive. AI Mapit's AI and geotagging technology can pinpoint assets to within two metres, revolutionising how this roadside infrastructure is managed.
The First-time Founder award was won by Infraprint. One of the biggest engineering challenges hampering the wide-scale adoption of 3D printing is that 3D parts are not as strong as conventionally moulded ones.
Dr Andrew Dickson, co-founder of Infraprint based at UCD's innovation hub NovaUCD, has developed a powerful technology called TRAAM (thermal radiation assisted additive manufacturing) that can print parts with almost twice the strength of existing 3D systems.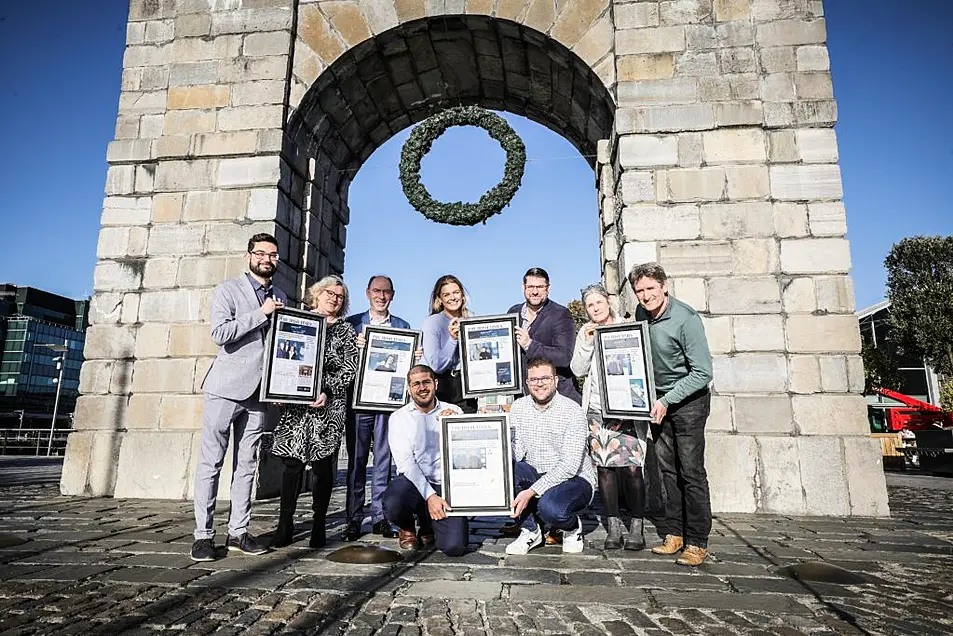 The Life Sciences award, which is sponsored by Science Foundation Ireland, was won by another Galway-based company, Genicity. It has developed a cancer treatment platform to deliver a safe, affordable and off-the-shelf allogenic cell therapy.
Working in the game-changing area of immunotherapy cancer treatment, two doctors, Muhammad Yassin and Muneer Sawaied, have developed a novel "blind" or agnostic allogenic T-cell to which different types of antibodies can be added. Genecity's innovation aims to greatly expand potential therapeutic options and its solution can target both solid and blood cancers, depending on type.
The Sustainability Award, which is sponsored by Skillnet Ireland, was won by Cork start-up MyGug.
MyGug is an egg-shaped anaerobic digester that turns food waste into renewable energy and fertiliser. Dried bacteria are used to start the breakdown process and once the waste is macerated it flows into a storage tank.
The end products are biogas and liquid plant feed. The feed can be used to enrich soil while a small pump pressurises the gas for use for heating or cooking. The system can be remotely controlled by an app and 1.5kg of food waste produces roughly 1.5L of bio fertiliser and one to two hours of cooking time.