Sudan's war has forced 100,000 people to flee over its borders and fighting now its third week is creating a humanitarian crisis, U.N. officials said on Tuesday as gunfire and explosions echoed across the capital despite another ceasefire deal.
The conflict risks morphing into a broader disaster as Sudan's impoverished neighbours deal with a refugee crunch and fighting hampers aid deliveries in a nation where two-thirds of the people already rely on some outside assistance.
Egyptian President Abdel-Fattah al-Sisi said Cairo would provide support for dialogue in Sudan between the rival military factions, but was also "being careful about not interfering in their domestic matters".
"The entire region could be affected," he warned in an interview with a Japanese newspaper on Tuesday as an envoy from Sudan's army chief, who leads one of the warring sides, met Egyptian officials in Cairo.
United Nations officials had said U.N. aid chief Martin Griffiths aimed to visit Sudan on Tuesday, but the timing was still to be confirmed.
The U.N. World Food Programme said on Monday it was resuming work in the safer parts of the country after a pause earlier in the conflict, in which some WFP staff were killed.
"The risk is that this is not just going to be a Sudan crisis, it's going to be a regional crisis," said Michael Dunford, the WFP's East Africa director.
The commanders of the army and paramilitary Rapid Support Forces (RSF), who previously shared power as part of an internationally backed transition towards free elections and civilian government, show no sign of backing down, yet neither seems able to secure a quick victory. That has raised the spectre of a prolonged conflict that could draw in outside powers.
Early on Tuesday, black smoke could be seen hanging over the capital Khartoum, which lies at the confluence of the Blue and White Nile rivers. Air strikes hit Bahri, on the east bank, while clashes flared in Omdurman to the west, witnesses said.
An RSF statement on Tuesday accused the army of carrying out air raids on "a number of residential areas" in Khartoum. The army has accused the RSF of using civilians as human shields.
Air power
Hundreds of people have died in the fighting that pits the army under General Abdel-Fattah al-Burhan against the RSF under General Mohamed Hamdan Dagalo, also known as Hemedti. Each has blamed the other for the violation of a series of ceasefires.
The army has used air power against RSF units dug into residential areas of Khartoum, damaging swathes of the capital area and reigniting conflict in Sudan's far west Darfur region.
Port Sudan, where thousands of people have fled Khartoum seeking evacuation abroad, is the main entry point for aid for many countries in the region, the WFP's Dunford told Reuters.
"Unless we stop the fighting, unless we stop now, the impact on a humanitarian scale is going to be massive," he said.
Kenya has offered the use of its airports and airstrips near the border with South Sudan as part of an international humanitarian effort, Kenyan Foreign Minister Alfred Mutua said.
Aid supplies that have arrived in Port Sudan for other aid agencies were still awaiting safe passage to Khartoum, a road journey of about 800 km (500 miles), although Medecins Sans Frontieres (MSF) said it had delivered some aid to Khartoum.
Some 330,000 Sudanese have also been displaced inside Sudan's borders by the war, the U.N. migration agency said.
Thousands of Sudanese are trying to exit the country, many across the borders with Egypt, Chad and South Sudan. The U.N. warned on Monday that 800,000 people could eventually leave including refugees living in Sudan temporarily.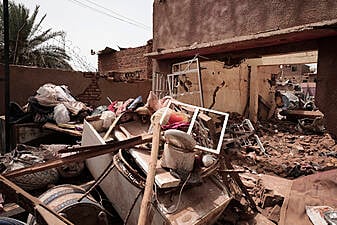 World
Sudanese flee to coastal city and Egyptian border...
More than 40,000 people have crossed the border into Egypt over the past two weeks but only after days of delays in searing heat after paying hundreds of dollars to make the 1,000-km (620-mile) journey north from Khartoum.
It took Aisha Ibrahim Dawood and her relatives five days in a rented car to get from Khartoum to the northern town of Wadi Halfa, where the women and children crammed into a back of a truck that brought them to a queue at the Egyptian border.
"The situation is very difficult, there is a lot of bureaucracy (to get into Egypt). Our suffering is unprecedented. (But) we can withstand anything - the sounds of gunfire (in Khartoum), the heat of the crowded truck," she told Reuters.
Foreign countries have carried out their own evacuation effort, with an airlift from outside the capital and long road convoys to Port Sudan where ships have ferried them abroad.