Pope Francis has arrived in South Sudan for the second and final leg of his African pilgrimage, seeking to encourage the young country's stalled peace process.
South Sudan's president, Salva Kiir, greeted Francis at the international airport in the capital, Juba, as thousands ululated and sang in 35.5-degree heat.
The airport road was lined with Christians, Muslims and traditional dancers waving Vatican, South Sudanese and British flags. Some wore T-shirts with a portrait of the pope.
"The pope is closest to God," Poni Jadalla, 45, said as she waited to welcome Francis.
"Let the pope give us peace so that this country can develop and no more bloodshed."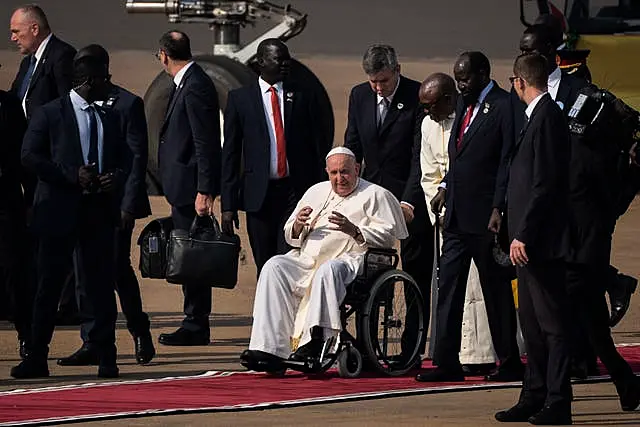 The Archbishop of Canterbury, Justin Welby, and the Moderator of the General Assembly of the Church of Scotland, the Rt Rev Iain Greenshields, are joining Francis in South Sudan for a novel ecumenical push for peace.
Together, the three represent the religious leadership of the overwhelmingly Christian country, the world's youngest, which gained independence from the majority Muslim Sudan in 2011 but has been beset by civil war and conflict.
The Christian leaders are aiming to give a joint call for South Sudan's political leaders to put aside their differences and work for the good of their people.
Continued fighting, including attacks this week in the south that killed 27 people, has displaced some two million people and hampered implementation of a 2018 peace deal, but residents said the arrival of Francis gave them hope.
"The pope will bring us peace," said Monica Lado, a 40-year-old from Juba, on the eve of the three leaders' arrival.
Francis travelled to South Sudan from Congo, where he had a final appointment on Friday in Kinshasa with Congo's bishops.
On Thursday, the pope received an enthusiastic response at a stadium event where he encouraged young people to work for a peaceful and honest future.
A group of about 80 Catholics from South Sudan's central city of Rumbek walked for nine days, covering an estimated 190 miles, and arrived in Juba to cheers on Thursday.
The pilgrims were sore, tired and had blisters, but said they hoped to attend Francis' big Mass on Sunday and take back blessings to their homes and families.
"As the pope is coming, I believe what was killing us will stop," said a smiling Victoria Yar, 58, as she sat in a plastic chair to rest after the long journey.
Another pilgrim on the trek, Mary Yom, a mother of eight, lost two children to violence.
"Our country is being destroyed by the conflict and we hope that the pope is coming with peace, and no one will be killed again," she said.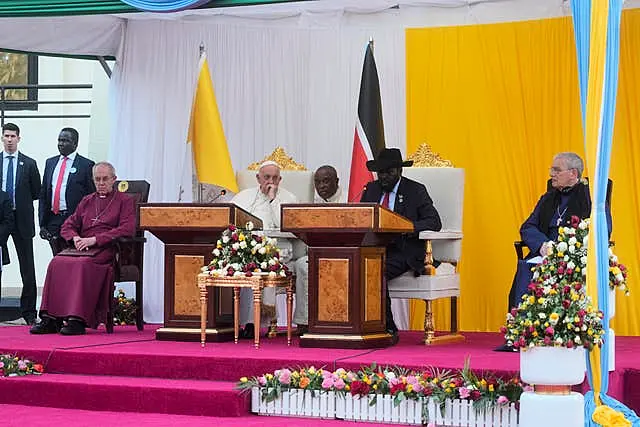 Francis and Mr Welby first announced plans to visit South Sudan in 2017, but security concerns repeatedly thwarted the trip.
In an effort to move the process forward, Francis presided in 2019 over a joint prayer in the Vatican and famously got down on hands and knees and kissed the feet of South Sudan's rival leaders, begging them to make peace.
But fighting continues, evidence of the violence that simmers in communities at times awash with arms and ethnic tensions in one of the world's poorest countries.
At least 27 people were killed this week in Central Equatoria state's Kajo-keji, in the latest communal violence between cattle herders and other residents.
Kajo-keji county commissioner Phanuel Dumo called the attack "barbaric" and urged calm.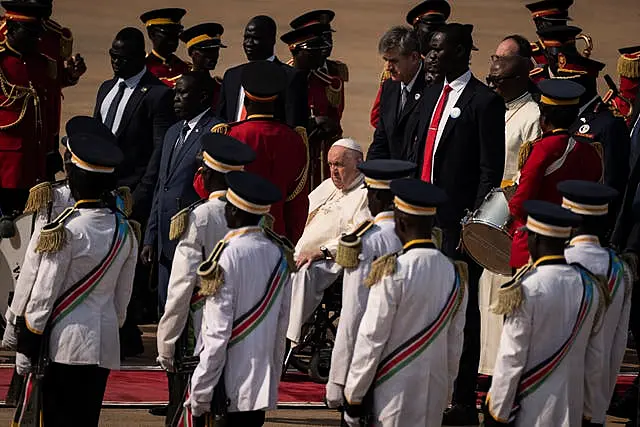 Overall, the International Committee of the Red Cross (ICRC) this week reported an influx of wounded patients in recent months due to renewed clashes across the country.
"We see terrible injuries, and often airlifting patients from remote areas is the only way to save their lives," said ICRC Juba delegation head Pierre Dorbes.
In comments on local Eye Radio on Thursday, South Sudan's president vowed the country would never go back to war as long as he was in power.
"The coming of the Holy Father to South Sudan is your prayers that have brought him," Mr Kiir said.
But part of the stall in implementing the peace accord is continued political friction between Mr Kiir and deputy Riek Machar, who led opposition forces during the country's civil war and has long been interested in holding power himself.
Lack of political will has been cited by critics for the slow implementation of the deal in a country also hampered by alleged widespread official corruption.
In Juba, Francis is widely expected to repeat his call for both men and all parties in South Sudan to commit to making progress on the accord.
Already, delays forced the postponement of the country's first presidential election for another two years.