Claims that the SNP and police were "in cahoots" over the timing of Peter Murrell's arrest have been dismissed as a conspiracy theory by the First Minister, as he admitted the situation had been "difficult and bruising" for the party.
Police searched the home Mr Murrell – the former chief executive of the party – shared with former first minister Nicola Sturgeon on Wednesday as part of an investigation into how £600,000, earmarked for an independence campaign, was spent.
Mr Murrell was released on Wednesday evening without charge, pending further investigation.
Speaking to journalists in Bute House on Thursday, Mr Yousaf said it was "very, very clear that the governance of the party was not as it should be".
Asked if the leadership election, which concluded last week with a win for Mr Yousaf, would have been impacted by Mr Murrell's arrest had it happened while it was taking place, Mr Yousaf said: "To me, that sounds like a bit of a conspiracy theory that somehow we are in cahoots with Police Scotland.
"The timing of an investigation is absolutely for Police Scotland, that's not determined by anybody else."
Mr Yousaf was candid about the impact the arrest of Mr Murrell, and the sometimes testy leadership election which preceded it, would have on support for his party and for Scottish independence, but said this could present an opportunity for the "next generation" of the party to shine.
"There's no doubt the last few weeks and the events of yesterday have been difficult and bruising for the party," he said.
"But there's also an opportunity – with a new leader in place and a new chief executive in place, generally a next generation coming through.
"You've seen that with my cabinet, you've seen, of course, the Westminster leadership in terms of Stephen Flynn and Mhairi Black.
"There's a huge opportunity for us to re-energise, to refresh, and to make sure we are being as bold and as ambitious as we possibly can be for the people of Scotland."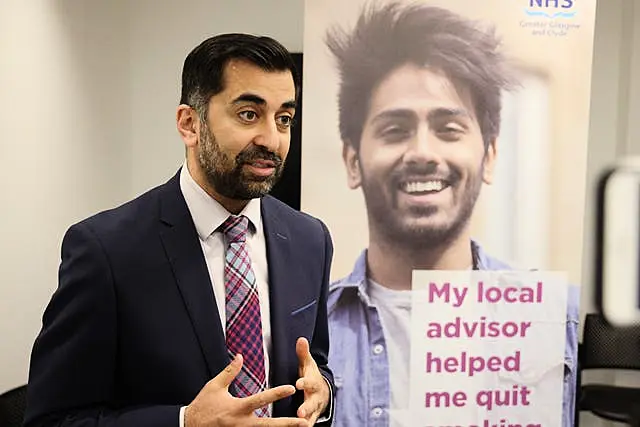 The First Minister also said Ms Sturgeon would not be losing the SNP whip.
Mr Yousaf's comments come as the search of Mr Murrell and Ms Sturgeon's Glasgow property entered a second day on Thursday.
Later in the day, police dismantled one of the screens outside the home.
Officers could be seen carrying what looked like tool boxes and rolls of cable from the property.
Several uniformed police officers remained stationed outside the house on Thursday afternoon.
Meanwhile, Ms Sturgeon cancelled a planned appearance at a climate change event in Edinburgh on Thursday evening, with her spokesperson saying she wanted to "keep the focus of the event on the critical issue of the climate emergency".
The former first minister said through a spokesperson that she would "fully co-operate if required" with police following her husband's arrest.
Health Secretary Michael Matheson said the Government would not provide a "running commentary" of the investigation into the SNP's finances, but conceded it was a "difficult time" for the party.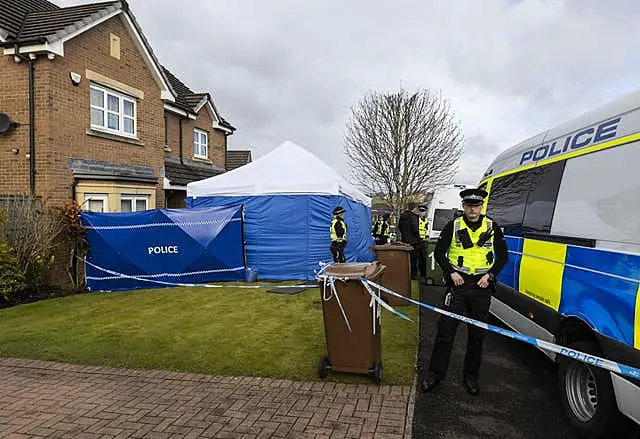 Speaking during a visit to an NHS 24 call centre in Glasgow, Mr Matheson told the PA news agency: "There's a live police investigation here and I think the important thing is that we give the police the space that they need – without a running commentary – as part of their investigation.
"I don't intend to be providing a running commentary around that.
"What I've been very clear about, and what the party has been very clear about, is that the party will comply with any requests made by the police for information."
He added: "I think it's important that I acknowledge, and the First Minister acknowledged this yesterday, it's a difficult time for the party at the present moment, given this investigation, but it's important we allow the police to get on with their job and to carry out a very thorough and detailed investigation, and see what the outcome of that is."
On Thursday morning, the Scottish Government's Wellbeing Economy Secretary, Neil Gray, was asked about the arrest and the impact it has had on the SNP.
He told the PA news agency: "I think this has been a very difficult time for party members, for activists, for elected members as well.
"For all of us this is incredibly difficult.
"What we've got to do now is make sure that the elements we do have control over, which is our delivery in Government, around campaigning and talking to members of the public, it continues to happen."
Alex Neil, a former Scottish Government minister who has become a frequent critic of the upper echelons of the SNP since leaving Holyrood in 2021, said it is "hard to believe" that Peter Murrell's arrest was not a factor in Nicola Sturgeon's resignation as first minister.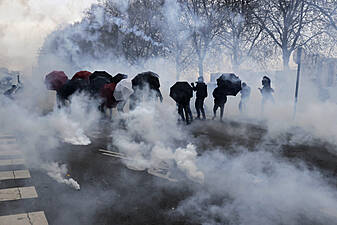 World
Paris airport traffic disrupted as protests contin...
He told BBC Radio 4's Today programme: "Well, Nicola did resign very suddenly. Everybody and their granny knew about this investigation.
"There were very strong rumours for the last couple of months that some kind of arrest was possibly imminent, so it's hard to believe that it wasn't a factor in Nicola's consideration.
"Given that a large number of people had been interviewed, including staff at SNP headquarters, it's hard to believe Nicola wasn't aware."