Europe's inflation has taken a positive turn with a significant drop to 6.1 per cent – but prices are still posing a pinch to shoppers who are yet to see real relief in what they pay for food and other necessities.
The annual figure in May eased from 7 per cent in April for the 20 countries that use the euro currency, Eurostat said on Thursday.
It is a welcome sign the explosion in price increases — which peaked in record double digits last October — is heading in the right direction.
But economists said it will be many months before disgruntled consumers see more normal levels of inflation reflected on price tags in shops.
While prices are rising more slowly, they are coming on top of already high costs triggered by Russia's war in Ukraine and other factors.
Relief is far off for people like 76-year-old Brigitte Weinbeck, who was shopping this week at an open-air market in Cologne, Germany.
"I shop more consciously. For instance, I always make a plan at the beginning of the week about what I'm going to cook and when and then I go shopping," she said.
"Otherwise, you sometimes make impulse purchases."
The food bank at Berlin's St Wilhelm Roman Catholic Church, meanwhile, has gone from serving 100–120 households before the war in Ukraine to 200.
"Now there are people coming who are at the limit of their income," co-ordinator Christine Klar said.
"They say the prices have risen so much now. And now they know, or heard, that they are entitled to use the food bank, so now they come."
Food prices in the eurozone rose by 12.5 per cent in May from a year earlier but still eased from the 13.5 per cent increase recorded in April.
Key to the lower overall inflation figure was energy prices, which fell 1.7 per cent from a year ago following an increase of 2.4 per cent a month ago.
Core inflation, which excludes volatile food and energy, fell to 5.3 per cent from 5.6 per cent in April.
That figure is seen as the better indication of price pressures in the economy from demand for goods and higher wages.
It is high enough that the European Central Bank is expected to approve another interest rate increase at its June 15 meeting.
Inflation fell in the three biggest economies where the euro is used: Germany to 6.1 per cent, France to 5.1 per cent and Italy to 7.6 per cent.
The decline was "broad based, with food, energy and core inflation all contributing to the easing," economist Rory Fennessy wrote at Oxford Economics.
Inflation took off in mid-2021 as fears Russia would invade Ukraine sent natural gas and oil prices higher on fears of losing Russian supplies and as the global economy bounced back from the worst of the pandemic, straining supplies of parts and materials.
The energy and supply choke points have eased, but higher prices have kept spreading through the economy as workers demand better pay and companies find they can raise prices to cover increasing costs.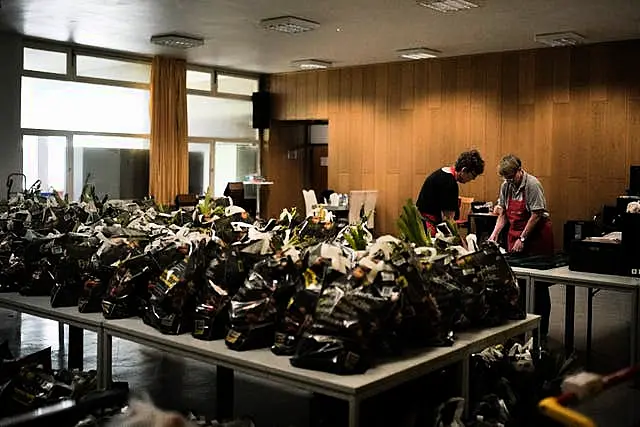 "Total inflation is rapidly declining, driven by such factors as lower energy prices and large base effects from 2022. In this context, it is important to bear in mind that the general price level is continuing to rise from an already high level," according to economists at SEB bank.
"Consumers will continue to have a tough time, even though central banks will find the situation somewhat easier late in 2023 from an inflation targeting perspective," they wrote.
Germany, whose economy has contracted for two straight quarters that marks one definition of recession, has tried to cushion the blow of high energy prices with subsidies for households and businesses and discounted public transit tickets.
That partly helped push energy increases much lower, but food is still surging.
Price rises for energy and food have been major challenges for the European economy because consumers are forced to spend more on necessities and have less to spend on everything else.
The eurozone dodged recession in the early months of the year, thanks largely to governments scrambling to line up non-Russian sources of natural gas to avoid an energy catastrophe.
The economy grew only 0.1 per cent in the first three months of the year.
Also weighing on economic growth are rapid interest rate hikes from the European Central Bank as it tries to wrestle inflation towards its target rate of 2 per cent.
Higher interest rates influence the cost of borrowing across the economy, making it more expensive to get a mortgage to buy a house or a business investment loan — in turn, reducing demand for goods that drives inflation higher.