HSE facing uncertainty
The health service is already under significant pressure and is facing an uncertain few weeks, the HSE chief executive has warned.
The arrival of the Omicron variant will pose a "significant challenge" to an already stretched health system, Paul Reid told a briefing this evening.
Mr Reid offered a stark warning ahead of what he called another "surreal" festive period. "We are actually heading into January next year with a much higher level of demand on our resources, on our healthcare, across the board," he said.
Schools
'

have lower incidence rate

'

than households

Minister for Education Norma Foley has said that the incidence rate of Covid-19 among children aged 5-11 has been declining and that schools had a lower incidence rate than households.

Ms Foley told RTÉ's News at One that 90,000 antigen tests had been delivered to schools around the country. The antigen tests carried out had a positivity rate of 3.6 per cent with a two per cent positivity rate in follow up PCR tests.

The overall incidence rate in schools was 4 per cent while it was 35 per cent among households, the Minister added. The incidence rate among 5 to 11-year-olds was 15 per cent.

Her comments come as schools across the country finish term and children begin their Christmas holidays.
Booster vaccines
The chief medical officer Dr Tony Holohan has said that one million people over the age of 40 have not yet come forward for their Covid-19 booster vaccine.
Speaking on RTÉ radio this morning, Dr Holohan urged anyone who has not yet been vaccinated or received their booster vaccine to do so.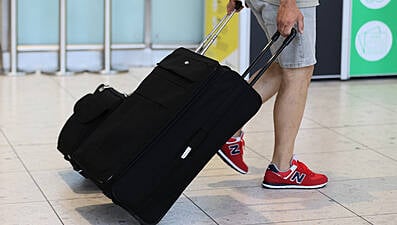 Ireland
Overseas travel suffered drop in November, latest...
He also said that his call for young people to limit their social contacts was not "finger pointing", explaining that one in six young people were not yet vaccinated.
Travel stats
Overseas travel to and from Ireland decreased in November compared to the previous month, new figures have shown.
Figures published by the Central Statistics Office (CSO) today show that 785,800 passengers arrived in Ireland on overseas routes last month, down 15 per cent on October.
In the same month, 785,000 passengers departed from Ireland on overseas routes, down 12 per cent on the previous month.