After a life that's proven almost as colourful away from the table as on it, Ronnie 'The Rocket' O'Sullivan, snooker genius and recovering addict, reckons he has found some balance.
"I'm less intense. I've not mellowed in that I've changed my personality, but I've learned to just not take myself too seriously. I'm much more philosophical," says the seven times world champion.
At 47, he's been at the top of his game for longer than many of his peers. Yet it wasn't an easy start for the former 'bad boy' of snooker – given his family history (his father was jailed for murder when O'Sullivan was 16) and his battles with drugs, alcohol and depression.
He won his latest world title just last year – but was defeated by Luca Brecel in the quarter-final of this year's World Championship at The Crucible, Sheffield – and has overcome periods of self-doubt, plus a year-long break from the game, only to come back stronger than ever.
His struggles with severe anxiety and 'snooker depression' are charted in his latest book, Unbreakable, which largely focuses on how he's tackled his "mental wellbeing".
These days, he runs, paints and sticks with people he considers to be true friends, far away from the celebrity circuit. He has a good relationship with both his parents, who are divorced (his father was released from prison in 2010 after serving 18 years), and has been with his partner, Holby City actress Laila Rouass, for a decade (although they briefly split last year).
"It's good," he says of their relationship, smiling. "She's great. I love her. She's great company and I love being around her. She's very supportive. I have to behave myself – I know when to go, 'Alright, you're in charge'. But she's also really good at going, 'Listen, you've got a busy life, you've got a lot to do, just get on with it'.
"Now it feels a lot better – everyone's just in a better place. I just want to see her and her daughter happy [Rouass has a teenage daughter from a previous relationship], and her family, who are like my family, happy."
In the book, he says his worst times were between 1994-2000 and that rehab and running saved him, while the Alcoholics Anonymous 12 Steps programme and a good sports psychiatrist have also helped.
"I went to AA and NA, I learned about addiction and struggled for about three or four years, because I just couldn't accept that I was an addict," he says today.
"Now I don't question it, whereas before, I'd go out and try to drink sensibly and fail miserably. So now, I think, don't even start. They say if you stand outside the barber's long enough, eventually you'll get a haircut. So I stay away from clubs, from people that drink. They're not for me, because eventually that will be me."
He uses a diary he's kept for the last 10 years to help manage his anxiety, putting smiley, neutral or miserable faces against entries and then working out what triggers him – which is often taking on too much – and has developed a template to maintain his mental wellbeing.
"I'd rather just stay simmering with my work, which means I'm not at high intensity all the time, just ticking over."
O'Sullivan has been described as "the most naturally gifted player ever". He was potting balls from age seven, had scored his first century by 10, beating all in his wake before turning professional at 16.
He earned the nickname 'The Rocket' for his fast pace and still holds the record for the fastest maximum (147) of five minutes eight seconds. But the pressures of snooker and a disrupted family life came at a price.
O'Sullivan's Sicilian mother Maria also spent time in jail for tax evasion, leaving him to look after his little sister Danielle. His father's imprisonment had a huge effect on his life.
"That was the biggest thing that just ravaged me, mentally and emotionally, it just ruined me. I thought, that's it, I'm never going to see him and we're never going to have that relationship any more. It's just two hours on a visit once a month and loads of phone calls. I just wanted him there."
My new book #UNBREAKABLE is out in May. It takes you through all the success I've been lucky enough to have, all the mistakes, low points and challenges - and how I overcame them. https://t.co/7R7aMhCxM5 pic.twitter.com/9TaM4RVxQC

— Ronnie O'Sullivan (@ronnieo147) March 10, 2023
His misspent youth and problems with drugs, alcohol and depression – plus spells in rehab – have been well charted in his two previous autobiographies. Unbreakable focuses more on how he feels when he's playing, and how he's learned to take care of himself.
He says his relationship with his father – who currently lives in a campervan – since he came out of prison is great.
"At the start, everyone was just adjusting. You know, my dad's an alpha male and he was like, 'I'm back and I'm in charge', but I was 36 , knew what I was doing and didn't need to be told. Now he just backs off. We have a great relationship. I see him all the time."
He largely credits his improved mental health to his mentor, sports psychiatrist Dr Steve Peters.
"I've learned everything from Steve Peters. He has given me the ability to work it out for myself now, to get on with it and not be afraid to confront stuff and know how to get on top of it."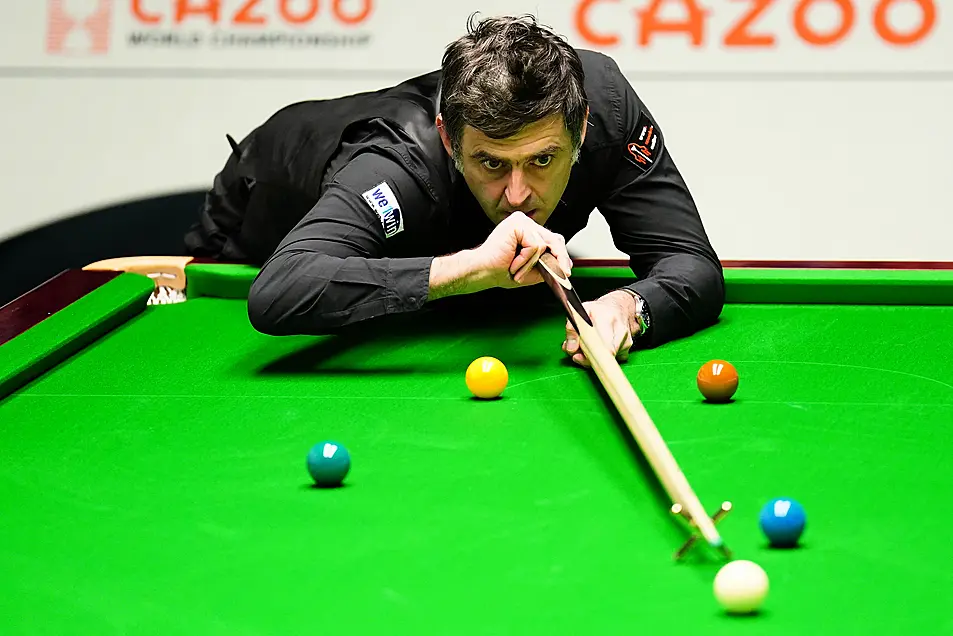 O'Sullivan admits in the book that he hasn't been the best parent, doesn't see his eldest child Taylor-Ann and hasn't been a hands-on parent to his two other children, after his relationship with their mother broke down.
"Given the opportunity, I would have liked to have done loads more, but it got to a point where I thought it was best for everyone, for my sanity and their sanity, that as long as they're healthy, they're good, I'm going to play the long game. I'll be here."
His experiences have made him stronger, he insists, and he hopes he may forge a better relationship with them as they get older – he sees his younger two children at weekends and in the holidays, and they were at The Crucible in Sheffield last year to see him lift the World Championship trophy.
In some ways, he is looking forward to his snooker career coming to an end – he predicts he may continue for another couple of years, or longer – but while he's still doing well, he won't quit.
Now, though, he is able to separate his snooker life from his other interests, and the balance has helped him love the sport again.
"We still do the things we love, but we have a way of detaching ourselves from that for a certain amount of time to give ourselves a break and live life a bit – and then have the confidence that when I go back to it, it's still going to be there," he says.
"I hope people will go out and will start to listen to their instincts. At some point, it can be the simplest thing, whether it's walking your dog, going for coffee with a friend, hanging out with certain people that make you feel good about yourself… sprinkling your life with little things that just feel good."
Unbreakable by Ronnie O'Sullivan with Tom Fordyce is published by Seven Dials on May 11th