Who could have predicted that face masks would become the must-have fashion accessory of 2020? Now that they're mandatory (for those who are able to wear them) in many settings, face coverings have become an essential part of every ensemble.

It's great to see so many celebrities sharing selfies and encouraging people to 'mask up' – at the same time providing us with a dose of pandemic outfit inspiration, with their fashionable fabric face accessories.

Here's how some of the most stylish celebs are wearing their face masks…

1. Lady Gaga

Just because the VMAs were held virtually for the first time this year, that wasn't going to stop Lady Gaga from putting on a typically mind-blowing fashion parade. The pop star wore no less than five different face masks while performing and accepting her awards during the course of the event, including a high-tech LED mask, a silver sequinned edition, and a chain-embellished number.

2. Duchess of Cambridge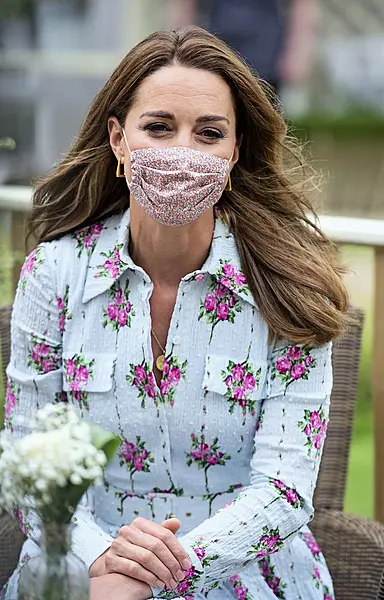 The Duchess of Cambridge has been seen in a face covering at two public appearances this summer. Both times, she wore a floral print mask from childrenswear brand Amaia London, which is now making masks for both adults and kids from Liberty fabric. Unsurprisingly, the 'Pepper' print mask sold out soon after the Duchess was spotted in it.
3. Jennifer Aniston
Friends star Jennifer Aniston kept it classic in a plain black fabric face mask from Wolford, while asking her more than 35 million Instagram followers to don their own face coverings. "If you care about human life, please… just #wearadamnmask and encourage those around you to do the same," the actor wrote.
4. Reese Witherspoon
Reese Witherspoon, who stars alongside Aniston in The Morning Show, also shared the #wearadamnmask hashtag on Instagram, sporting a summery red and white gingham mask, styled with a wide-brimmed hat and navy top.
5. Priyanka Chopra
Actor Priyanka Chopra's black and white mask, which she said was given to her by celebrity stylist Avo Yermagyan, came with a newspaper-style print. The 38-year-old paired her monochrome mask with a bright yellow sweater.
6. Sarah Jessica Parker
Eternal fashion icon Sarah Jessica Parker has shown off a variety of face masks on Instagram, while promoting her SJP footwear collection this year. The Sex And The City star was one of the first celebs to rock the bandana trend, teaming printed scarves with her trademark quirky but cool outfits.
7. Jennifer Lopez
Pop princess Jennifer Lopez is known for her love of all things bling (she's often snapped leaving the gym with a crystal-covered cup) so it's no wonder JLo opted for a pink sequinned face mask, while enjoying a bike ride with her kids in Central Park.