Why are we talking about John Wayne?
I beg your pardon?
The Duke. John Wayne. Popular actor in old-style westerns.
No, no. Juke, not Duke. A popular Nissan crossover.
Ah, I did wonder. The Nissan's not starring in a remake of Stagecoach, then?
No, it's really not. It is getting into something of a gunfight though, as the Juke — once upon a time a hugely popular model in Ireland — has just been given its first hybrid engine setup, putting it face to face with the big-selling Toyota Yaris Cross hybrid.
Is this one of those 'self-charging' hybrids, then?
Shhh! That phrase is verboten! Or at least it is around Nissan's way. 'Self-charging' is more of a Toyota thing, but yes, this is a hybrid without an external plug. You get a 1.6-litre petrol engine, tuned for economy, a compact 1.2kWh battery, and a complex 'multi-mode' gearbox which actually has four gears, but also two compact electric motors that kind of give it infinite gears. You get 143hp, and CO2 emissions of 115g/km.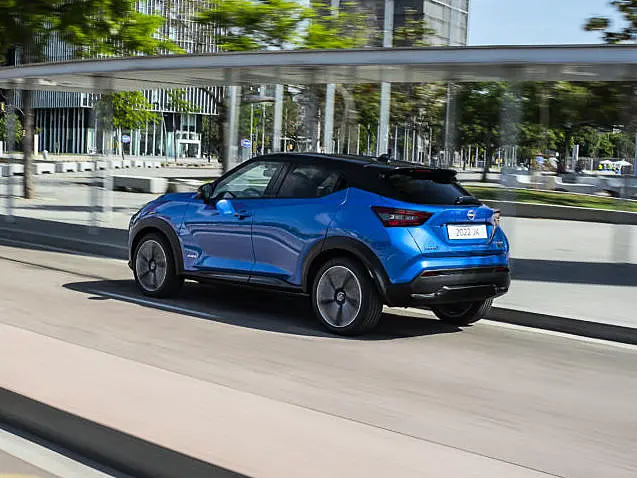 It looks kinda sporty…
Well, the contrast black roof (an option) helps, and the current Juke keeps the dramatic styling of the first-generation model (launched way back in 2010) but makes it all look smoother and a little more sophisticated.
Is it sporty to drive?
A little bit, yes. You can choose from three modes for the engine and gearbox. Normal is… well, pretty normal. Eco gives everything a cup of warm Ovaltine and a comfy pillow. Sport sharpens everything up and gives the steering a little more weight, and at that point, yes, the Juke is actually quite good fun to drive. It feels confident and well-planted, and the steering has a nice sense of weight and precision to it. You can enjoy driving it.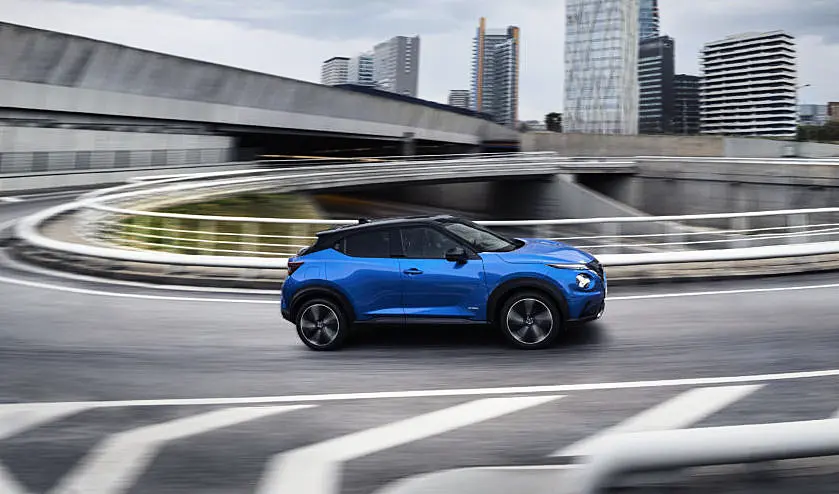 How well does the hybrid system work?
Adequately, I think is the right answer. It depends on how you drive it, and to get the best out of it you need to be very, very gentle and drive everywhere in Eco mode. Do that, and you can get quite good economy — we saw a best of 5.1-litres per 100km, which is bang-on Nissan's claimed figure.
But…?
But if you drive with a bit more vim, or do some long motorway hauls, your economy drops to around 6.5-litres per 100km which is rather less good. The hybrid stuff works generally quite well, though — there are some occasional odd sounds from the complex gearbox, but the 1.6 engine is actually quite well refined. There's also an e-pedal regenerative braking system, taken from the Nissan Leaf electric car, which helps to slow you down around town while topping up the little battery.
Can you drive in electric-only mode?
Yes, but only in short bursts, but the idea is that the tiny battery tops up quickly from braking and coasting, so around town you can do lots of those short bursts which adds up to a lot of electric motoring.
What about the inside?
Here's where the Juke really struggles. Although it's really-well put together, it just looks and feels like an older car. Some of the plastic bits and pieces are really cheap, the main instruments look old-fashioned, and the touchscreen is tiny and fiddly to use. It's also quite small in the back, and that sloped roof and angled rear window makes it feel really dark and claustrophobic. The boot is also not massive, with 354-litres compared to the Yaris Cross' 397-litres, and the Yaris has a brighter, roomier cabin.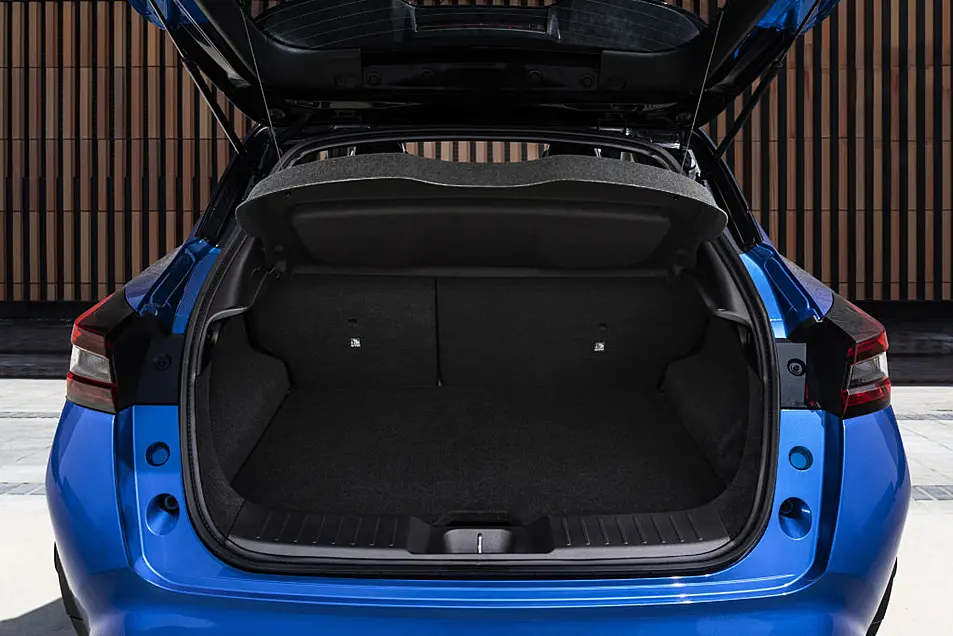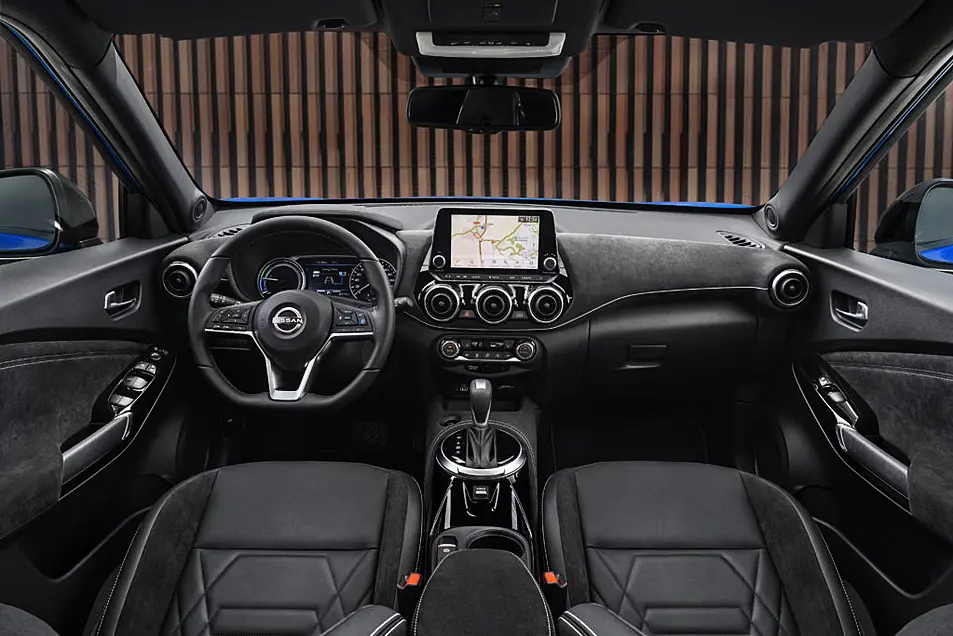 Does the Toyota have a hybrid advantage too?
It does, actually. The Yaris Cross has much less power — just 115hp — but it's only a single second slower to 100km/h, and at a claimed 4.5-litres per 100km it's more economical than the Juke too. It even has lower CO2 emissions — 101g/km.
It feels like this Toyota pilgrim is about the run the Juke outta town…
That's about right. It's not that the Juke is a bad car — it's stylish, decent to drive, and quite clever in tech terms — but the rival Toyota is more economical, nicer and roomier inside, and in basic form is €5,000 cheaper.
Get off your horse and drink your hybrid milk.
Quite…
Key Facts
How much? Starts at €34,100. The one we drove was €36,100
How fast? 0-100km/h in 10.1secs
How thirsty? Officially Nissan claims 5.1-litres per 100km economy, with 115g/km of CO2 emissions. You can match the claimed figure if you're careful, but a more realistic number is probably closer to 6-litres per 100km.
What do you get? The Juke Hybrid is really well-equipped. Even basic SV Premium models get cruise control, a speed limiter, lane-keeping steering, 17-inch alloys, privacy glass, automatic air conditioning, eight-inch touchscreen, seven-inch digital instrument panel (with analogue dials too), auto dimming rearview mirror, a rear-view camera, and Apple CarPlay and Android Auto phone connections.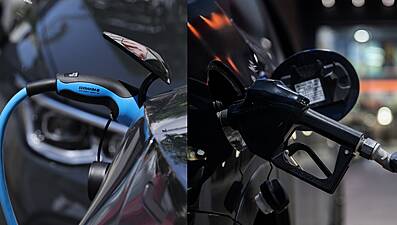 Special Report
Petrol or Plug - asking the right questions
How big? This is the Juke's problem. The back seats feel tight and small, and the 354-litre boot is only just about adequate (a Yaris Cross has more space. So does a VW Golf for that matter — crossovers are rarely as practical as you'd think). It's OK up front, with comfy front seats and decent room for taller drivers.
Plus: Clever hybrid tech, sharp looks, quite good fun to drive
Minus: Small in the back and boot, old-fashioned-looking cabin, not as economical as rival Toyota, price
Equals: A pretty decent hybrid, and one that's surprisingly decent to drive. Well-made too, but feels old-fashioned inside and isn't as practical as some rivals.