Michael Scott, who denies murdering his aunt Chrissie Treacy following an alleged dispute over land, was facing "massive problems" and "huge financial implications" due to the possible loss of farmland that he had been renting from Ms Treacy, his trial has heard.
Agricultural consultant and auctioneer Declan McHugh told the trial that Ms Treacy hired him in early 2017 to lease 40 acres she owned at Kiltormer that had previously been farmed by Mr Scott and his brother Thomas.
A little over two weeks before Ms Treacy died in April 2018, Mr McHugh received further instructions to write to Mr Scott asking him not to request a single farm payment in respect of three portions of land on the 140-acre farm he jointly owned with his aunt at Derryhiney.
Ms Treacy was going to claim the payment for herself, Mr McHugh said.
Mr McHugh sent the letter to Mr Scott's home address by post at about 4pm on April 26th, 2018, the day before Ms Treacy died.
Loss of income
The loss of the 70 acres at Derryhiney and the 40 acres at Kiltormer equated to "in the region of 50 percent of Mr Scott and his wife Cora Scott's total holding," Mr McHugh said.
Under farming regulations, the loss of 110 acres would cause a potential reduction in Mr Scott's herd of 110 cows, Mr McHugh told the court. It would also reduce the amount of land available to him for drawing down the EU single farm payment.
Mr McHugh said: "With the loss of such a vast area of land, you are going to have massive problems in terms of stocking density and compliance with nitrates directives and that has huge financial implications for any farmer."
Michael Scott (58) of Gortanumera, Portumna, Co Galway has pleaded not guilty to murdering Ms Treacy outside her home in Derryhiney, Portumna, Co Galway on April 27th, 2018.
The prosecution case is that Mr Scott deliberately ran over Ms Treacy in an agricultural teleporter. Mr Scott's lawyers have said her death was a tragic accident.
Solicitor Brendan Hyland previously told the trial that by April 2018 Ms Treacy had begun court proceedings to have the Derryhiney farm partitioned so that Ms Treacy and her nephew could be independent of one another.
Mr McHugh told prosecution counsel Dean Kelly SC that Ms Treacy consulted him as an agricultural advisor and auctioneer in the ten years before she died.
Mr McHugh would submit Ms Treacy's applications for single farm payments which he said would have been less than €3,000 per year by the time she died.
Mr McHugh said he would decide with Ms Treacy which of her lands they would use for her application but "typically" he would get a phone call from Michael Scott telling him to remove certain lands from Ms Treacy's application.
'His way or the highway'
Mr McHugh said he would refuse and the "conversation would get heated".
"He tried to tell me what to do in terms of lands I should be putting in or should not put in and I would make it clear that Chrissie was my client. With him, it was not negotiable. It was his way or the highway."
The last time Mr McHugh spoke to Mr Scott was in 2014 when they had what he described as an "explosive" exchange.
He said Mr Scott "fucked and blinded down the phone" for about 90 seconds before Mr McHugh "gave him a dose of his own medicine back down the phone."
Mr McHugh said Michael Scott had prior to 2014 been his client and on occasion would speak about Ms Treacy in a "very derogatory fashion".
The comments would typically happen around the time of the single farm payments or when Ms Treacy's small flock of sheep would be in lamb, and he was required to "give a hand" to care for the ewes or when the lambs were being sold.
In 2017, after Mr McHugh was asked to let the Kiltormer lands, Mr McHugh said he made a number of requests that were not complied with to Tom Scott to remove livestock from the land.
On March 27th that year, Mr McHugh said Tom Scott approached him at Kiltormer and started "shouting and roaring that this was his land" and that Mr McHugh had "no authority to let it" and indicated that he would shoot Mr McHugh.
Between April and July 2017, after it had been let to a new tenant, gates were removed from the land at Kiltormer, water troughs taken, fences removed, and electric fencers damaged and broken apart.
Batteries were left exposed where cattle might lick them and be poisoned by the lead components, he said.
During that time it became common for Ms Treacy to phone Mr McHugh late at night "crying and upset".
Gardaí contacted
Mr McHugh said he had "very serious concerns" and contacted Portumna and Ballinasloe garda stations a number of times about ongoing difficulties between Michael Scott and Ms Treacy.
In March 2018 Ms Treacy told Mr McHugh that her dog Bradley had gone missing and never returned. Mr McHugh agreed that was a "devastating blow" for her. "In my opinion, to her it was akin to losing a child," he said.
On April 26th, one day before Ms Treacy died, Mr McHugh posted the letter to Michael Scott's home address asking him not to include portions of the land at Derryhiney in his single farm payment application for 2018.
Mr McHugh explained in the letter that Ms Treacy was going to claim the payment for herself in relation to three portions of land known as Daniel's land, Breegan's Field, and The Field at the Cross. Those areas were outlined on a map that was sent with the letter to Mr Scott.
As part of his job, Mr McHugh valued the 140 acres at Derryhiney, including a milking parlour, house and various sheds, at €918,500.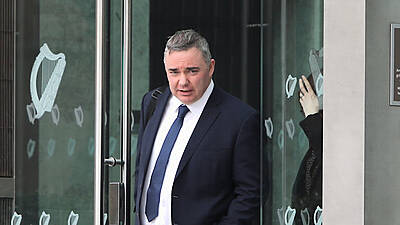 Ireland
Man who recognised himself on Crimecall assaulting...
Solicitor Brendan Hyland told Conall MacCarthy BL, for the prosecution, that he began proceedings on Chrissie Treacy's behalf to partition the land at Derryhiney. On April 24th, two days before Ms Treacy died, he received a letter from Mr Scott's solicitor saying that a new lease agreement had been made between Mr Scott and Ms Treacy on the Derryhiney lands "pending final resolution of all matters".
Mr Hyland responded on April 25th, saying that Ms Treacy "has not agreed to enter into any lease arrangement pending the final resolution of all matters".
He said that he was willing to meet to settle the court proceedings and partition the land "so that both parties can be free and independent of each other". He said Ms Treacy would then consider the question of leasing her land.
Mr Hyland found out about Ms Treacy's passing three days after sending that letter.