A junior minister is seeking to make a statement to the Dail about a Limerick planning application he made in 2001.
Fianna Fáil TD Niall Collins says he acted correctly but TDs have called on the junior education minister to answer further questions.
Speaking in the Dáil, Taoiseach Leo Varadkar said: "I understand he's seeking time to make a statement today.
"Not sure if the Ceann Comhairle is across that, but he wants to make a statement anyway.
"So he has agreed to do that."
It follows allegations from The Ditch website about the application made by Mr Collins on the outskirts of Limerick city.
Fine Gael TD Damien English resigned from his junior ministerial role after the same site revealed he failed to disclose ownership of a Co Meath property during a 2008 planning bid.
Minister for Education Norma Foley joined other government figures in saying he had made information available.
"I'm sure he will have no difficulty whatsoever in answering any further questions that are put to him," the minister told RTE.
Mr Collins released a statement on Monday night saying he "met the requirements for planning permission in the area".
"In 2001, I applied to Limerick County Council for planning permission, in my own name, on lands owned by my father in Patrickswell, Co Limerick," he said in a statement.
"At that time, I met the requirements for planning permission in the area – known as the 'pressure area'. Separately the property I owned on the Father Russell Road in Dooradoyle, Limerick, was not in the 'pressure area'.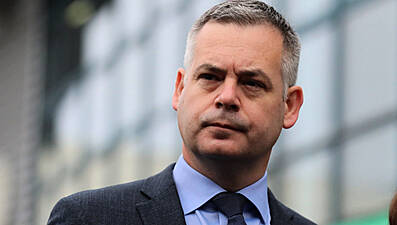 Ireland
Donohoe must provide "accountability" not another...
"In 2004, I was elected councillor to Limerick County Council and thereafter the council introduced a new planning policy in relation to housing need.
"Tomorrow, I will request a copy of my planning application of 2001 from the council but I am satisfied that at all times I have acted correctly in my planning application and in my instruction to a planning agent in relation to the application on my behalf.
"The false statements made about me by The Ditch website are currently being examined by my legal advisers," he said.