The Cabinet has approved Ireland's participation in a European Defence Agency (EDA) project to improve cyber-threat response and information exchange with other member countries.
Tánaiste and Minister for Defence Micheál Martin secured Government approval for the project which aims to facilitate information exchange and improve the response to cyber threats to EU member states' defence structures.
The duration of the Military Computer Emergency Response Team Operational Network (Micnet) project is four years with the possibility of an extension.
The EDA said this network of national cyber-threat response teams will enhance the level of cooperation in the cyber domain at EU level, at a time when computer networks are increasingly contested and the number of cyber-attacks against the EU continues to grow.
It said cyberattacks have increased exponentially in the past few years, having serious political, financial, and economic consequences across Europe and beyond.
The objective is to develop a robust and coordinated response to cyber threats affecting defence systems in the EU, including those used in military common security and defence policy missions and operations.
Mr Martin also secured approval for three other European Defence Agency projects relating to the procurement of Defence Forces equipment.
This includes ammunition, soldier equipment and Chemical Biological Radiological and Nuclear (CBRN) items like hazmat suits.
The projects are an opportunity to secure defensive equipment and ammunition after the Russian invasion in Ukraine impacted supply for smaller nations like Ireland.
The overall EDA ammunition procurement project includes fast-tracked supply for Ukraine but Ireland will not be participating in this aspect as it has "constructively abstained" from the supply of lethal equipment.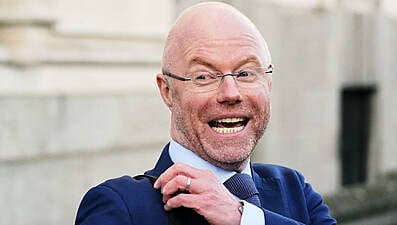 Ireland
Stephen Donnelly gave devices to cyber security bo...
Ireland may still supply non-lethal soldier equipment and CBRN items to Ukraine.
Ireland has participated in the European Defence Agency, which was set up to support the EU's defence capabilities, since it was established in 2004.
Participation in these EDA projects will now be subject to Dáil approval.