Many Irish mortgage holders will face higher repayments after the European Central Bank (ECB) raised interest rates by 25 basis points to 3.25 per cent as expected on Thursday.
It comes on the back of six previous rate increases which have seen the annual repayments for tens of thousands of tracker mortgage holders – the cohort most immediately impacted by ECB's hikes – climb by thousands of euro.
The ECB has now lifted rates by a combined 375 basis points since last July, its fastest pace of tightening, but further action is still likely given mounting wage and price pressures.
The rate hike, a slowdown after three consecutive 50 basis point increases, comes only days after Euro zone banking data showed the biggest drop in loan demand in over a decade. That suggests previous rate rises are working their way through the economy and that ECB policies are now restricting growth.
The bank, however, provided no guidance on future moves.
Reacting to the news, David Hall from the Irish Mortgage Holders Association warned there will be a new cohort of mortgage holders who are at risk because of increased interest rates.
Speaking on RTÉ radio's News at One following the ECB announcement, Mr Hall said the rate hike could mean an extra €2,500 per year for an average mortgage.
"Anything like this has been a huge impact on people who normally are not in arrears historically," he said. "This is a different cohort of people.
"These are people who were never in arrears, who didn't lose jobs after the crash, who have two incomes or one good income into a family and are paying a mortgage and have been doing so at low interest rates for ten years of just to the living, to adapt to having low interest rates for the last 10 years.
"And all of a sudden their tracker rate's gone from 1.15 per cent to 6.5 per cent or 4.5 perc ent since last July. And I hope that they don't start ranting about knee-jerk reactions. This has been going on since last July.
"This is the same cohort of people who are funding everything in the State, who are paying taxes, who need assistance and don't need bank people telling them that there are profits, that margins are being increased. Savers are being destroyed and not being given any return on their deposits."
People were under immense pressure, he added. "Make no mistake about it, you can drown in shallow water no matter what level of debt you have."
Mr Hall said there was no competition in the Irish market. "We have a very tight, small, simple market here with two major lenders who left the state. We have a Central Bank who has not regulated the lenders. We have a very small anticompetitive market."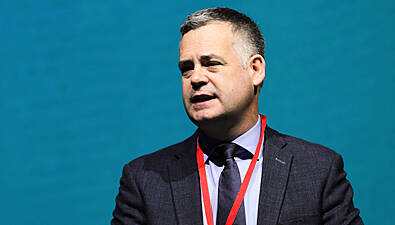 Ireland
Some mortgage holders facing 'impossible' increase...
Taxes should be lowered "for those who are paying all the bills at the moment" and a "competent, coherent insolvency regime that's fair and transparent" should also be put in place, he said.
He also argued the Central Bank should protect customers who have gone into debt. "We need to make sure after the crash that we have a coherent insolvency regime and that we have fit-for-purpose mechanisms in place.
"We need a coherent and fair, transparent insolvency regime to ensure that we allow people to deal with this. There will be people in mortgage arrears.
"People are going to use up their savings and any spare capacity they have at the moment and there will be an increase in people on mortgage arrears." – Additional reporting: Reuters