The much-hyped 'Barbenheimer' box office battle over the weekend proved to be a win for cinemas that needed to add some sizzle to their summer.
Ticket sales for the film industry's biggest season had been disappointing through much of June and July. The Flash flopped, a new Indiana Jones adventure underwhelmed, and Tom Cruise's latest Mission: Impossible movie opened short of expectations.
Enter Barbie and Oppenheimer, two polar opposite movies that debuted simultaneously in a matchup dubbed 'Barbenheimer'.
Barbie stars Margot Robbie in a brightly coloured comedy about the iconic doll, while Oppenheimer tells a haunting story about the making of the atomic bomb.
The two titles had cinemas buzzing over the weekend and filled with
Barbie fans dressed in pink. Domestic ticket sales for all movies topped $300 million (€269 million) in the United States and Canada for just the fourth time in history.
"Everybody was in," said Jeff Bock, senior box office analyst at Exhibitor Relations Co. "All demographics showed up for these two films, and it's exactly what Hollywood needed."
Cinema going still lags pre-pandemic levels, prompting nagging questions about whether audiences have grown content to watch movies at home.
Hopes were high going into the summer as Covid-clogged production pipelines cleared and studios scheduled 30 per cent more films than last summer. But through mid-July, 2023 summer box office receipts were running about 7 per cent below last year.
'Barbie' shines
Then, 'Barbenheimer' became a cultural moment. AMC Entertainment, the world's largest theatre chain, said last week that more than 20,000 people had purchased tickets to see Barbie and Oppenheimer on the same day.
Barbie won the debut weekend battle with an estimated $155 million in US and Canadian ticket sales. That ranked as the biggest opening of 2023 and for any movie directed by a woman.
"I'm tickled pink at this historic weekend," gushed Jeff Goldstein, head of domestic theatrical distribution at Warner Bros, the studio that released Barbie. "People are having a great time. The conversation is so upbeat and so positive."
Barbie maker Mattel Inc had launched an all-out global marketing blitz to stoke the frenzy. Barbie took in $337 million worldwide.
Not all of the Barbie buzz was positive. Some US Republicans objected to a map in the movie that they said was pro-China, which prompted Vietnam to ban the film.
Warner Bros said Barbie was not making a geopolitical statement.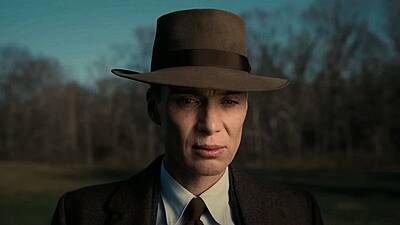 Entertainment
Oppenheimer review: Star turn from Cillian Murphy...
Oppenheimer, from Comcast Corp's Universal Pictures, took in $174 million globally, including $80.5 million in the US and Canada, a strong start for a three-hour adult drama. The film stars Cillian Murphy as scientist J Robert Oppenheimer.
While Hollywood celebrated the busy weekend, cinemas face a thinning slate ahead. The next big action movie is November's Dune - Part 2.
The industry also is grappling with strikes by Hollywood writers and actors, which could delay some upcoming titles, and still faces the reality that many 2023 titles fell flat.
"A lot of these blockbusters just didn't go over well," Bock said. "That's a problem for Hollywood because most of us expected the industry to blow away the summer of 2022."