Russian air defences stopped eight drones converging on Moscow, officials said on Tuesday, in an attack that authorities blamed on Ukraine.
The attack came as Russia pursued its relentless bombardment of Kyiv with a third assault on the city in 24 hours.
President Vladimir Putin called it a "terrorist" act by Kyiv.
The Russian defence ministry said five drones were shot down and the systems of three others were jammed, causing them to veer off course.
The attack brought the war home to civilians in Russia's capital for the first time.
The attack caused "insignificant damage" to several buildings, Moscow mayor Sergei Sobyanin said.
Two people received medical attention for unspecified injuries but did not need hospital treatment, he said in a Telegram post.
Residents of two high-rise buildings damaged in the attack were evacuated, Mr Sobyanin said.
Andrei Vorobyov, governor of the wider Moscow region, said some of the drones were "shot down on the approach to Moscow."
Ukraine made no immediate comment on the attack, which would be one of its deepest and most daring strikes into Russia since the Kremlin launched its full-scale invasion of Ukraine more than 15 months ago.
Mr Putin started work early on Tuesday to receive information about the drone attack from various government agencies, Kremlin spokesman Dmitry Peskov told reporters.
Mr Putin said Moscow's air defence "worked in a satisfactory way," but added it is "clear that our task is to plug the gaps" in the system.
"The Kyiv regime … attempts to intimidate Russian citizens and strikes at civilian buildings," he said at a public event, responding to a question from the head of a Kremlin-allied think tank.
"It is, of course, a clear indication of terrorist activity."
Asked by the Associated Press whether there is concern in the Kremlin that the invasion of Ukraine is endangering Russian civilians, Mr Peskov said only that attacks on Russia reinforce the need to prosecute the war.
The attacks have raised questions about the effectiveness of Russia's air defence systems.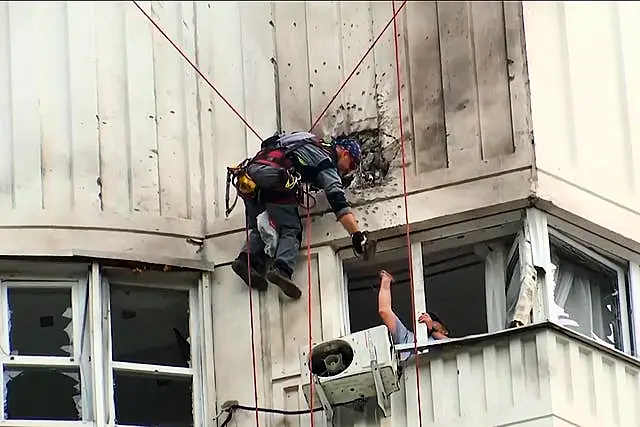 A senior Russian politician, Andrei Kartapolov, told Russian business news site RBC that "we have a very big country and there will always be a loophole where the drone can fly around the areas where air defence systems are located".
He said the purpose of the attacks was to unnerve the Russian people. "It's an intimidation act aimed at the civilian population," RBC quoted him as saying. "It's designed to create a wave of panic."
Moscow residents reported hearing explosions before dawn.
Police were seen working at one site of a crashed drone in southwest Moscow. An area near a residential building was fenced off, and police put the drone debris in a cardboard box before carrying it away.
At another site, windows were shattered and there were scorch marks on the building's front.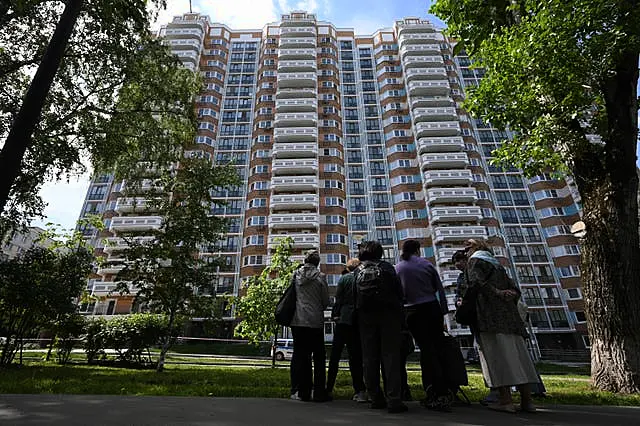 It was the second reported attack on Moscow. Russian authorities said two drones targeted the Kremlin earlier this month in what they portrayed as an attempt on President Vladimir Putin's life.
Ukrainian drones have reportedly flown deep into Russia several times.
In December, Russia claimed it had shot down drones at airfields in the Saratov and Ryazan regions. Three soldiers were reported to have been killed in the attack in Saratov, which targeted an important military airfield.
Earlier, Russia reported shooting down a Ukrainian drone that targeted the headquarters of its Black Sea Fleet in Sevastopol in Russia-annexed Crimea.
In Ukraine, Russia launched a pre-dawn air raid on Kyiv, killing at least one person and sending the capital's residents again scrambling into shelters.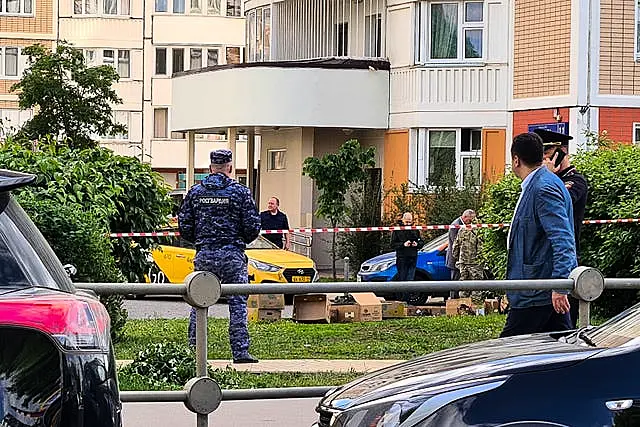 At least 20 Shahed explosive drones were destroyed by air defence forces in Kyiv's airspace in Russia's third attack on the capital in the past 24 hours, according to information from the Kyiv military administration.
Overall, Ukraine shot down 29 of 31 drones fired into the country, most in the Kyiv area, the air force later added.
Before daylight, the buzzing of drones could be heard over the city, followed by loud explosions as they were taken down by air defence systems.
In the overnight attacks on Kyiv, one person died and seven were injured, according to the municipal military administration.
A high-rise building in the Holosiiv district caught fire after being hit by debris either from from drones being hit or interceptor missiles.
The building's upper two floors were destroyed, and there may be people under the rubble, the Kyiv military administration said. More than 20 people were evacuated.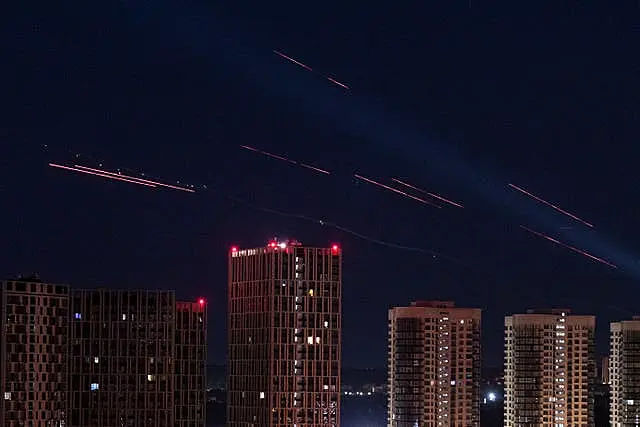 Resident Valeriya Oreshko, 39, told The Associated Press in the aftermath that even though the immediate threat was over, the attacks had everyone on edge.
"You are happy that you are alive, but think about what will happen next," she said.
Elsewhere in the capital, falling debris caused a fire in a house in Darnytskyi district and three cars were set alight in Pechersky district, according to the military administration.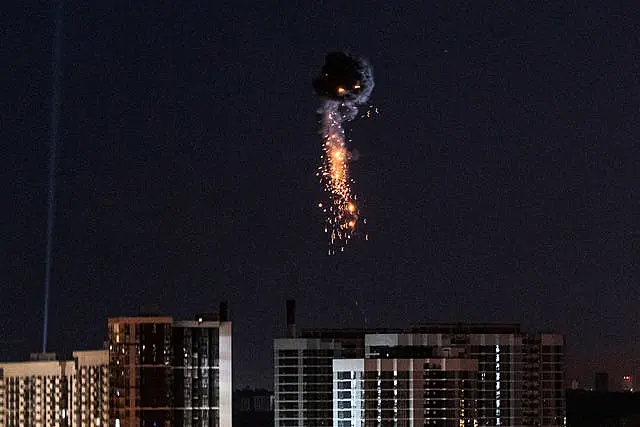 The series of attacks that began on Sunday included a rare daylight attack on Monday that left puffs of white smoke in the blue skies.
On that day, Russian forces fired 11 ballistic and cruise missiles at Kyiv at about 11.30am, according to Ukraine's chief of staff, Valerii Zaluzhnyi. All of them were shot down, he said.
Debris from intercepted missiles fell in Kyiv's central and northern districts during the morning, landing in the middle of traffic on a city road and also starting a fire on the roof of a building, the Kyiv military administration said.
The Russian defence ministry said it launched a series of strikes early Monday targeting Ukrainian air bases with precision long-range air-launched missiles.
It claimed the strikes destroyed command posts, radars, aircraft and ammunition stockpiles, but did not say anything about hitting cities or other civilian areas.
The White House National Security Council noted that Russia's bombardment of Kyiv was the 17th round of attacks this month, "many of which have devastated civilian areas".
White House press secretary Karine Jean-Pierre said the US was still gathering information about the drone strike but reiterated that "as a general matter" the US administration does not support Ukraine using American weaponry in Russian territory.
"We do not support the use of US-made equipment being used for attacks inside of Russia," she said. "We've been very clear about that, and we'll continue to do that. And we have been clear not just publicly but privately clear with the Ukrainians."
She declined to comment on whether administration officials have spoken to Ukraine officials about the Moscow incident.
A US defence official said the drone strikes would not not affect the weapons aid packages the US is providing Ukraine to include drone ammunition.
The official said the US has committed to supporting Ukraine in its effort to defend the country and Ukraine had committed to not using the systems inside Russia, so the aid would likely continue unchanged. The official spoke on the condition of anonymity to discuss sensitive matters.