Nicola Sturgeon has vowed to "fully cooperate" with police after the arrest of her husband, the SNP's former chief executive, during an investigation into party finances.
In her first public comments since Peter Murrell's arrest, former Scottish first minister Ms Sturgeon said recent days had been "obviously difficult" as she gave a short statement outside the couple's Glasgow home on Saturday.
The former SNP leader said she could not comment on the investigation into the spending of around £600,000 which was earmarked for an independence campaign, "as much as there are things I may want to say".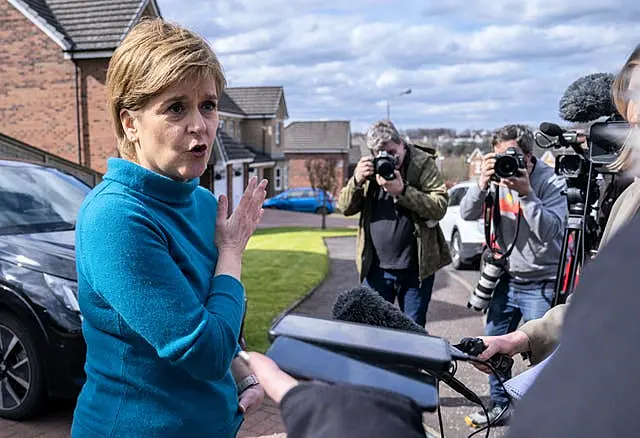 She said: "Thank you all for coming along on Easter weekend.
"First up there is obviously nothing I can say about the ongoing investigation.
"As much as there are things I might want to say I'm not able to do so other than to say that, as has been the case, there will continue to be full cooperation.
"The last few days have been obviously difficult, quite traumatic at times, but I understand that is part of a process.
"I also understand that I've always accepted the scrutiny that comes on me as a public figure and I never shied away from that, hence standing here talking to you.
"But I'm also entitled to a little bit of privacy in my own home, and my neighbours I think are also entitled to a wee bit of privacy as well.
"Over the years, as a result of living next door to me, they've been subjected to more than their fair share of disruption and inconvenience.
"And that has obviously been particularly the case over the last couple of days.
"So as all of you do your jobs, I hope and I know you'll give some respect to that. So that's really all I'm able to say just now other than I need to get on with life and my job as you would expect me to."
Unfortunately, there's a limit to what I can say to you right now
– Question: "What were the police looking for?"
– Nicola Sturgeon said: "I'm not going to comment on this investigation, and I think you would not expect me to do so.
– Question: "Is Peter at home? Is he back in the house now?"
– Nicola Sturgeon said: "Peter is at home as you would expect him to be.
"Peter is not able to say anything, again that's not necessarily a matter of choice. It's just the nature of this. So there's no point waiting around here for something that isn't going to happen.
"But you know, we're both at home. This is our home, it's where we're going to be, we're not going to shy away from anything or anyone."
– Question: "Have you been questioned?"
– Nicola Sturgeon: "I haven't, but I will fully cooperate with the police, as and when they request that, if indeed they do."
– Question: "Have they indicated if…?
– Nicola Sturgeon: "I'm not going to comment on the police investigation at all."
– Question: "The governance of the SNP … Humza Yousaf said recently that it was not what it should have been under your leadership…
– Nicola Sturgeon: "I'll let Humza speak for himself.
"You might not be too surprised to know that I've not been focusing too much on every sentence and word that's been uttered by other people this week.
"I've had other things on my mind. Other people can speak for themselves.
"You know me well enough to know that I can speak for myself.
"Unfortunately, there's a limit to what I can say to you right now."