After mastering making iPhones, Taiwan's Terry Gou, the billionaire founder of major Apple Inc supplier Foxconn, now wants to turn his entrepreneurial skills elsewhere - to be the island's next president.
After at least two previous failed bids, Mr Gou, 72, is seeking to unite a fractured opposition amid rising tensions with China, which he blames on the ruling Democratic Progressive Party's (DPP) hostility to Beijing.
"Over the past seven years, the DPP government has not only brought Taiwan dangerously close to war, but has also pursued flawed domestic policies that have failed to resolve the challenges facing Taiwan's industries and people's lives," he said on Monday, announcing his run to be "Taiwan's CEO" at the January election.
The DPP-led government has repeatedly offered talks with Beijing, but been rebuffed, and has blamed China for the tensions.
Mr Gou faces the challenge of trying to get the two main opposition parties - the Kuomintang (KMT) which he had hoped to represent as its candidate and the Taiwan People's Party - to work together and "take down the DPP", as he said on Monday.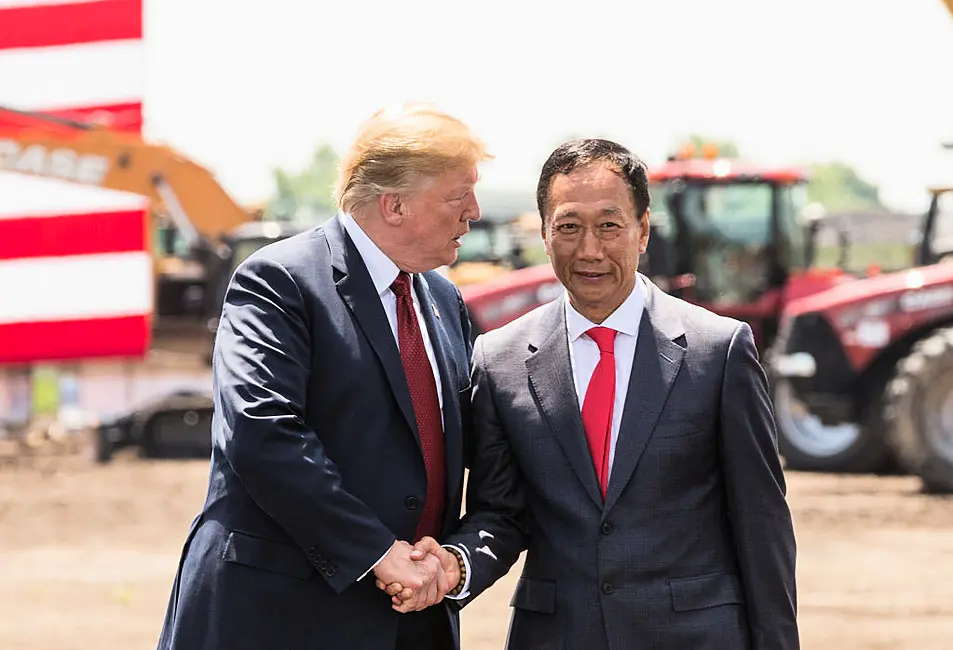 Before he announced his bid to run as an independent on Monday, Mr Gou had sought the KMT ticket for the presidency but failed.
But his direct language, along with his business acumen, has drawn crowds in pseudo-campaign events across Taiwan that Mr Gou held in the run-up to his announcement.
"He's a straight-talking political outsider," said Sung Wen-Ti, a political scientist at Australian National University's Taiwan Studies Program.
"He can attract market confidence-oriented voters. He can also attract the educated crowd who are into a more technocratic form of governance."
From factory jobs at Apple
Mr Gou was not born wealthy. After graduating from university, he worked in a series of factory jobs, as Taiwan in the late 1960s and early 1970s began using its cheap labour force to churn out consumer goods for the rich Western world.
He founded Hon Hai Precision Industry Co Ltd, better known as Foxconn, in 1974 with a $7,500 loan from his mother and 11 elderly workers. He first made cheap plastic parts for black-and-white television sets for a Chicago TV manufacturer, before a major deal in 1980 making joystick connectors for Atari games consoles.
In 2000, Foxconn won an order to make Apple's redesigned iMacs, leveraging experience making a variety of parts for the likes of US personal computer vendor Dell.
Mr Gou recalled how he had to be persistent with late Apple co-founder Steve Jobs, saying he had to force Jobs to give him a business card.
"He was extremely happy when I managed to help him develop the first-ever iPhone. He showed me how to use the touch screen on the spot," Mr Gou said in 2011 about his relationship with Jobs.
Foxconn eventually became one of the world's largest private-sector employers with at times over a million workers assembling devices for global brands such as Sony Corp, Nintendo Co Ltd and Microsoft Corp.
'I don't follow their instructions'
Mr Gou remains a lauded figure at Foxconn after stepping down as chairman in 2019, referred to reverentially as "the founder", though the company said on Monday he was no longer involved in day to day management after "handing over the baton" four years ago.
Having built the world's largest contract manufacturer from scratch, Mr Gou's connections reached as high as Chinese president Xi Jinping who he met in 2014 in Beijing, and who in 2017 he described as a great leader, Taiwan media reported.
Mr Gou's parents were born in China and were of the generation that fled to Taiwan after the Communists won China's civil war in 1949, a year before Mr Gou's birth on the island.
In an interview with the Communist Party's official People's Daily in 2018 to mark China's 40th anniversary of landmark economic reform, Mr Gou said he was happy to have witnessed the changes.
He talked about how his father was from Shanxi province and mother from Guangdong, and that when he first visited China in 1987 to trace his family's roots, it was the "first time I had stepped foot on the soil of the motherland".
Earlier this year, Mr Gou vowed to start negotiations with China if he was elected president on the basis that both sides belong to one single China, but each can interpret what that means.
"The two sides can sit down together, and we can take all the time we need to talk about 'different interpretations."
Still, on Monday he struck a tougher tone when asked if his Foxconn shareholdings meant China could simply tell him what to do if he became president.
"I have never been under the control of the People's Republic of China," he said. "I don't follow their instructions."
Friends in high places have included former US president Donald Trump.
Mr Gou told Mr Trump he wanted to be a peacemaker between Taiwan, China and the US as Taiwan's president.
"Peace, stability, economy, the future, are my core values," he had said after announcing a bid to be the KMT candidate at the 2020 election, although he ultimately failed to get the nomination.
The KMT lost that election by a landslide.