Humza Yousaf is set to become Scotland's youngest first minister and the first person from a minority ethnic background to hold the post after he was elected SNP leader.
After a sometimes fiery and divisive leadership contest, SNP members chose Mr Yousaf, 37, as their party's new leader, succeeding Nicola Sturgeon.
The current Scottish health secretary is expected to be declared Scotland's sixth first minister after a vote in the Scottish Parliament on Tuesday.
Ms Sturgeon, who was Scotland's longest-serving first minister, announced last month she was stepping down after more than eight years in the job.
Mr Yousaf succeeds her after defeating the current Scottish finance secretary Kate Forbes and former community safety minister Ash Regan in what was the SNP's first leadership contest for almost 20 years.
The result was announced at the BT Murrayfield Stadium in Edinburgh after the ballot of SNP members closed at noon, with a turnout of 70 per cent.
For first preferences in the single transferrable vote system, Mr Yousaf took 24,336 (48 per cent), Ms Forbes took 20,559 (40 per cent) and Ms Regan took 5,599 (11 per cent) of the vote.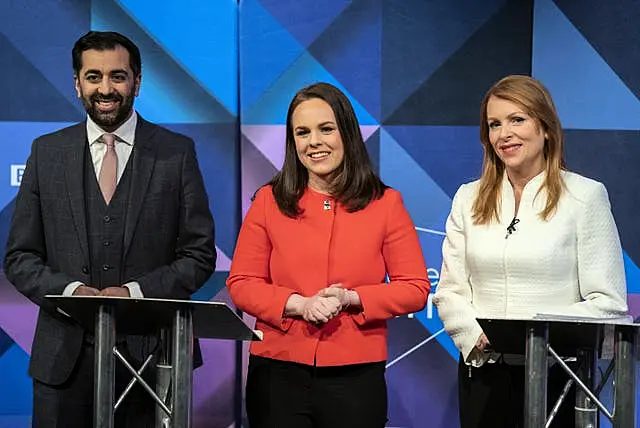 When second preferences were distributed in the second stage, Mr Yousaf took 26,032 (52 per cent) and Ms Forbes took 23,890 (48 per cent).
Mr Yousaf said: "It is hard for me to find the words to describe just how honoured I am to be entrusted by our membership of the SNP to be the party's next leader and to be on the cusp of being our country's next first minister."
He paid tribute to Ms Forbes and Ms Regan, adding: "It's felt we've seen each other more than our respective families.
"You both have put in an incredible shift and I know that collectively we will work hard as part of Team SNP.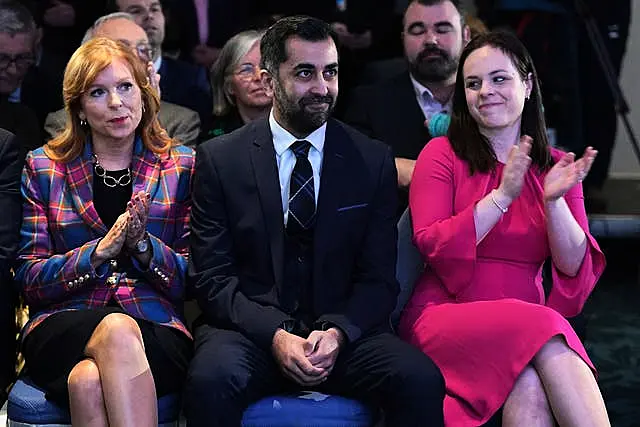 He said it is now time for the SNP to come together and deliver independence.
"Leadership elections, by their very nature, can be bruising," he said.
"However, in the SNP we are a family.
"Over the last five weeks we may have been competitors or supporters of different candidates.
👏 Congratulations to @HumzaYousaf, elected as the new leader of the SNP and Scotland's next First Minister.

🏴󠁧󠁢󠁳󠁣󠁴󠁿 Together, let's get on with building a better Scotland. #SNPLeadership23 pic.twitter.com/6jw1zTBsGP

— The SNP (@theSNP) March 27, 2023
"We are no longer team Humza, or team Ash, or team Kate, we are one team.
"We will be the team, we will be the generation, that delivers independence for Scotland."
He added: "I feel like the luckiest man in the world to be standing here as leader of the SNP.
"A party I joined almost 20 years and that I love so dearly."
Mr Yousaf paid tribute to the late Labour leader John Smith in his victory speech and said it was "the greatest honour and privilege of my life" to be the next first minister, should Parliament decide to elect him.
Viewed as the continuity candidate, Mr Yousaf had greater levels of public support from SNP parliamentarians at both Holyrood and Westminster than the other candidates, with high-profile backers including outgoing deputy first minister John Swinney, and new SNP Westminster leader, Stephen Flynn.
Mr Yousaf was first elected in 2011 as a regional MSP for Glasgow and was appointed a junior minister the following year, becoming justice secretary in 2018.
Ms Sturgeon paid tribute to all candidates for "rising to the challenge", adding: "Most of all I congratulate Humza Yousaf and wish him every success.
"He will be an outstanding leader and first minister and I could not be prouder to have him succeed me."
Ms Forbes gave her "warmest congratulations" to her rival.
She said: "I've been proud to share a platform with both him and Ash over the last five weeks, and I know we will continue to work together, to make the lives of all of Scotland's people better on the next stage of our journey to independence.
"Whatever the robust disagreements or frank exchanges of the last few weeks, I am confident we will unite behind Humza as our new party leader in the shared and common objective of independence."
Mr Yousaf's election as SNP leader has been hailed as "fantastic" in representing a "multicultural and diverse society".
The Tell Mama group, which works on tackling anti-Muslim hatred, tweeted: "Fantastic to see politicians in leading roles representing our multicultural and diverse society in the UK and Scotland. Congratulations @HumzaYousaf elected leader of the SNP".