A country renowned for its cuisine is turning to pots and pans to express discontent with French President Emmanuel Macron's pension reforms.
French demonstrations against raising the retirement age from 62 to 64 have morphed from lobbing paving stones, dodging tear gas and brandishing banners to something nearer the soul of the gastronomic nation: Making noise by banging kitchen saucepans.
This very Gallic culinary cacophony – called the "casserolade" – began last week during a televised speech by Mr Macron.
In front of some 300 town halls, including Paris, Marseille, Toulouse and Strasbourg, gatherings formed in an effort to drown out his voice.
The pan beating is taking place across France once more on Monday evening at 8pm at the behest of ATTAC, an anti-capitalism activist group.
Reacting to the din, Mr Macron proclaimed during his visit to Alsace last week that "it's not saucepans that will make France move forward".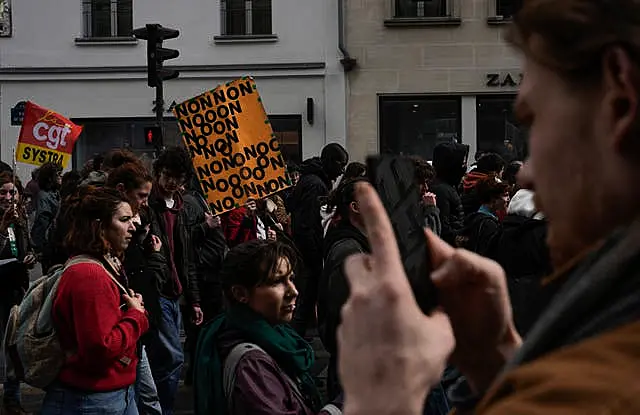 Yet that only fanned the flames underneath the saucepan action. French cookware manufacturer Cristel went to Twitter to declare that it was now making stainless steel pans specifically to "advance" the nation.
Such a culinary battle cry may sound like an unusual way to voice discontent, yet in France it is a tradition that goes back hundreds of years.
During the July Monarchy of 1830, Republicans wishing to oust King Louis-Philippe beat pots and utensils to express dissent against "the state apparatus", historian Emmanuel Fureix told France Culture radio.
At a time when there were only 200,000 voters in the country, the saucepan was the mode of expression of those who had no voice, he added.
Mr Fureix said that beating saucepans first originated in the Middle Ages, in the popular tradition of the charivari, where a concert of saucepans, rattles, cries and whistles was customary to express disapproval of an ill-assorted marriage.
France has already drawn attention for its creative protests against the retirement law.
Last week, disused gas and electricity meters were dumped in front of a regional administration building in Marseille by striking energy workers, while a street artist in Paris turned dozens of uncollected trash bins into sculptures.